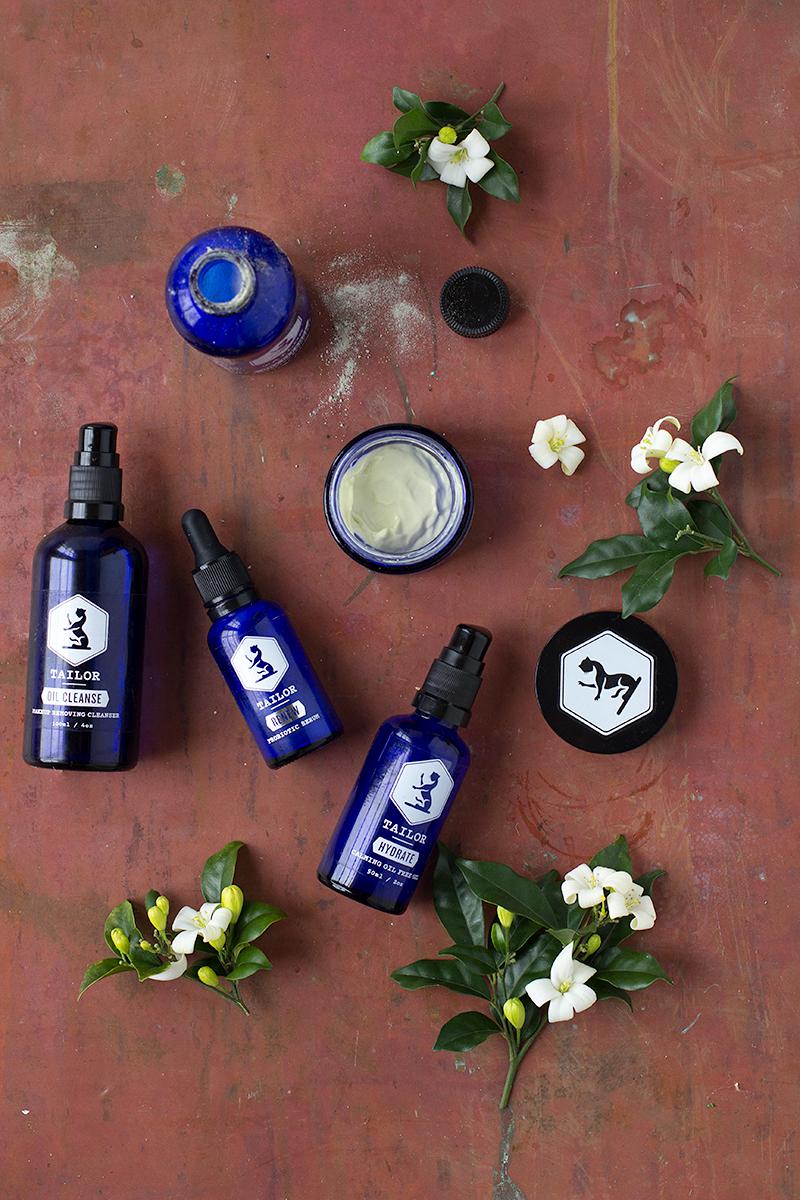 A few months back now Tailor skincare contacted me asking if I would consider trialing their organic skincare range. At the time I was seriously struggling with finding good skin care products and I'd been hopping from brand to brand without much success. As I've gotten older more mature, my skin has been getting drier in certain areas, resulting in a similar feeling after cleansing to having a clay face mask on that has dried and cracked when you smile.
Therefore, when Tailor came knocking I was super keen, but to be honest skeptical after my other epic fails this past year. After saying yes a little parcel arrived across the ditch from New Zealand. Now maybe you might be thinking why am I not supporting Australian products, why am I looking outside our country's own array of skincare? There are a few reasons. One being that I consider myself half Kiwi these days as I am married to a South Islander. Two, I was intrigued by the naturally sourced New Zealand extracts in the products that I had not tried before. Three, I was ready to try anything because 'dry cracked face' situation.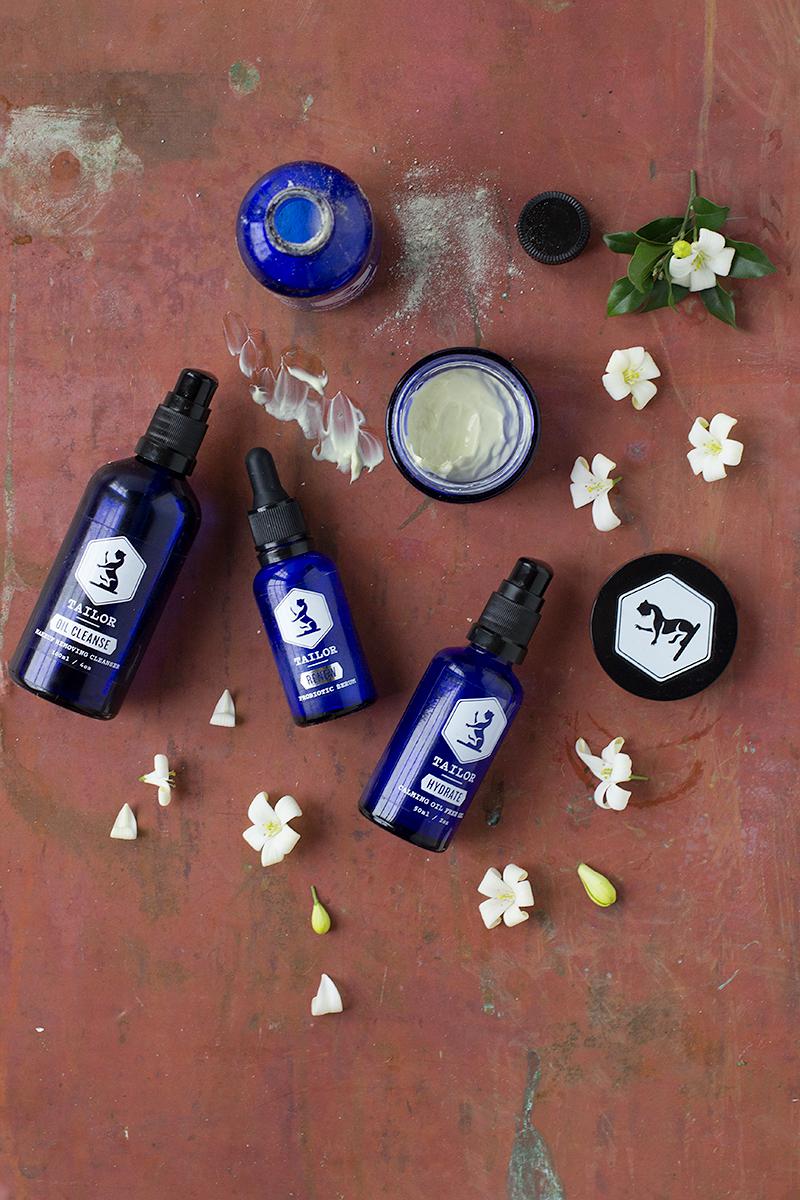 I opened my parcel and was confronted by a small apothecary of blue bottles. As someone who just cleanses and moisturises, I was intrigued by the other blue bottles staring up at me. What the heck do I do with these? Besides a bit of confused panic, I read the back of the bottles and worked out there were two serums and that I was to mix together and use after moisturising. I literally considered emailing Tailor and asking them what to do, but I decided being a grown woman and all that, I should be able to figure this out myself. I was also concerned that someone who ranks getting their makeup and hair done as least important in the morning, and often ends up doing these on the train in favour of opting for a great breakfast instead, I would never stick to using this many products. I was wrong.
Literally the first time I used these products I knew I had cracked skincare gold. The smells were heavenly, yet more importantly as soon as I used the cleanser I knew things were about to change. It left my face feeling soft and without that horrid dry feeling. The serums were easy, just a squirt of each mixed together and on they went. Last was the moisturiser. The final bottle was a dry exfoliating powder that I could (and do) add a little water to, to activate the mixture and use a few times a week. Every time I use this exfoliant people tell me my skin is glowing which is pretty damn awesome to hear, right? I can honestly say that after one day of use I was sold on Tailor. These days my little blue bottles come with me to gym and then get put in my bag to come to work from fear of leaving them in the hot car. They are my new besties.
It's obviously great to find a skincare range that you love and compliments your needs, but of course good skin is intrinsically linked to what we eat and our overall health. For a more comprehensive look at supporting your skin from within check out this blog post. Furthermore, the question is often asked why is natural skincare good for your skin? A key part of this answer is the role fatty acids play in your skins health and metabolism. You can get more indepth information about this topic is Tailors blog post which explains the main differences between natural oils and synthetic oils (like mineral oil) and how to boost your skin's metabolism with natural ingredients.
As a thank-you to JCN blog readers, Tailor is offering 25% off orders for the next 48 hours! Just use the discount code JESSCOX when ordering online. x

Click here to shop now with free shipping on orders over $100
Today however I also want to share some of my favourite foods for great skin.
At the foundation of healthy skin when it comes to dietary intake is diversity of intake. A balanced diet filled with lots of plant based foods, quality fat, protein and carbohydrates. Yet, there are certainly a few hero foods that we can pick from the bunch and give a shout out to here: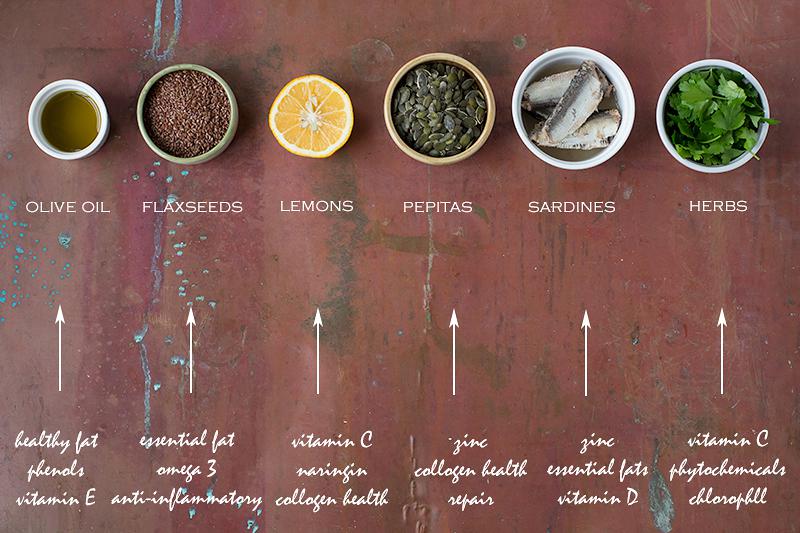 Olive oil
Ranked number one in my books, I could sing olive oils praise for ever. Good quality extra virgin oil that is. Grassy, fresh and divine in so many ways. Olive oil is rich in monounsaturated fats and vitamin E. Vitamin E works as antioxidant fighting off free radical damage that can cause damage to skin. Olive oil is also rich in antioxidants called phonolic compounds well studies for their antioxidant potential. (Montserrat Fitó, et al 2007)
Pumpkin seeds
These little green seeds are super rich in zinc, a mineral well know for its skin healing abilities. Often deficiencies of zinc results in poor wound healing and is also associated with acne (M.J Mogaddam et al 2014). Zinc is also important for our immune system which plays an important part in modulation and responding to inflammation. Pumpkin seeds (pepitas) are also rich in minerals iron, magnesium and phosphorus. I often get my clients low in zinc to munch on pumpkin seeds as a snack. Pumpkin seeds are also a rich source of polyunsaturated and monounsaturated fats.
Flaxseeds
Flaxseeds are a rich source of plant based omega 3, an essential fatty acids know as polyunstaurated fat. These types of fats down regulate inflammation and keep our cell membranes nice and fluid, therefore preventing dryness and flaking. Deficiency's of omega 3 fats in the diet can often be associated with flaky dry skin.
Flaxseeds are also the highest plant source of lignans, a phytochemical compound from the polyphenols family, that helps regulate oestrogen levels. When consumed, lignans are converted by gut bacteria to enterolignans, enterodiol and enterolactone. These compounds exert phytoestrogen like effects in the body, binding to estrogen receptors, either blocking or up regulating the effects of estrogen in the body. As hormones irregularities are commonly associated with skin issues, flaxseed is a great addition to your diet.
Flaxseeds are also very high in fiber and rich in mucilage, a slimmy/gum like substance that expands when in contact with water. Inside the intestines this helps provide bulk to stools aiding their movement through the gastrointestinal tract. Regular bowel movements are fundemental for daily elimination of endotoxins, therefore reducing the load on our liver and other detoxification organs inclusive of our skin.
Lemons
Lemons are very rich in vitamin C, a pivotal nutrient for collagen health and the most abundant antioxidant with the skin. Vitamin C is used in various enzyme reactions to protect the skin from free radical damage.(Pumori Saokar Telang 2013)
Lemons are also rich in the phytochemical found in the pith and rind, which contain potent phytochemicals known for their anti-inflammatory activity. Such phytochemicals such as naringenin have been shown to enhance DNA repair.
Sardines
Sardines are ridiculously rich in an array of vitamins and minerals. 1 cup of sardines contains 35 grams of protein, while also providing a plentiful source of essential fatty acids. Sardines are also a very high in Vitamin D and B12 and are also abundant in minerals such as iron, calcium, magnesium, phosphorus, zinc and selenium.
The high content of zinc, selenium and vitamin D make sardines a wonderful choice for boosting and supporting the immune system along with cellular integrity and communication. With all of these nutrients you can see how sardines are literally a multivitamin for overall health and wellness.
Herbs
Fresh herbs are probably my favourite ingredient next to olive oil and salt. Their antioxidant capacity is endless, whilst also providing potent antimicrobial potential. The majority of herbs provide a rich source of vitamin C (discussed above) and chlorophyll. The antimicrobial activity of herbs are wonderful for keeping gut health in check, fundamental for overall wellness.
Do you have a favourite food or health tip that you swear by for great skin? As always I would love to hear from you in the comments below! x
Jessica Cox is a qualified practicing Nutritionist with a Bachelor Health Science (Nutrition) and over 15 years of clinical experience. She is the founder and director JCN Clinic, published author and established recipe developer. Jessica is well respected within health and wellness space for her no fad approach and use of evidence-based nutrition.