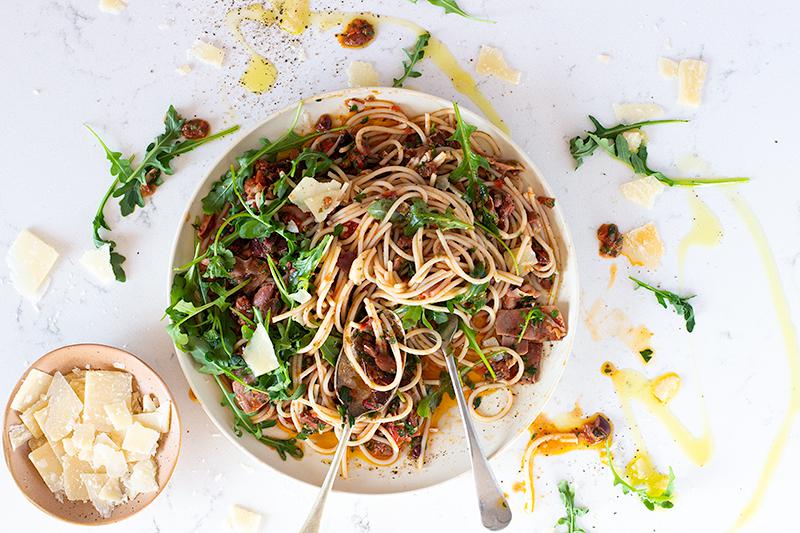 Well my usual Friday post time slot got slightly high-jacked thanks to a rather hectic week, so sorry to those who hoped to be making this puttanesca over the weekend just passed.
Puttanesca is an authentic Italian dish. The name puttanesca actually refers to whore's pasta, which I know is a little brash. The term comes from using accessible on hand ingredients to quickly make a meal and is hypothesised as also being a meal made by prostitutes between 'appointments' with the intension of enticing customers through the door. Traditionally puttanesca would not have had meat added to it as this recipe does, but other than this the recipe is very simplistic and true to its origins.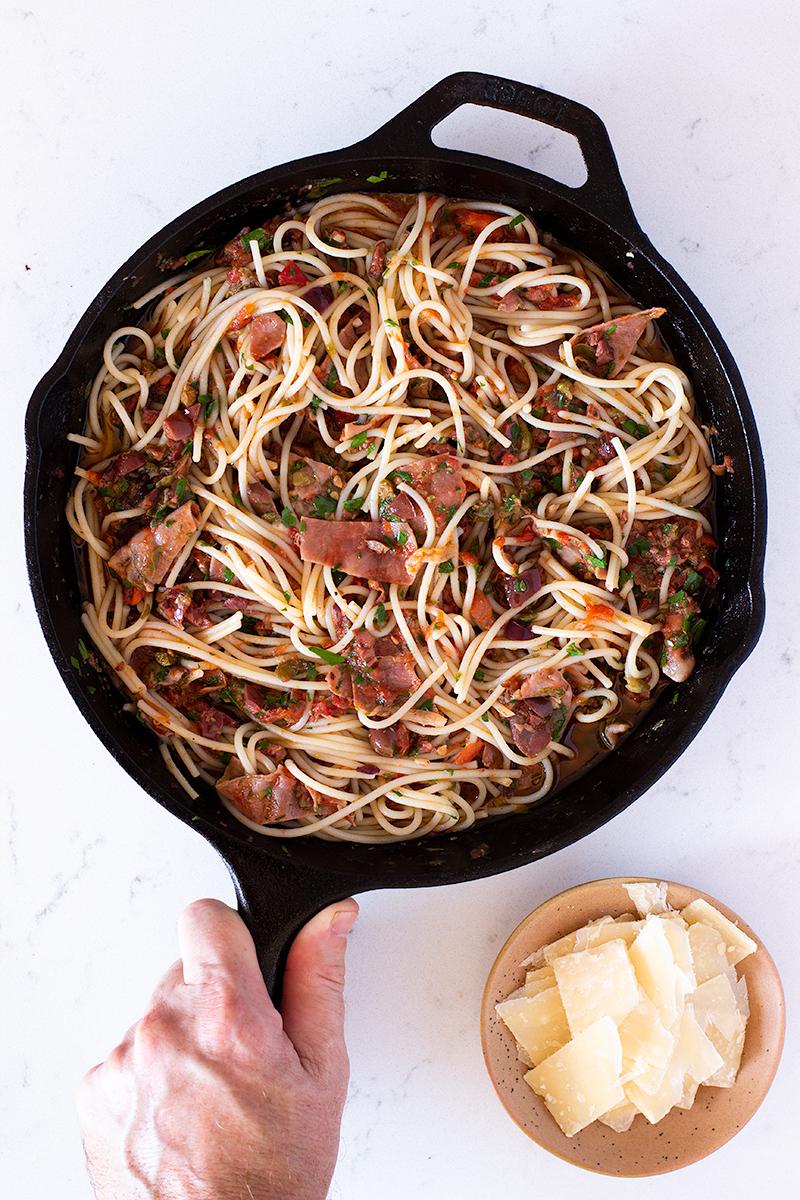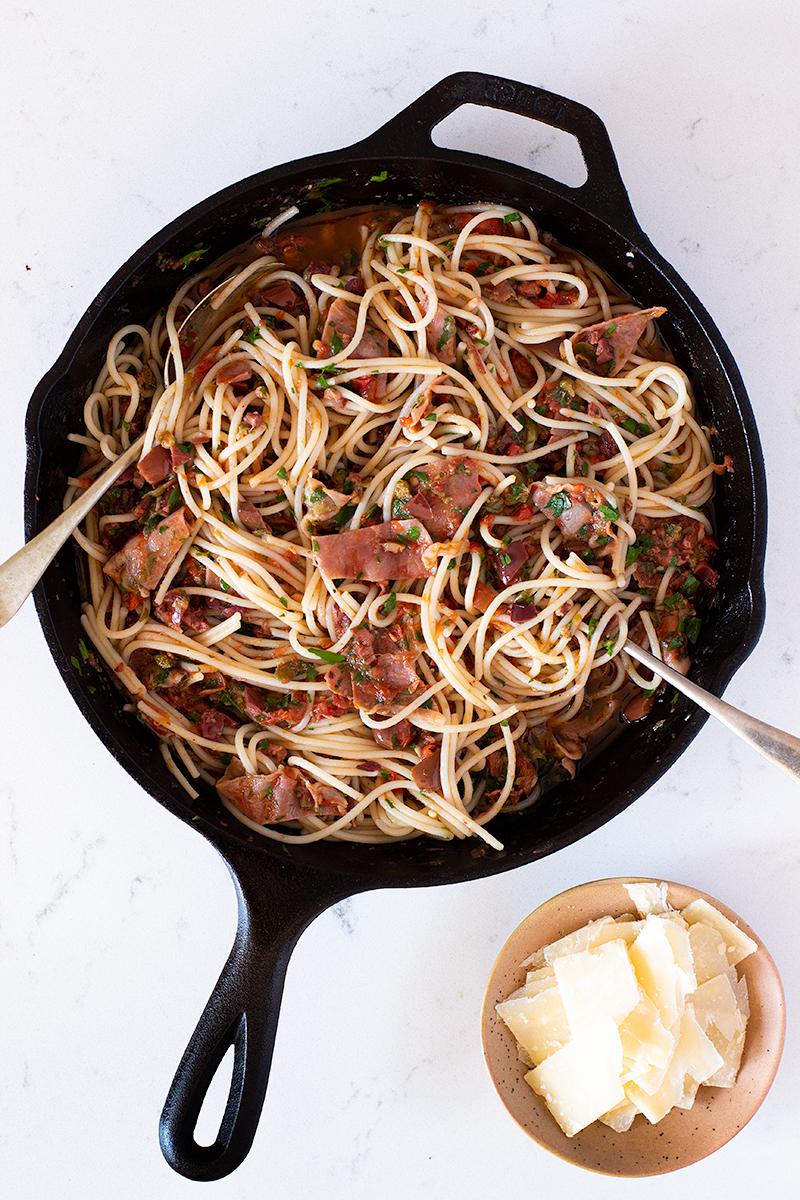 Though the dish is simplistic in nature, puttanesca should always be a splendid affair with its deliciousness shining through the liberal use of quality of ingredients. For instance, an Italian would not dream of making puttanesca with sub standard olive oil and tasteless tomatoes. If you don't use quality ingredients for this recipe then don't expect a miracle to happen in the cooking process. There is nowhere to hide with mediocre ingredients in puttanesca.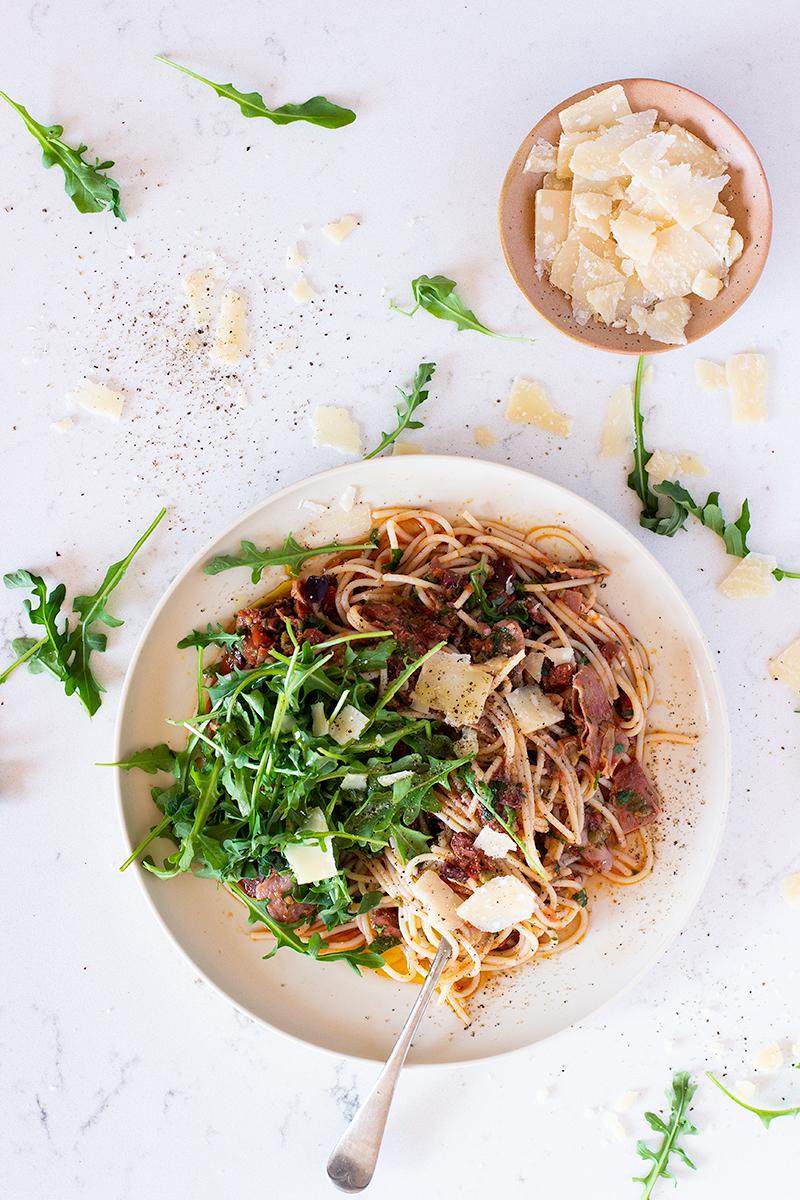 Today's puttanesca post is also a special guest post from my hubby, who most of you know as Hubbard. He has guest posted for me before with the Hubbard's Pumpkin Soup featuring a rather interesting method attached to it. This feature is no different, although I have left him to his own devises this time around without inserting my own interpretations within his 'method' banter (except for the eyebrows, they needed explaining).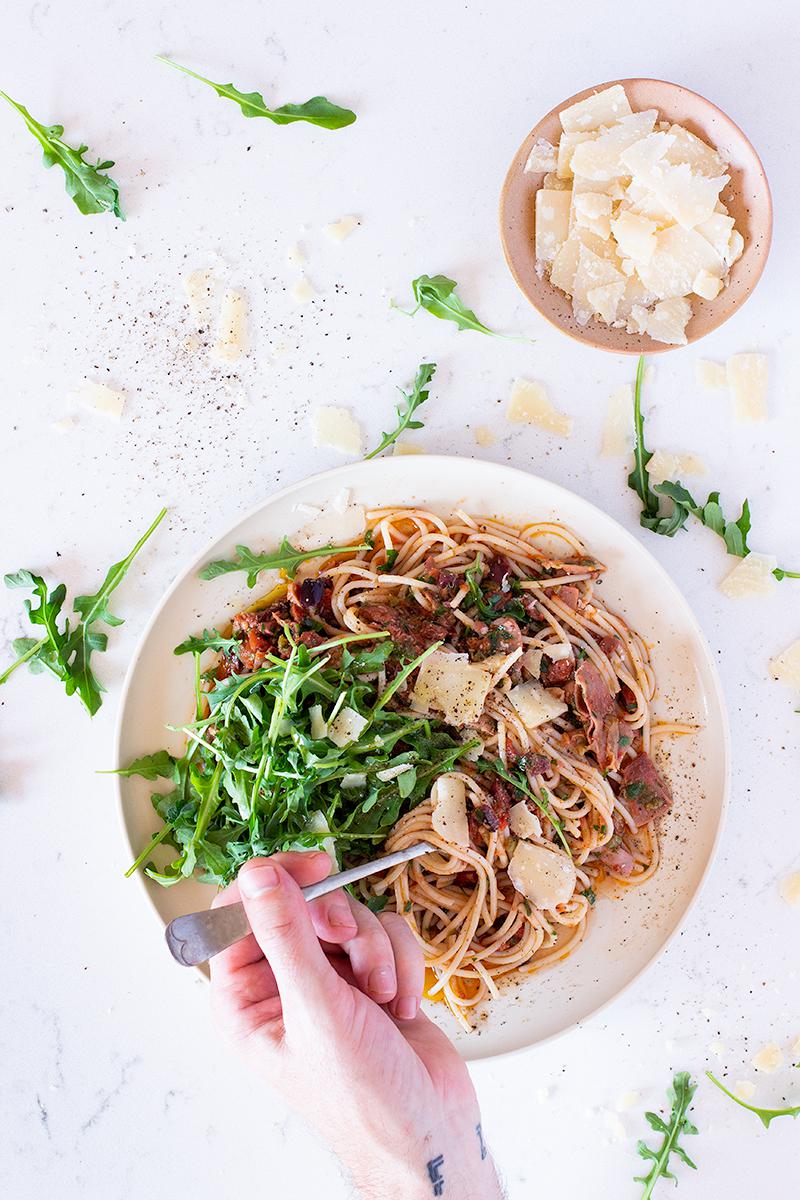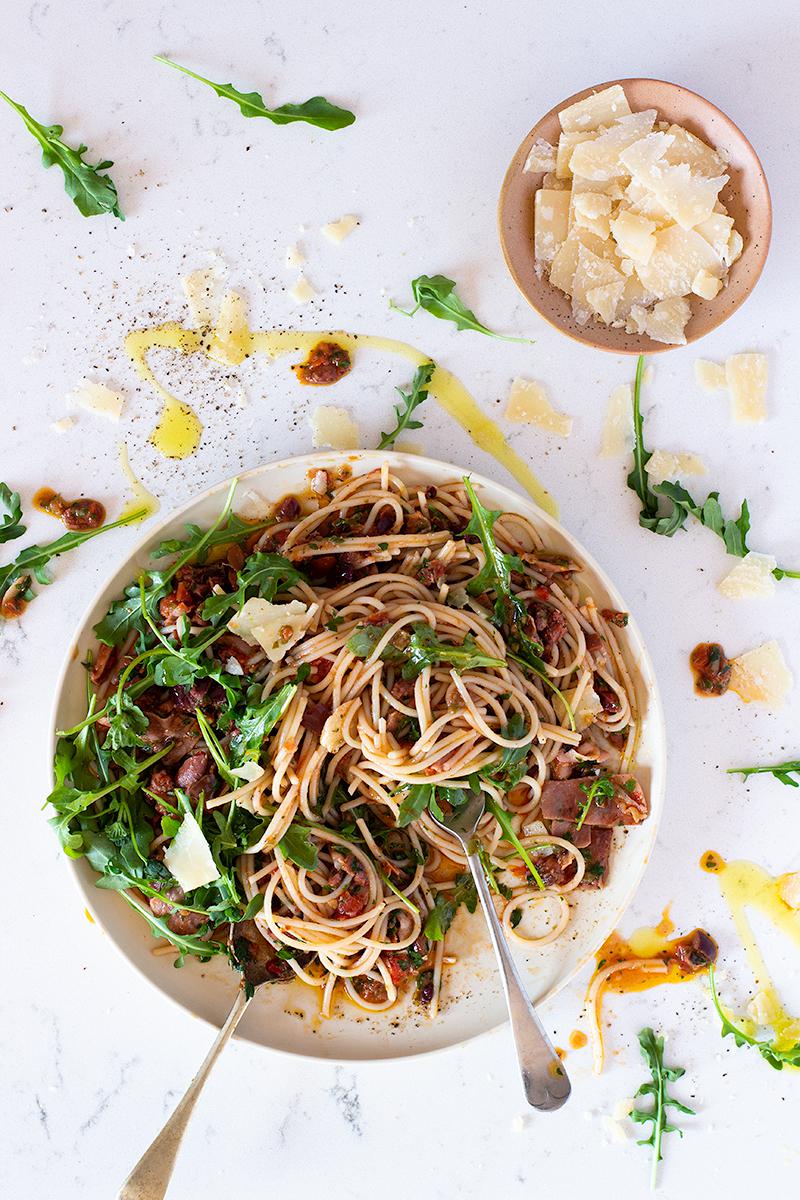 Nutritionally, many of you may be looking at this recipe with confusion given the macronutrient balance and the use of white pasta. You're thinking, Jessica you always go on about the importance of macronutrient balance and eating fibre rich carbohydrates, even if they are gluten free. Yes, I do go on about that. But I also go on about the importance of balance, of not being obsessive and controlling and the importance of breaking the rules occasionally. Stressing too much about eating healthy 110% of the time is super counterproductive and often creates more of an issue that just eating the damn meal of question in the first place.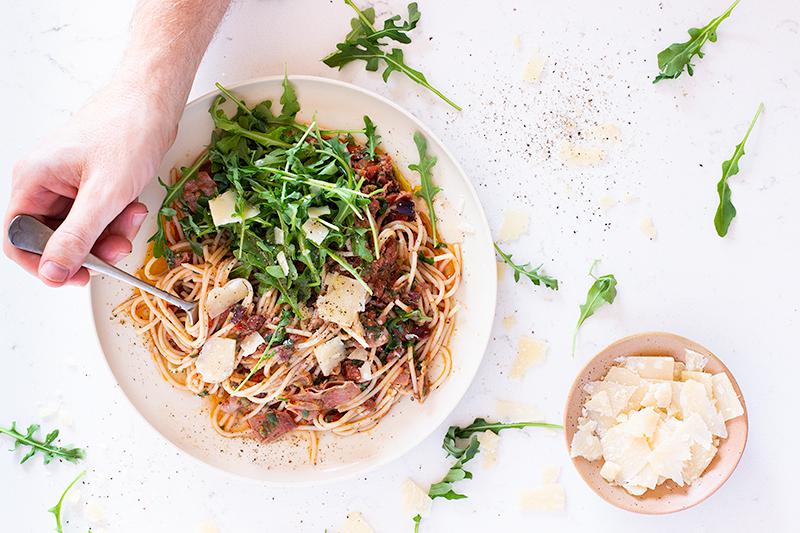 I actually get a lot of messages on social media spanning this worrisome growing area of obsessive healthy eating (referred to as orthorexia in full blown force). Encouraging people to eat well and educating people on what healthy eating looks like is highly important (aka my job), but creating pressure around the 'perfect healthy meal' and a sense of purity and hierarchal status surrounding healthy eating causes mental health issues and disorded eating.
The thing is, eating food is not just about physically putting the food in, absorbing the nutrients and going on our merry way. Of course that's a major component, yet the way we consume the food and how we feel when we eat effects our overall health too. We know that eating when we are on the go and stressed interferes with our digestive processes. However, we give less consideration to notions of fear surrounding a meals 'perceived worthiness' in the realm of healthy eating and the belief system that eating an 'unworthy' meal will somehow make us less adequate.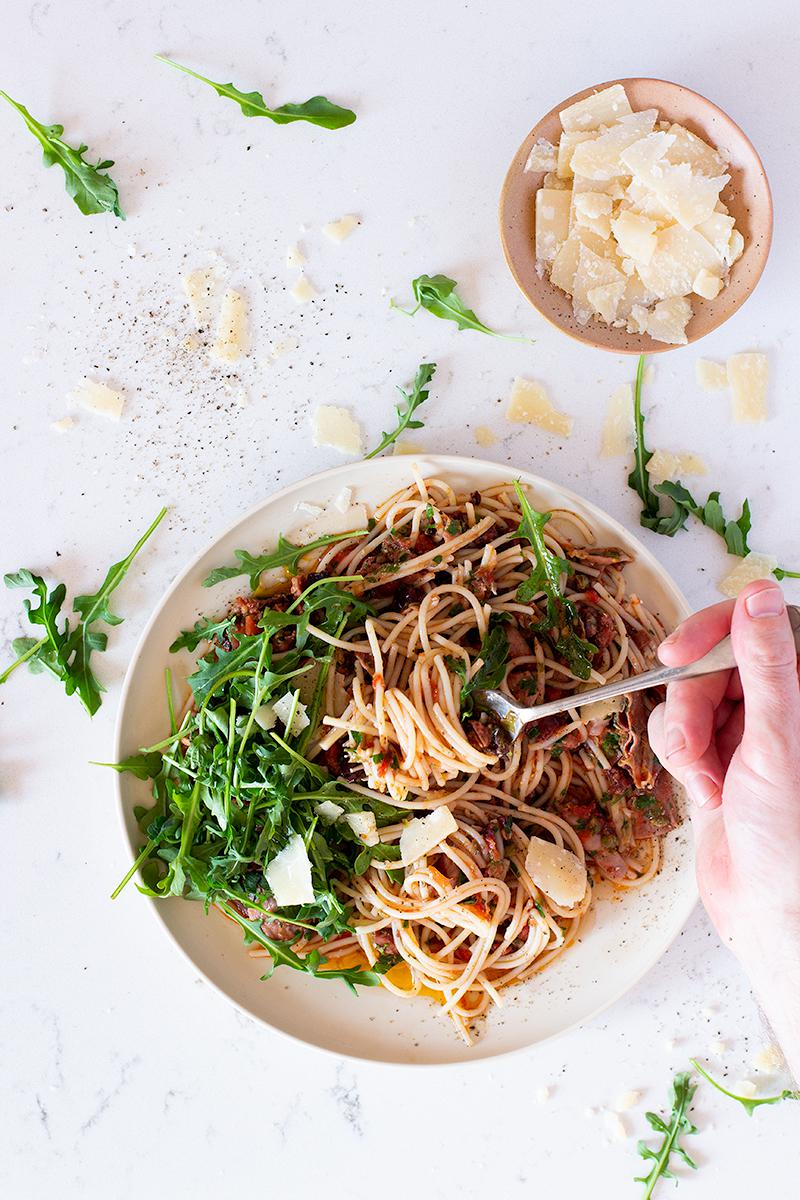 Therefore, learning to leave fear behind and eat and/or prepare food when we are calm, happy and surrounded by love creates a whole new ball game. Case obviously in point is my husband when he cooks this puttanesca with such emotion, care and precision. The ingredients must be exact every time and he dotes over each step of the recipe with joyful meticulousness (Virgo moon rising for surely). His pride in this dish is immense and to mess with it, to make it more 'balanced' or 'healthy' is heart breaking to him. I learnt a long time ago that asking for mine to be served with buckwheat pasta spirals instead of plain gf spaghetti literally was like a stab in the heart to him. Of course he makes it gf for me and leaves the parmesan off my serve, but other than that he wants me to experience the joy of a dish that means so much to him. He wants to give me more than just a meal in a bowl; he wants me to enjoy what this dish is and what makes it so special to him.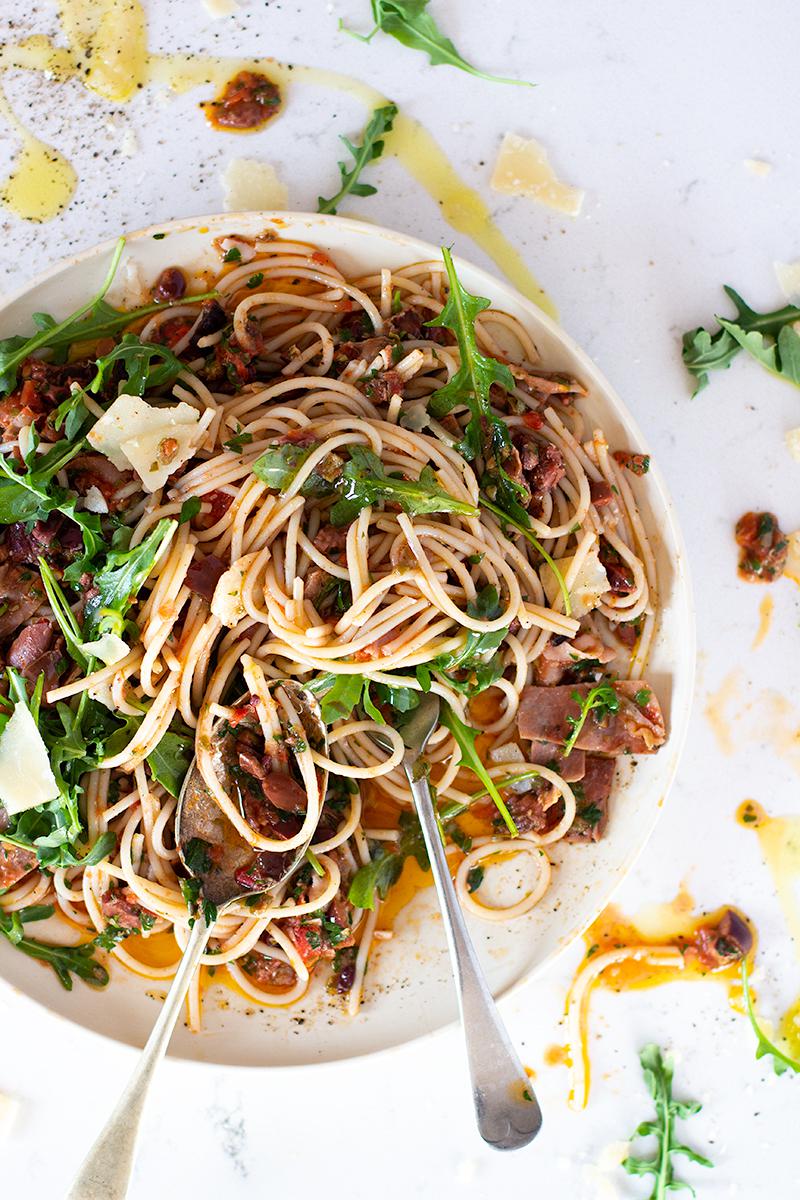 So when I sit down to eat my puttanesca I'm not thinking about the fact that my meal is not macronutrient balanced and that my pasta is not fibre rich, nor that Joe Bloggs (or Joanna Bloggs) on Instagram would never eat this. I'm thinking I am pretty damn lucky to have a kick ass husband who can make a mean puttanesca and appreciates the joy of food as I do.
hubbard's puttanesca
serves

serves 3

preparation time

30 minutes

cooking time

20 minutes
ingredients
3 large or 4 medium (ripe) tomatoes
3 eyebrows (aka anchovies), big fat ones
3 tablespoons capers, roughly chopped
2 large cloves garlic (finely chopped/crushed)
1/3 cup extra virgin olive oil
1 large heaped cup kalamata olives, pits removed & roughly chopped
80 gm nitrate free prosciutto (6 thin slices)
1 handful flat leaf parsley (roughly chopped)
175 grams spaghetti pasta (gluten free if needed)
2 handfuls rocket
1/4 cup parmesan cheese, finely grated (or nutritional yeast for dairy free)
pepper to taste
bottle of vino (optional)
method
Remove any white clothing, pop on some Pavorootti and crack a nice bottle of Prosecco, Chianti or Nebbiolo. (è tempo di amare)
Clean down the work area immaculately using tons of chemical cleaners, pull ingredients from the fridge (cursing that stupid sliding draw that never pulls out or slides back in) and group together on the kitchen bench-top with the same perfect space between. Line up all required utensils perfectly too.
¾ fill a large pot with water, bring to the boil and turn off. Carefully drop the tomatoes in the water and leave for one minute before removing. Set the tomatoes aside on the chopping board.
Add a splash of olive oil to the water, bring back to a soft boil and add the pasta. Keep an eye on this separating the pasta with a fork and cooking until "to the tooth" or al dente.
Whilst that pasta is simmering away we can make a start on the whores sauce.
Slice the tomatoes skin just slightly enabling you to peel them. This can be problematic if the tomato is unripe (you were warned in the ingredients). *Note: this is the only time my wife's family allows me to peel the skin off any vegetable to eat (skin = anus). Once peeled cut each tomato into eight perfect sized segments and remove the seeds. Throw the seeds and skins in the garden and I promise you will end up with baby tomatoes! (Can create anxiety if you don't have a green thumb).
I'm lost, where were we……oh yes. Have some more wine! Slice up the left over tomato flesh finely and set aside.
Check that pasta.
Add the evoo to a fry pan and gently bring to the heat. Pop the chopped garlic and eyebrows in the oil early as a heat gauge. You need to be careful here, as you don't want to burn the garlic and turn it rancid and brown. When the oil starts to lightly simmer the eyebrows will start to dissolve, give them a little moosh and stir around with a wooden spoon. Now add the chopped capers and olives and bring that oil to a simmer. Have some more wine! Cook for a couple of minutes before adding the tomatoes. Give a good seasoning with pepper and pop a lid on the pan. Bring to a soft simmer, cook for 15 mins until tomatoes are broken down, stirring every few minutes and then turn off.
Check that pasta. When its ready (al dente (chuck it against the wall)) turn the water off. I nearly always miss this next important step. Scoop 2 desertspoons of pasta water and set aside.
Drain the pasta and rinse with cold water to stop the cooking and set aside. Fill and boil the kettle/electric jug.
In another pan (shits getting meesy!), fry the prosciutto quickly until crispy (happens really quickly and smokes the house out), set aside to cool, and then chop into bite size pieces.
Assembly time! Have some wine (you deserve it for getting this far).
½ fill your serving bowls with hot water from the tap (warm bowls gets big wife points). Heat up the sauce in the pan and add the set aside pasta water, prosciutto, chopped parsley and give a quick stir through.
*Note: I usually grab the parsley fresh from our garden, at night, torch in hand in my jocks. The garden is roadside and I nearly always get caught in the headlights of some random car coming down the road – insert crouching weirdo, not hiding well, in the garden, under lit with mobile phone light.
Pop the cool pasta in a bowl and add some boiling water from the kettle to re heat for a minute and drain well.
Add the pasta to the sauce and stir softly. Drain the serving bowls of water and fill em with the goodness in the pan.
Top with parmesan, rocket and a glug of evoo and serve…….with more wine….if you have any left!
nutritional information
This puttanesca is not macronutrient balanced; it is dominant in carbs and quite refined carbs at that. Contra to social media belief, eating it occasionally will not result in self-combustion. If you would like to make it more macronutrient balance however you could swap the spaghetti pasta for buckwheat spirals and add some more protein to the sauce. The thought of this pains me slightly though! For increasing the greens serve with a simple side salad of rocket as seen here.
Jessica Cox is a qualified practicing Nutritionist with a Bachelor Health Science (Nutrition) and over 15 years of clinical experience. She is the founder and director JCN Clinic, published author and established recipe developer. Jessica is well respected within health and wellness space for her no fad approach and use of evidence-based nutrition.