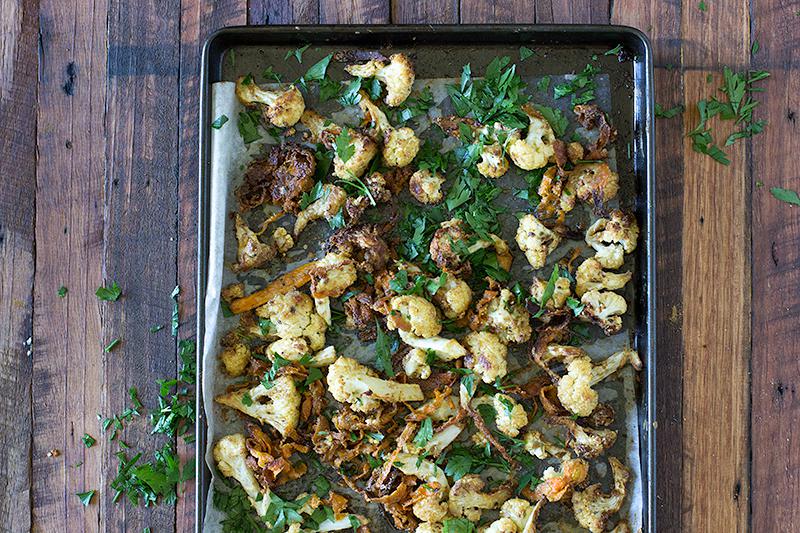 Roasted cauliflower has become quite hipster. It now appears on most restaurant and cafe menus and is making regular debuts on Instagram feeds, often baked whole in all its glory. I've been a fan of roasted cauliflower for some time, although I'd pretty much bake anything you gave me so I am biased. Cauliflower when roasted goes lovely and soft in the center, and gets those delicious crispy edges on the tips of the florets.
I'm not one to be shy when roasting cauliflower. Personally I'd suggest you get a little bit wilder too with your roasting for maximum flavour. Push that cauli till its toasty brown and you will not be sorry. In this recipe, the cauliflower becomes even more glorious with its creamy spiced coating of tahini and cumin. The tahini spiced olive oil clings to the cauliflower (and carrot – Jessica don't forget about the carrot) and creates this wondrous crust. Dear lord its divine.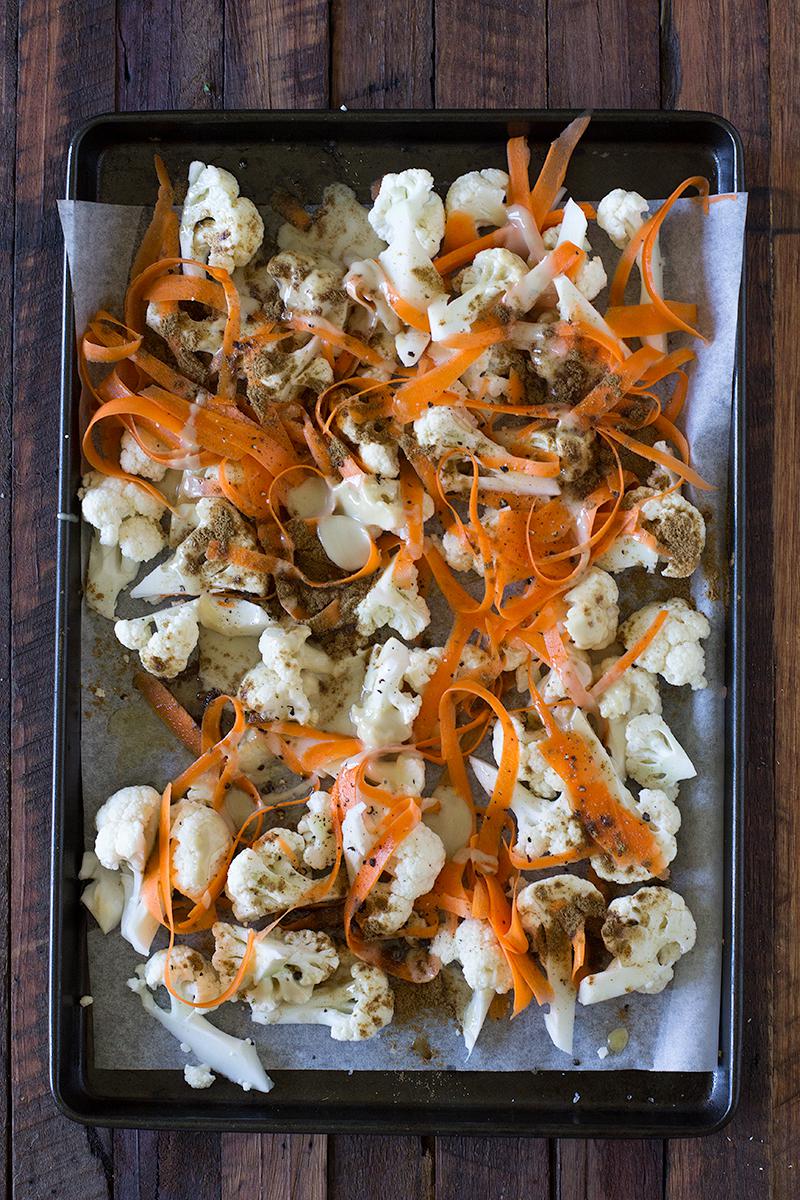 The added carrot ribbons are a bit fancy pants and you could leave them out, but they are really quick to do and they add another level of crunch factor. I am all about the crunch factor people.
And now, heres a little secret for you. If you previously read my introductory profile on any of my social media feeds a year ago it would have said 'nutritionist and tahini addict'. These days tahini has disappeared from my profile and also from my feed. So why? Alas, tahini and I had a break up. It wasn't pretty. We cried.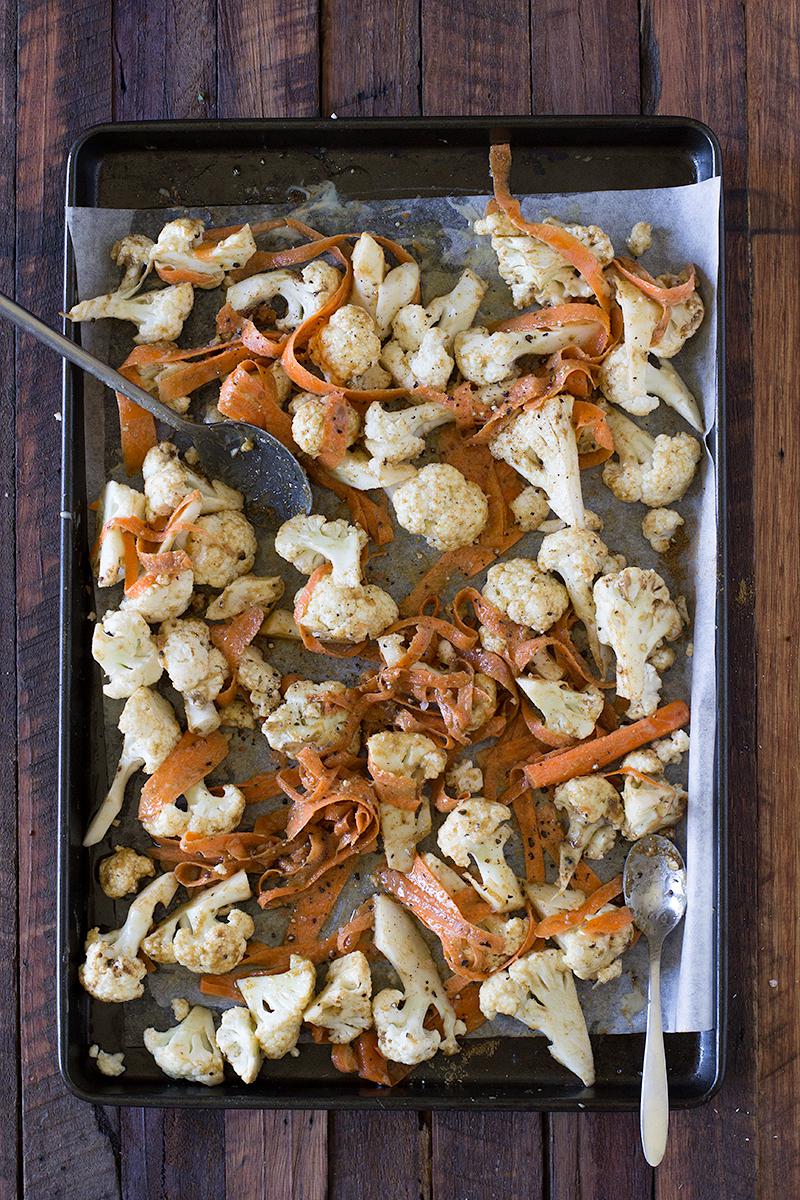 Basically this is why. My own ELISA food intolerance test results came back for my IgG/IgA test (which we use in the JCN clinic for our clients) and sesame seeds were on the list. Let me rephrase that. Sesame seeds were high on the list. Like as high as you can get. The lovely Casey working with me at the time looked at me nervously as I opened the test, as I think she was a little unsure how I would react. What does one do when their passionate lover is pulled cruelly from their grip? Mourn I tell you…then after scuffing at the ground a bit, move on.
Now food intolerance test results need to be taken into consideration with the entirety of a person's case, including mine. I had been consuming a lot of tahini, and if your gut is getting a little funky at times it can start to react to foods that are being ingested frequently. Treatment wise, this generally means that when the test results are implemented alongside correct gut treatment a person may go back to a food that has omitted with time (although I cannot stress enough how case by case this is).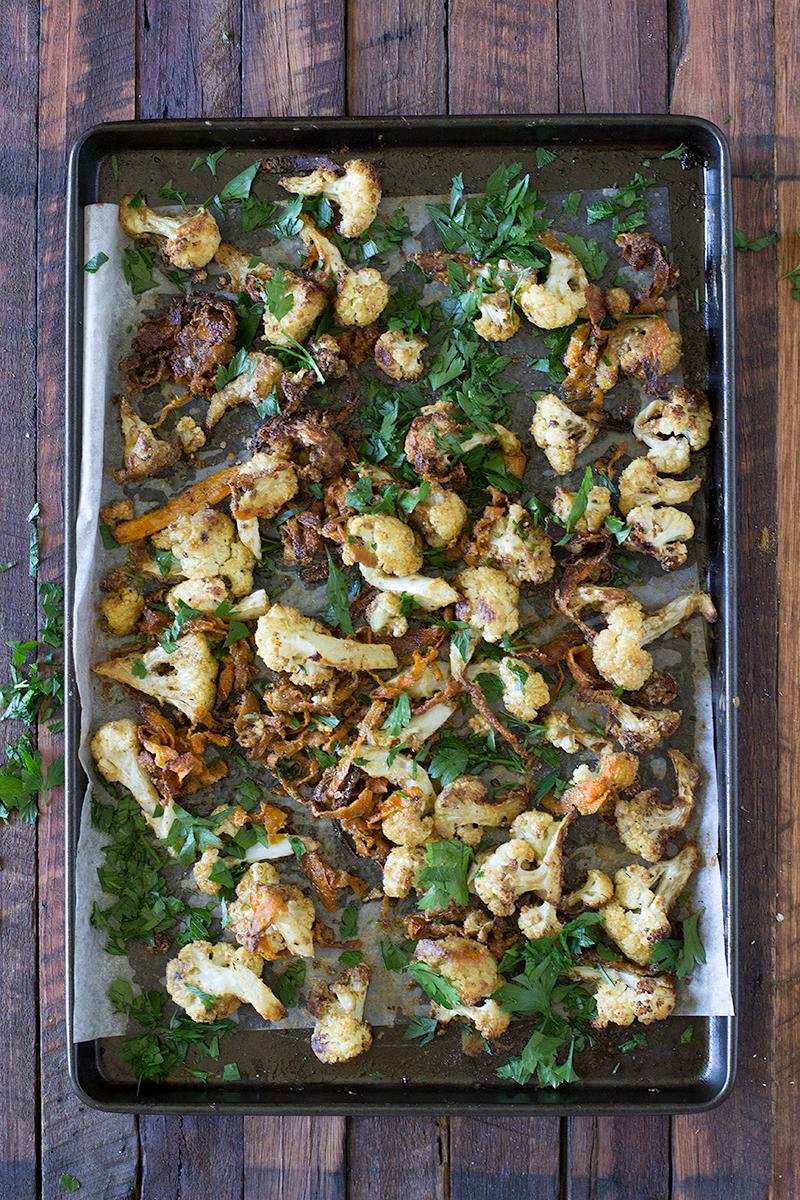 For me, I am now eating a bit of tahini here and there with no issues. The weird thing is though; I've gone off it. I no longer lust for it. I no longer dream about putting it with everything. It's amazing how taste buds change and your body adapts. In saying this I may have just transferred my addiction across to peanut butter….
Hmmm, this dish would be delicious with peanut butter instead of tahini! Almost satay like in flavour. For next time. xx
the best roast cauliflower
serves

serves 2 as a side dish

preparation time

10 minutes

cooking time

40 – 45 minutes
ingredients
1/2 large cauliflower cut into bite sized florets
2 medium carrots, cut into ribbons (use a peeler or mandolin)
2 heaped teaspoons cumin powder
3 tablespoons hulled tahini (or macadamia nut butter)
1 teaspoon sea salt
1/2 teaspoon pepper
3 tablespoons extra virgin olive oil
1/3 cup roughly chopped flat leaf parsley
method
Preheat your oven to 210c, fan forced.
Place the cauliflower florets and carrot ribbons on a large baking tray. Drizzle over the tahini then sprinkle over the cumin, salt and pepper. Add 2 tablespoons of the olive oil and then use your hands to mix well, coating the cauliflower and carrot ribbons well with the spiced tahini oil mixture.
Place in the oven to bake for 40 – 45 minutes, removing at the half way point to toss and to add another tablespoon of olive oil. Once the cauliflower is tender and browning and the carrot ribbons are toasted and crispy your vegetables are done.
Remove from the oven and top with parsley and a little more olive oil before serving.
nutritional information
Wondering about which tahini to use? Hulled tahini means the outer husk of the sesame seed has been removed. This reduces the fibre content of the tahini and takes away the 'bitter' flavour that some find it has. The hulled tahini is also slightly lower in calcium. Unhulled tahini still retains the outer husk of the seed, which gives it the darker colour and the stronger flavour. Unhulled tahini is richer in calcium, although the natural fiber content may impede the absorption slightly of this calcium. Black tahini contains higher amounts of antioxidants that are naturally associated with dark/black foods. Sesame seeds are an abundant source of vitamin E and antioxidants such as sesaminol and sesamolin that scavenge free radicals.
Cauliflower is rich in vitamin C, Vitamin B6 and folate. Cauliflower is also part of the family of vegetables that contain the phytochemicals known as sulforaphanes, indoles, isothiocyanates and thiols. These compounds have been shown to exhibit the ability to down regulate the production of adverse types of oestrogen. These plant-based compounds also support the natural detoxification processes of the liver.
Jessica Cox is a qualified practicing Nutritionist with a Bachelor Health Science (Nutrition) and over 15 years of clinical experience. She is the founder and director JCN Clinic, published author and established recipe developer. Jessica is well respected within health and wellness space for her no fad approach and use of evidence-based nutrition.