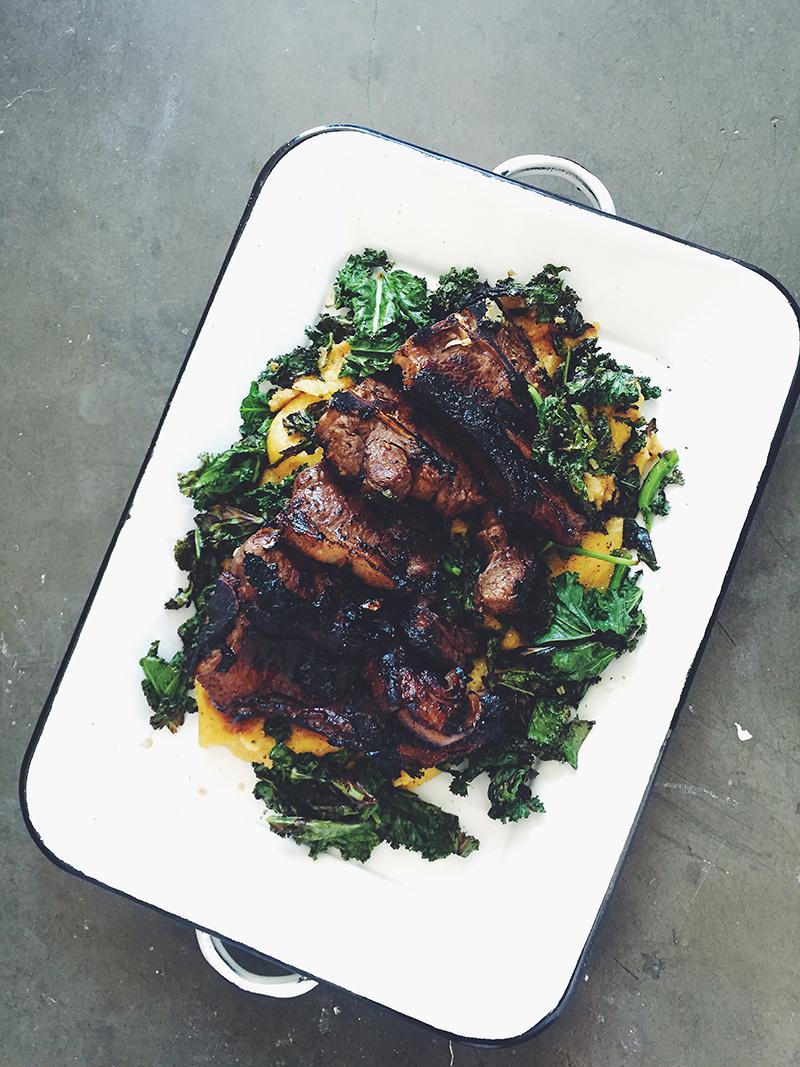 You know a recipe is a winner when you find yourself salivating watching yourself make it on film right? This dish to me has a very Tuscan feel. Great rustic produce done simply.
These lemon, garlic and maple lamb chops with soft polenta and wilted kale are actually a really common mid-week meal in our kitchen. We have a local butcher that does great free range lamb, so it's generally a once a week dinner scenario.
You can really bang this meal out in less than 15-20 minutes if you are up for the challenge of multitasking. I always do the three components all at once and majority of the time it ends well. Occasionally there are swear words if it gets a bit out of hand (or the cat won't get out from under my feet as the smell of lamb sends her bonkers). Generally it's as simple as the polenta gets a bit stodgy, but I just add some more stock and the problem is solved. No cuss words needed there.
When I cooked this up on the day of filming I literally smoked the kitchen out, which you can see in the video. That 'haze' that develops is not a sudden heat wave or a soft filter, its smoke literally filling the air. At the end of the lamb dish shoot the food was served unharmed and the film crew devoured it. Actually one of the crew has even made this dish himself for a lucky lady just by watching the reruns of the video! Totally impressed by that.
Now I know that lamb may not be everyone's thing, so if you want to change up your protein then by all means go for it. This would work with chicken or fish. I think it would even be nice with some tempeh if you were looking for a vego option.
I know this dish also only has one green and no other official vegetables. Tut-tut right. You know what? I'm not fazed, not one bit. It's a hearty and wholesome meal and as part of a balanced wholefood plant rich diet that is just fine by me. x
garlic, lemon & maple lamb w soft polenta + wilted kale
serves

serves 2 – 3 people

preparation time

10 minutes

cooking time

20 minutes
ingredients
juice 1/2 lemon
2 cloves garlic, finely chopped
1 tablespoon maple syrup
salt and pepper for season
6 free range lamb chops
1/2 cup polenta
1 cup quality vegetable or chicken stock
2 – 3 tablespoons extra virgin olive oil
1 large bunch organic kale, leaves removed from stems (see video for how to do this)
additional clove of garlic, finely chopped
method
This dish can be really quick if you do everything all at once! You can either have it on the table in 15 – 20 minutes if you are a keen mutitasker, or if you want to take your time allow a bit longer.
Start by preparing the lamb chops for a quick and easy marinade. In a shallow dish combine the lemon juice, 2 cloves of finely chopped garlic and maple syrup. Season the marinade with salt and pepper. Add lamb chops and toss through coating well. Set aside.
Now its time to prepare the polenta. Add your stock to a saucepan on medium heat and add in the polenta. Stir well and as it comes to the boil turn the heat down to a very low simmer, as otherwise it will spatter away and probably land on your arms if you are as lucky as I am! Once the polenta has taken up all the stock add a good tablespoon of olive oil and season with salt and pepper. Leave on a very low heat as you continue on with your kale.
To cook the kale, simply add the roughly chopped kale to a medium to high heat frying pan with about a tablespoon of olive oil. Stir well ensuring that all the kale is covered with the oil. Allow the kale to wilt and even begin to slightly brown in parts (so yum!). The kale will take no more than 5 minutes, so just before it is finished season with salt and pepper and add the additional clove of garlic. Finely add the remaining olive oil and stir through.
While the kale is cooking and the polenta is in its final stages you can start cooking your lamb. Add the lamb to a medium to hot pan and allow it to cook well on one side before turning. The lamb will get charred and sticky from the maple, so don't be concerned by the black colour. I like to also stand the lamb on its fatty side to render the fat down for a few minutes as you will see me do in the video.
To serve, pile the polenta onto a serving dish (or plates) and top with the wilted kale. Finish with the lamb chops and the lovely pan juices. Enjoy!
nutritional information
Lamb is a rich source of protein, with 100grams of lamb meat containing around 25grams of pure protein. Lamb also provides a combined mix of saturated and a mono-unsaturated fat, so contrary to belief fat from lamb is not all the saturated kind. Lamb is also very rich in B vitamins, B2, B3 and B6 and a magnificent source of B12 (red meat is generally the most abundant source of B12). Lamb is also high in minerals such as selenium, iron, zinc, potassium and phosphorus.
Kale has had so much attention this last year past. It would have to be the food of 2015 as far as superfood attention goes. The reason kale gets such a good wrap is due to its abundance of vitamins, minerals and antioxidants. Kale is high in Vitamin A, C and K along with providing a good source of manganese, potassium and calcium. Kale is also rich in fibre and antioxidants lutein and zeaxanthin, which help keep our eyes health warding off macular degeneration. Kale is also rich in the phytochemicals isothiocyanates, made from glucosinolates which have been shown to play a role in reducing metastasis.
Polenta (cornmeal) provides a rich source of carbohydrates with around 8 to 10 grams fibre per cup. Polenta is high in B vitamins, in particular B1 and B3. It is also a wonderful source of iron, magnesium, manganese, phosphorus and selenium. 1 cup of polenta also provides around 4-6 grams protein. Corn is also a rich source of antioxidants known as carotenoids, specifically lutein and zeaxanthin from yellow corn, which are know to be beneficial for eye health.
Jessica Cox is a qualified practicing Nutritionist with a Bachelor Health Science (Nutrition) and over 15 years of clinical experience. She is the founder and director JCN Clinic, published author and established recipe developer. Jessica is well respected within health and wellness space for her no fad approach and use of evidence-based nutrition.