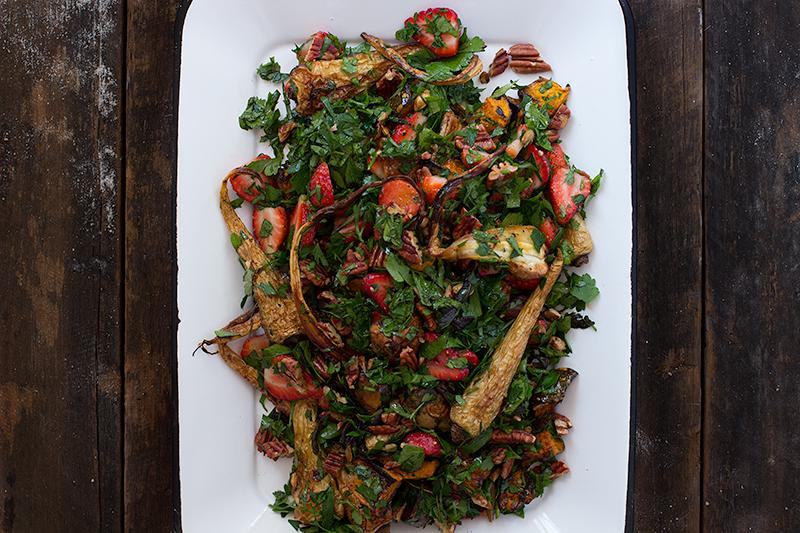 I've only made this salad once before. The first time round I made a mental note that I just had to share it with you here on the website. It's so uniquely delicious and a celebration of our current seasonal ingredients just before heading into the warm seasons. This honey roasted pumpkin & parsnip salad with strawberries was literally inspired by walking around my local 'chemical free' markets in Sandgate and being drawn to certain produce. A favourite of these being these sexy baby parsnips. (Speaking of 'sexy', the first time I posted the below shot on Instagram many of you commented saying they looked like sperm swimming the race of their life for the egg – I can't look at baby parsnips quite the same now).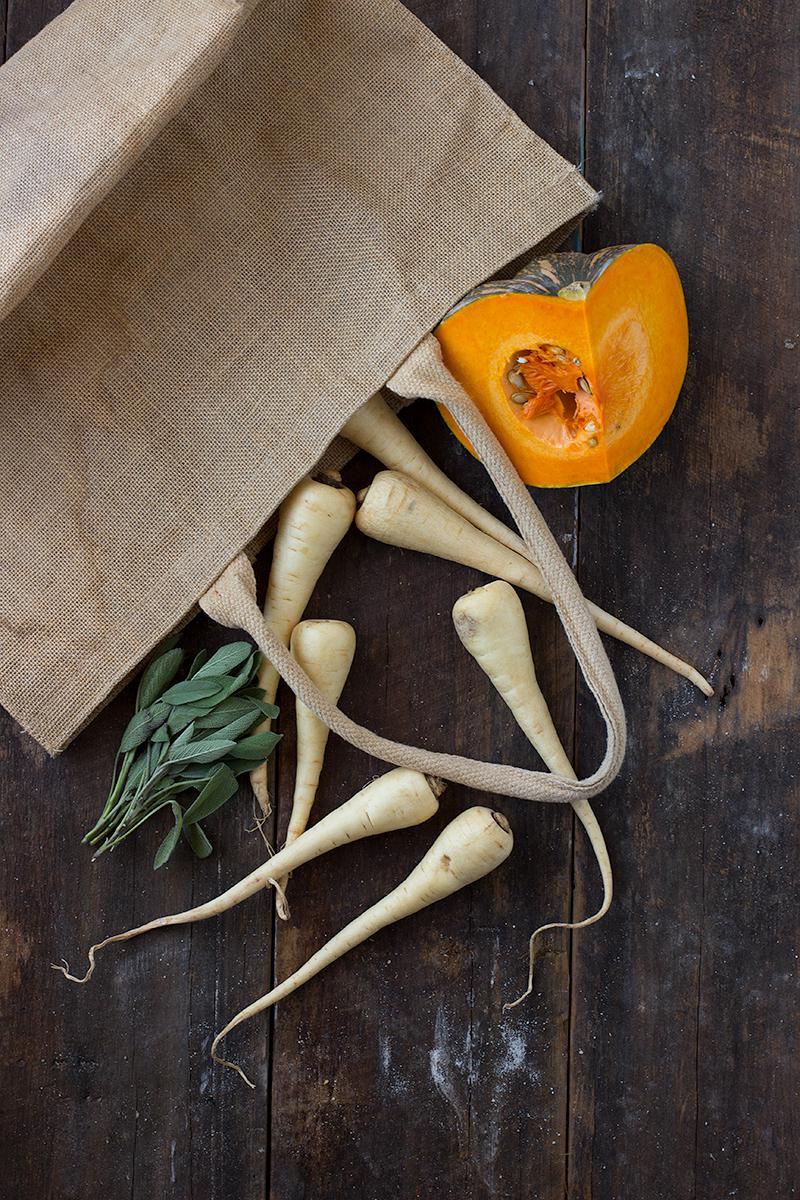 Baby parsnips are nowhere as woody or tough as their older counterparts. Getting them young like this ensures their sweetness, tenderness and juiciness. Sounds good right? Imagine them then tossed with sticky honey and baked till tender. Glorious.
Adding fruit to salads is crossing the line for some of you I know. I get that odd look from plenty of my clients when I mention it. Its that familiar look of ' you've pushed the boundary too far Jessica'. I often see the same look when I ask the majority of my clients if they would consider trying kangaroo (no one wants to eat Skippy it seems).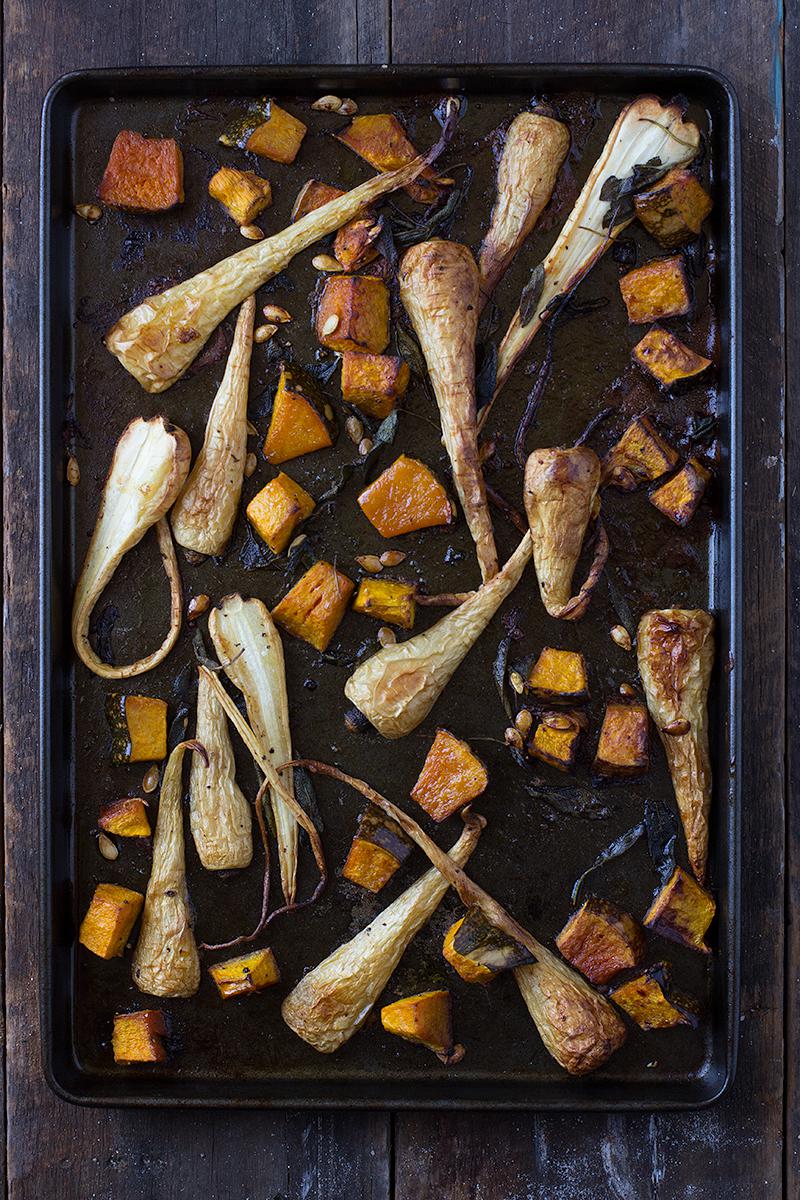 Fruit in salads if you are yet to try it is a delicious experience. Imagine the bitter greens, the acidic dressing and the crunchy seeds. Then imagine that sweet burst of fruit. Perfecto! Other fruits I love in salads are papaya, rockmelon, pear, apple and pineapple. As always its about the balance, you don't want the fruit to be too dominant or it will feel like a weird fruit salad that lost its way. Less is often more in this case.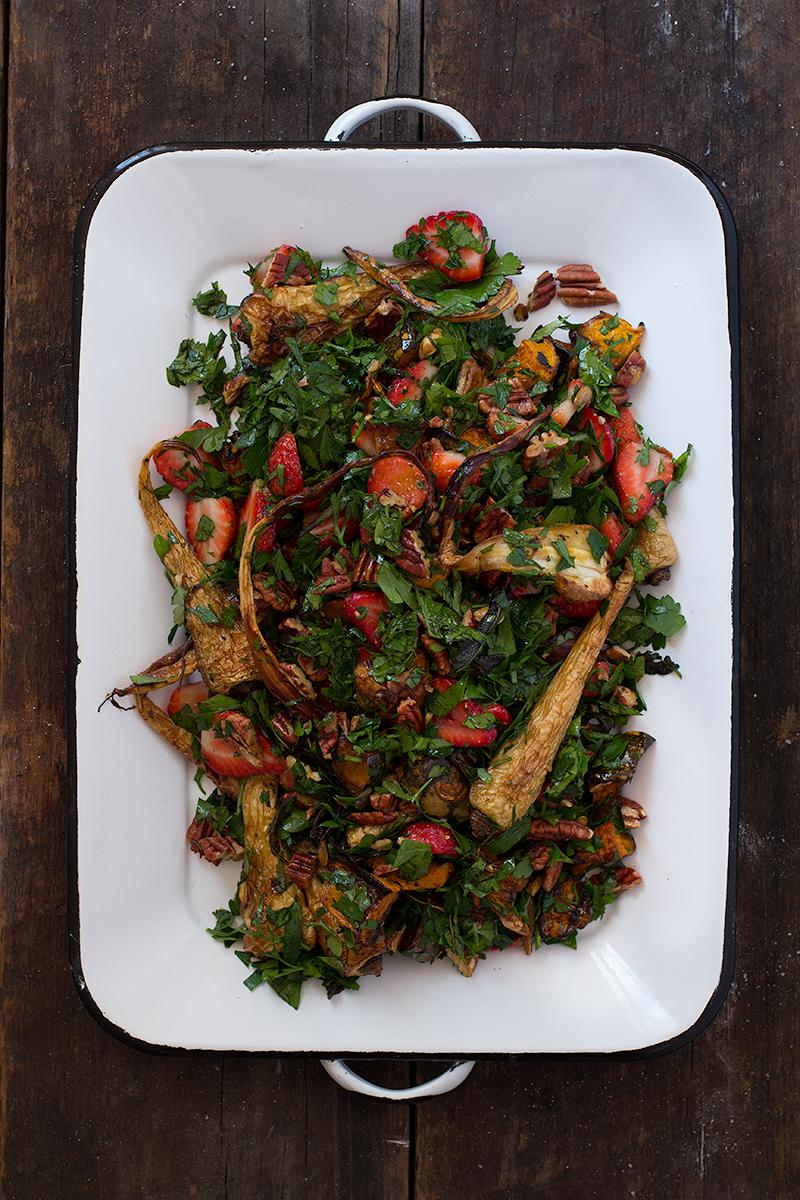 The other exciting part about this salad for me is that it introduces you to the concept of using herbs as your greens. I'm always asking my clients to try this, to step outside just using rocket or spinach as their green of choice. Fresh herbs are so ridiculously rich in nutrients and phytochemicals and they really should play a starring role in our diets. Parsley is the hero green of this dish, fresh and full of flavour. Besides the fact that parsley is just delicious, it is also a plant based source of iron that I encourage many of my clients low in iron to include. Of course if the thought of a parsley based salad makes you run a mile like my now official brother in law Davo, you could use rocket for a similar palette effect.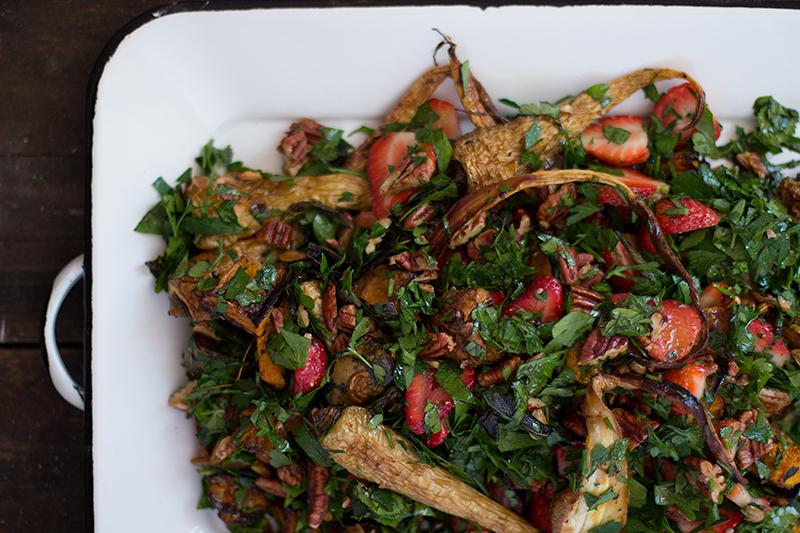 If asking you to try fruit in salad and herbs instead of the usual greens was not enough, I'm also asking you to LEAVE THE SKIN ON THE PUMPKIN AND INCLUDE THE GOOEY CENTRE WITH THE SEEDS. No, I have not lost my marbles. Trust me that these will bake into a crunchy delight that will have you continuing to add these to your baking trays for good. I implore you to enjoy this honey roasted pumpkin & parsnip salad with strawberries nestled up against your favourite protein side. I love it with salmon or any fish personally, or even a really good steak. Don't forget to make lots so you have left overs to enjoy through the week in your lunches too! x
honey roasted pumpkin & parsnip salad w strawberries
serves

makes 4 side salad serves

preparation time

15 minutes

cooking time

30 – 40 minutes
ingredients
500 grams pumpkin, roughly cubed, skin on with seeds and all (don't be shy, give it a go!)
6 – 7 small baby parsnips, sliced down the middle
1 large bunch sage
3/4 cup pecan nuts
1 & 1/2 cups roughly chopped flat leaf parsley
2 cups strawberries (230g), roughly chopped
4 tablespoons extra virgin olive oil
1 tablespoon honey
2 tablespoons red wine vinegar
salt & pepper for seasoning
method
Preheat your oven to 180c, fan forced. Place the pumpkin (including all the middle bits with seeds you usually throw away) on a large roasting tray with the parsnips. Season with salt and pepper then drizzle with the honey and 2 tablespoons of extra virgin olive oil. Toss well and place in the oven to roast.
At the 20-minute mark, remove tray and add the sage and pecans. Toss well once more with all of the parsnips and pumpkin and place back in the oven for the remaining baking time, or until vegetables are golden and pecans are toasted.
Once everything is cooked, remove from the oven and scrape into a large salad bowl. Make sure you get all the crispy bits, including the roasted pumpkin seeds and sage leaves.
Add to the bowl the parsley, strawberries, red wine vinegar and remaining extra virgin olive oil and toss well. Your salad is now ready to serve and enjoy!
Keeps well in the fridge covered for 3 -4 days.
nutritional information
Sage is used in natural medicine circles to relieve heat and therefore reduce the symptoms of menopause. Sage is rich in phytochemicals such as flavanoids and monoterpenes. Monoterpenes have the ability to inhibit wayward cellular development.
Jessica Cox is a qualified practicing Nutritionist with a Bachelor Health Science (Nutrition) and over 15 years of clinical experience. She is the founder and director JCN Clinic, published author and established recipe developer. Jessica is well respected within health and wellness space for her no fad approach and use of evidence-based nutrition.