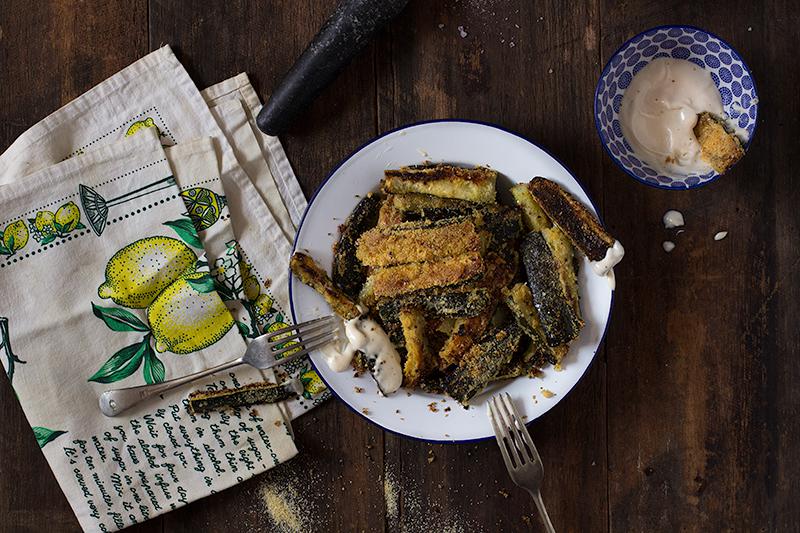 I'm wondering if these zucchini wedges will cause as much as a stir as my turmeric and sesame sweet potato wedges. It's funny how such simple recipes are always the ones that we love the most. I think it's their shear simplicity that makes them so appealing to make, as opposed to breaking out ten plus ingredients to make a cake.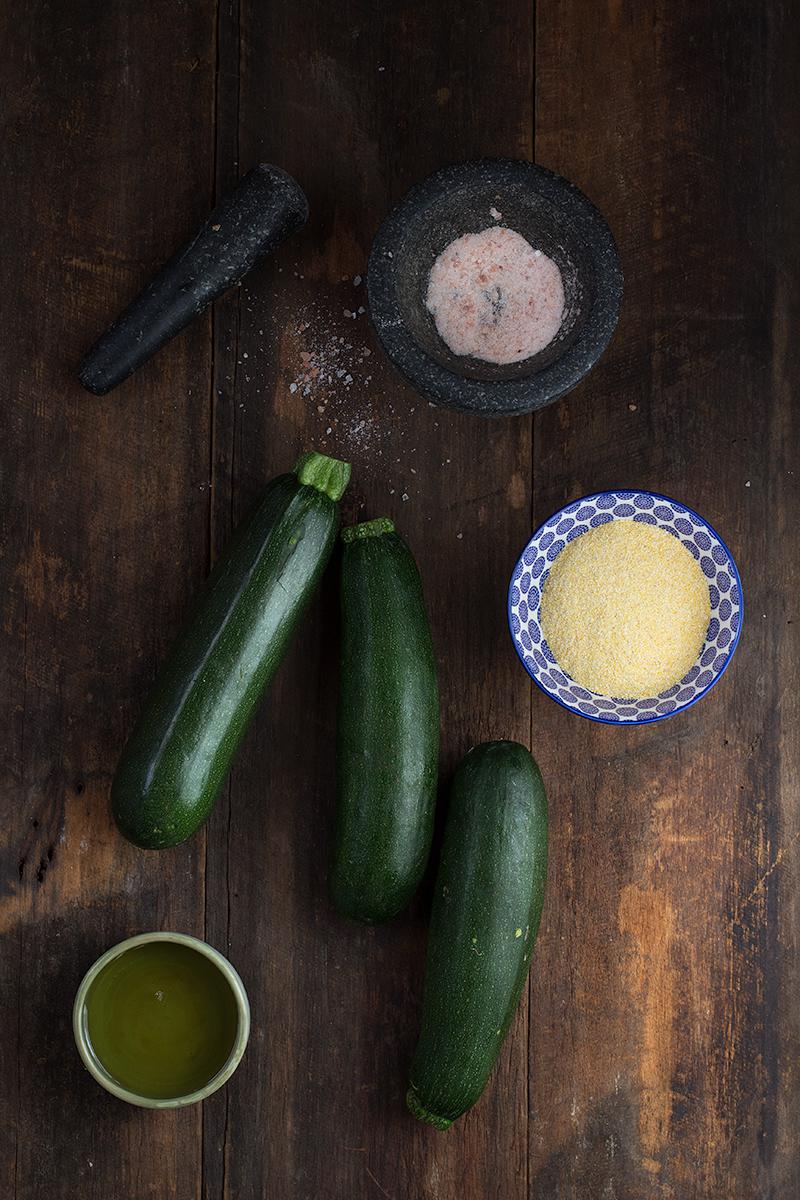 My love for zucchini wedges is a relatively new one. With our renovation being in full swing of late we have been working big hours on the weekend, then finishing up around 6pm feeling super tired and ready to devour anything in sight. That's meant some easy relaxed dinners out and the discovery of Grill'd zucchini wedges. As soon as I tasted those tasty little morsels I knew I had to make up my own version. I'm a sucker for anything to do with wedges and aioli. It brings me to my foodie knees.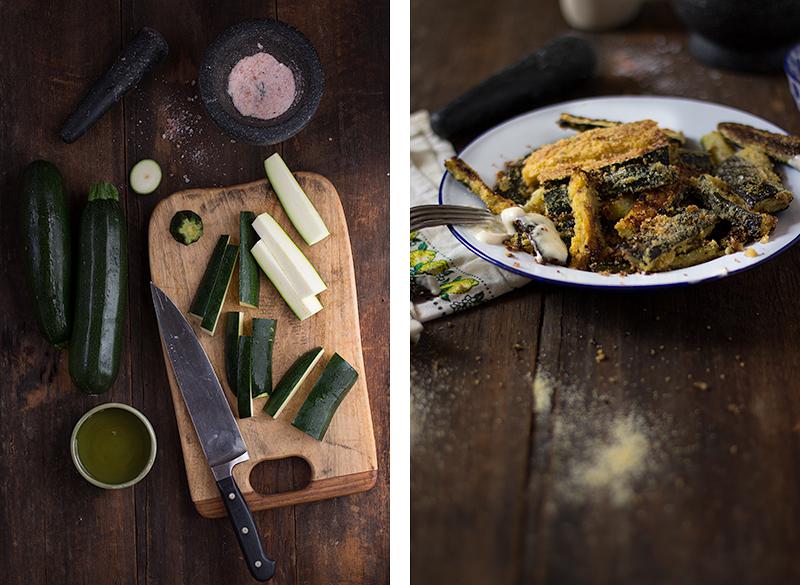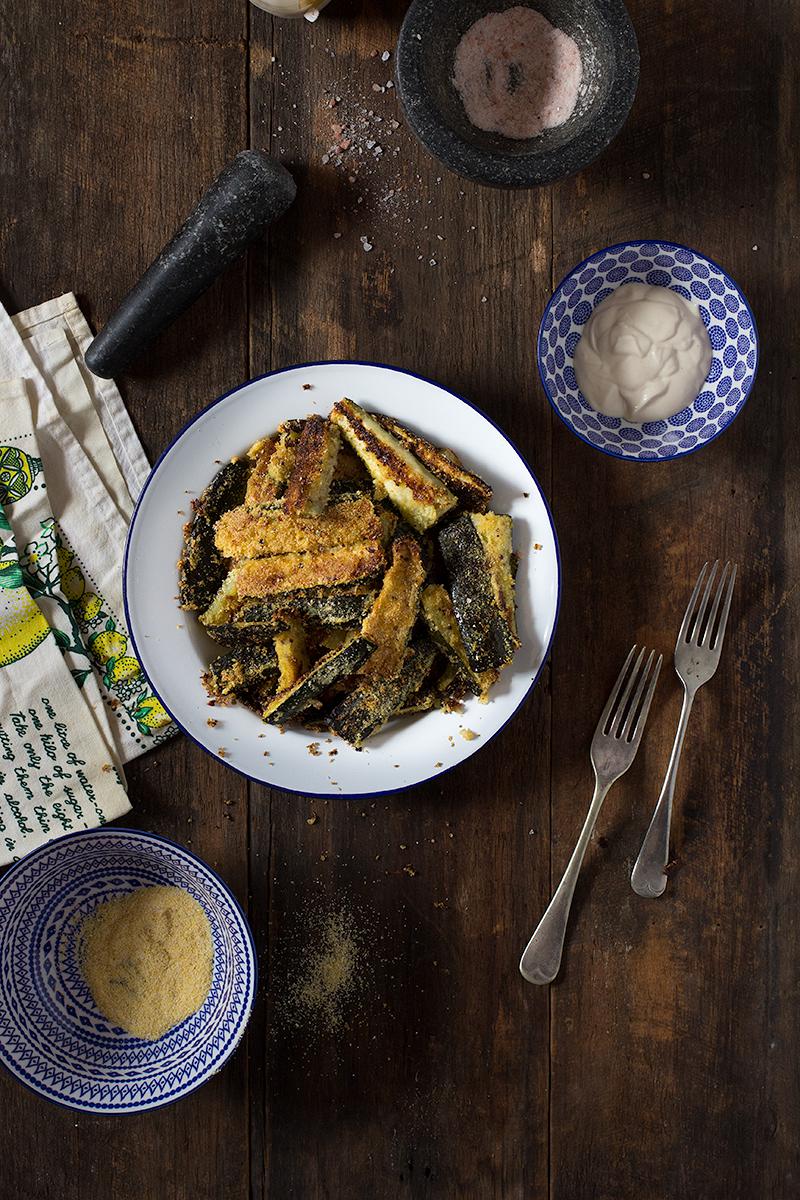 These zucchini wedges are not as super crunchy as the bought version, as they are baked instead of deep-fried. The polenta crust differs from the almond meal crust that embellishes the ones I eat out, yet I love the added texture that the polenta brings.
Personally, I think these zucchini wedges are best served adjacent to a piece of crumbed chicken, like my herbed chicken schnitzel. They just compliment each other perfectly. Of course they are pretty much delicious with anything, so I suggest just making them part of your regular weekly repertoire as I have. Once you start you won't be able to stop.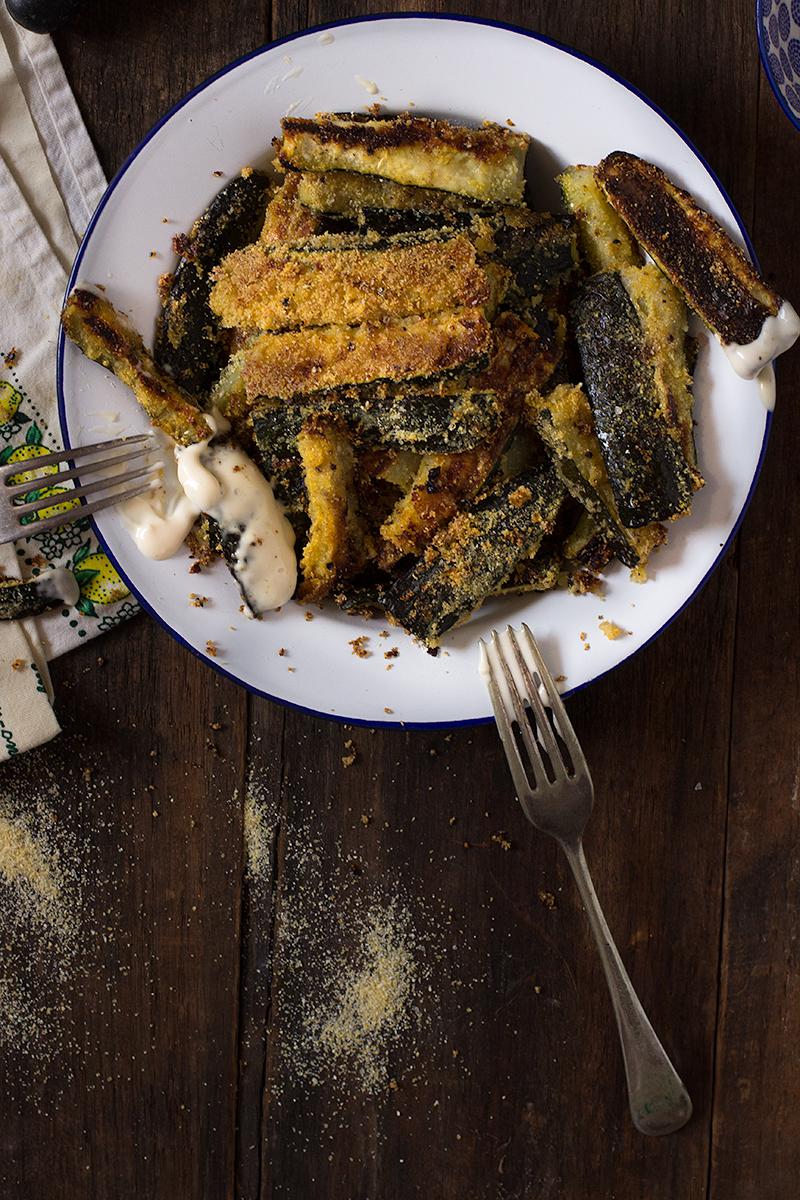 zucchini wedges
serves

2 people as a side or snack

preparation time

10 minutes

cooking time

50 – 60 minutes
ingredients
3 large zucchini's
1/3 cup polenta (or almond meal for grain free)
1 teaspoon salt
1 teaspoon pepper
3 tablespoons macadamia nut oil or extra virgin olive oil
method
Preheat your oven to 220c.
Wash the zucchini's then chop off the ends. Cut them in half then slice them down the middle. Now cut each section into thirds to make large wedges.
Place the zucchini wedges on a large baking tray. Add the salt and pepper and macadamia nut or olive oil and toss well to coat the entire zucchini well. Now add the polenta and again toss with your hands to ensure all of the zucchini wedges are coated. The polenta will fall off and create a little bit of a layer under some of the wedges but that is fine. Ensure that all the wedges are spread out so they are not too crowded and touching each other.
Place the zucchini wedges in the oven. Allow them to cook for a good 20 – 30 minutes depending on your oven before turning. You want the underside to be a golden brown. Once they are golden, turn the wedges and then place them back in the oven. At this stage I like to sprinkle the underside now exposed with a little polenta again and a touch of olive oil. Allow to bake again for remaining time or until the underside is golden brown.
To serve, remove the zucchini wedges from the tray with a spatula and serve hot with mayonnaise, aioli, guacamole or your favourite vegan dipping sauce.
nutritional information
Polenta (cornmeal) provides a rich source of carbohydrates with around 8 to 10 grams fibre per cup. Polenta is high in B vitamins, in particular B1 and B3. It is also a wonderful source of iron, magnesium, manganese, phosphorus and selenium. 1 cup of polenta also provides around 4-6 grams protein. Corn is also a rich source of antioxidants known as carotenoids, specifically lutein and zeaxanthin from yellow corn, which are know to be beneficial for eye health.
Need a grain free variation? Easy! Use almond meal in place of the polenta. I have done this on many occasions and also love the finished result. The zucchini wedges end up being a little more filling due to the protein and fats provided my the almond meal. You could also experiment with using macadamia nut meal, as I am sure this would be divine!
These wedges are not a meal on their own. As delicious as they are you will need extra protein dense food to accompany the zucchini wedges if you plan on having them as a lunch or dinner. I suggest some fish or meat of choice, or for a vegetarian or vegan option a big scoop of hummus or braised bean casserole.
Jessica Cox is a qualified practicing Nutritionist with a Bachelor Health Science (Nutrition) and over 15 years of clinical experience. She is the founder and director JCN Clinic, published author and established recipe developer. Jessica is well respected within health and wellness space for her no fad approach and use of evidence-based nutrition.