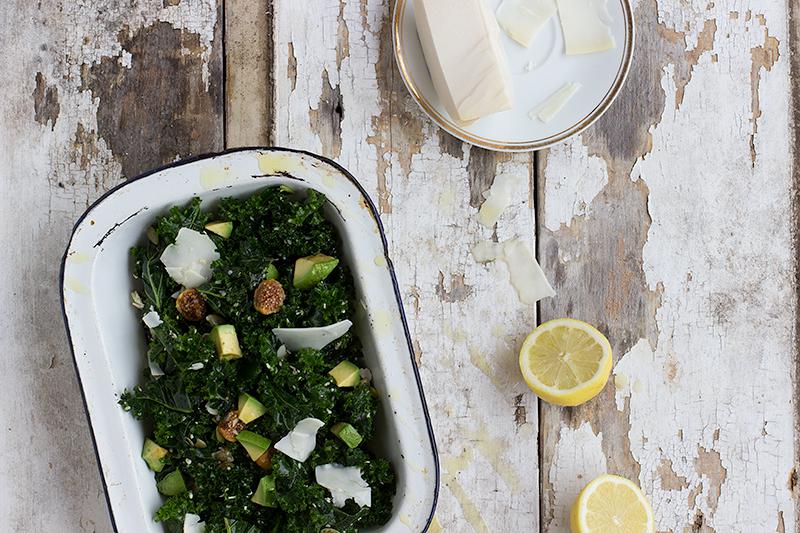 Up until now I have never been a fan of the thought of a massaged kale salad. I mean really…massaged kale! Why would I deviate from it's traditional rustic roots of slow pan cooking with olive oil and garlic, it just ticks all the right boxes. The thing is, the hot weather got the better of me. Our house is in full-scale demolition mode of our renovations, which equates to no walls or ceiling in most of the house. Just an empty shell ready to trap the hot rays of the day inside, melting everything within its walls to a sad and sorry state (except for the cat, she is insane and loves it).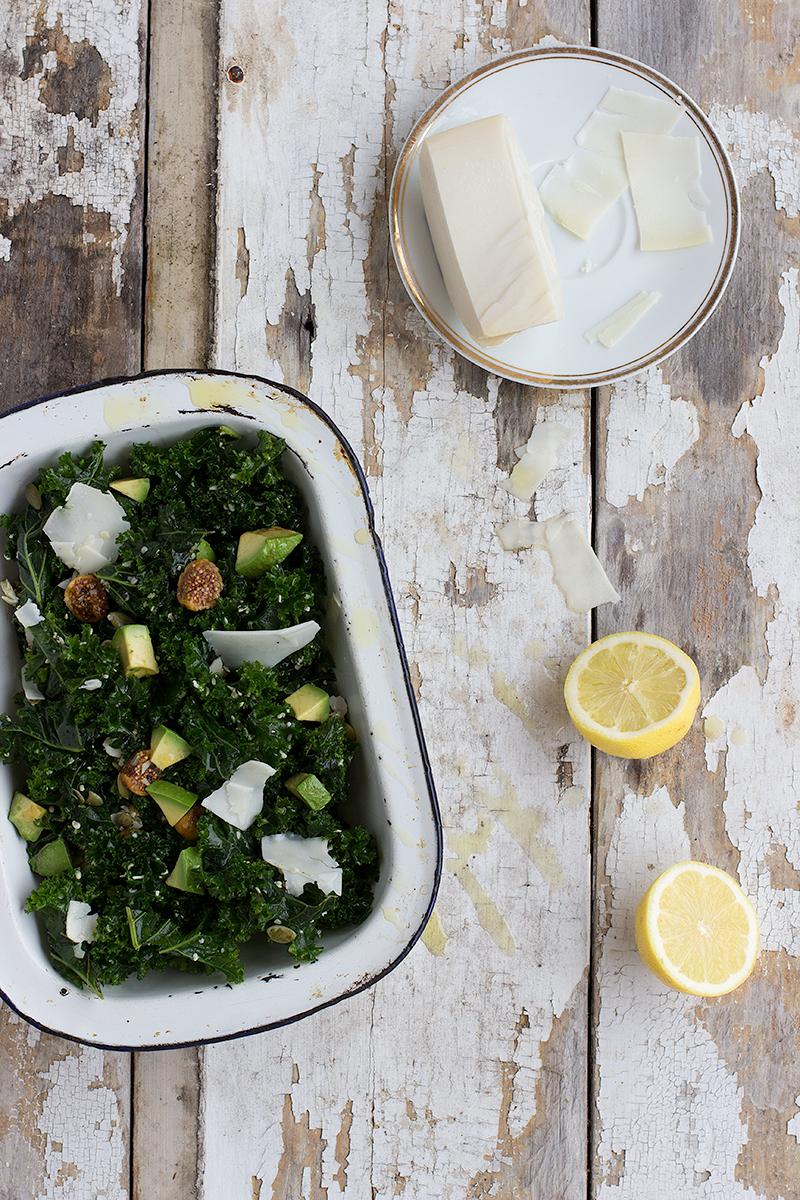 As you can imagine, the thought of putting the oven on in this inferno is just too much to bare. So when faced with my weekly bunch of kale I thought, ok Jessica, lets give this massaged kale thing a go. Well, did I literally eat my words. The motion of massaging (realistically kneading in my opinion), breaks down the hard fibres of the kale leaving it soft and buttery. Instead of feeling like you are chewing on horse feed, you are enjoying a soft and delightful texture full of flavour. I must also admit, it is somewhat therapeutic at the end of the day, kneading those greens to within an inch of their life.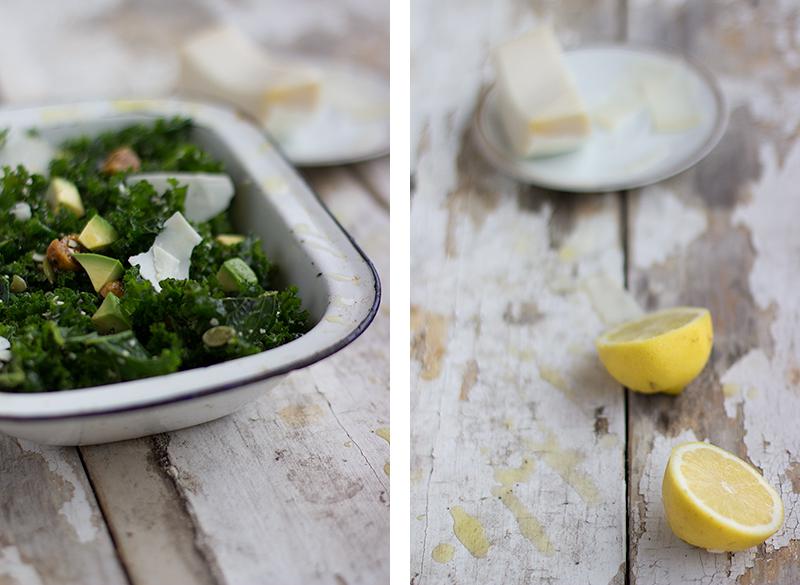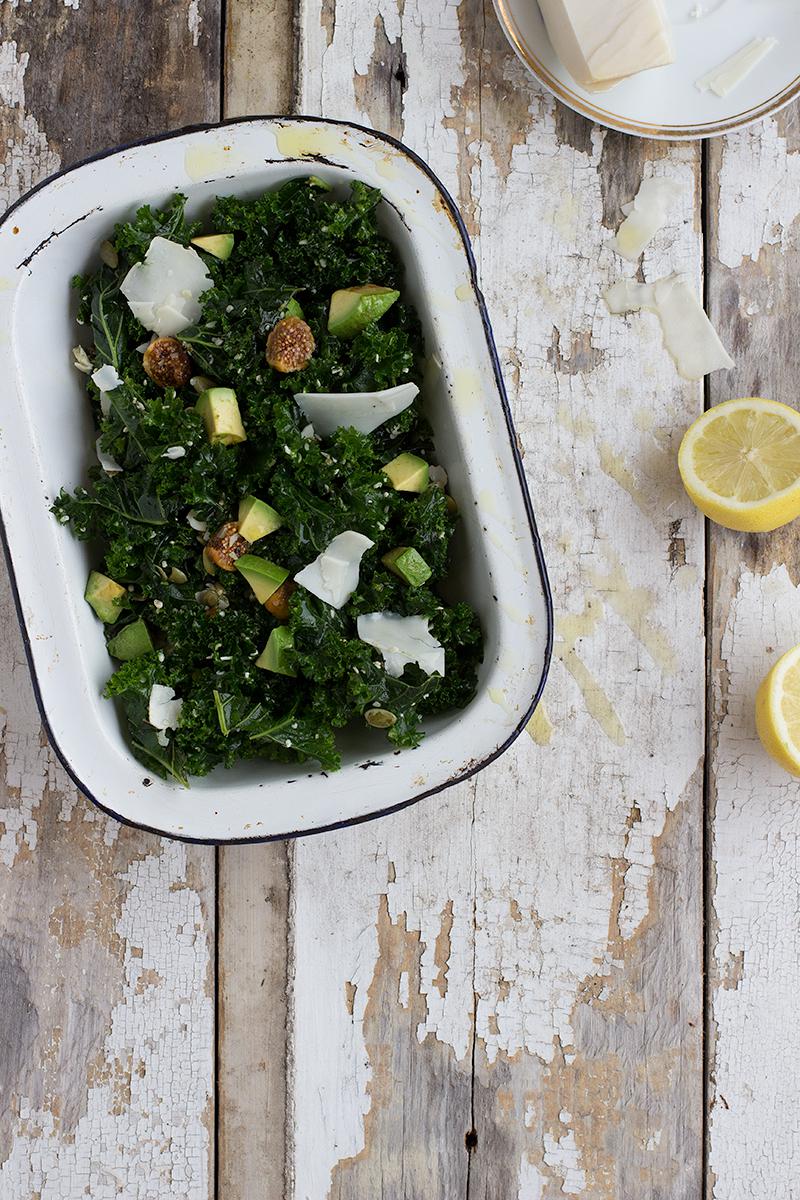 To be honest I could just eat this massaged kale as it is before the add ins. A little a lot of olive oil, salt and pepper and I am happy. However not everyone is as addicted to olive oil and salt as I am, so I jazzed it up to create more of a balanced side dish to a protein. I also wanted to add different textures and flavours that played up against the earthy bitterness of the kale.
The hempseeds (if you can get them) and pumpkin seeds provide crunch, while avocado and goats cheese provide softness and creaminess. The dried figs on the other hand come through with that perfect hit of sweetness to balance out the bitter and the creaminess. Finally the acid of the lemon juice brings the salad altogether into one big bowl of salad perfection.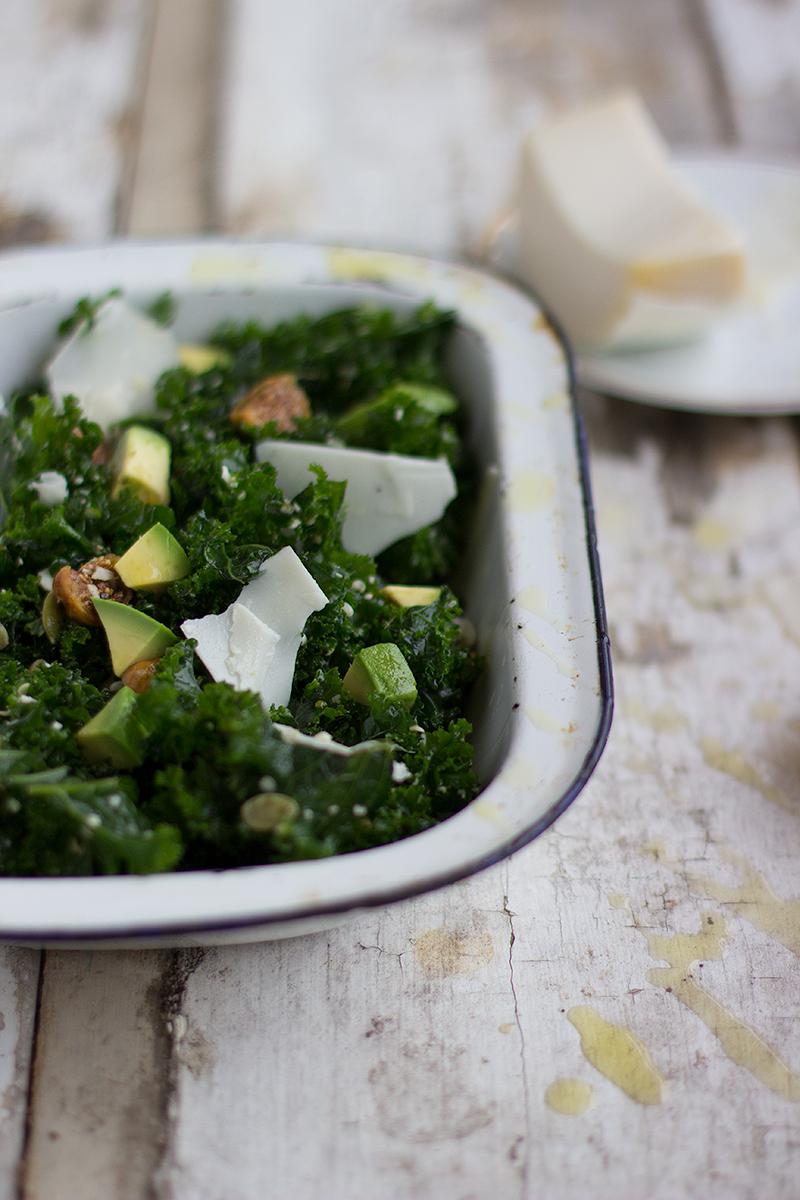 The other fact I adore about this salad is how robust it is. Unlike baby spinach or rocket leaves that become a sad and soggy mess the next day, the kale leaves hold their structure giving you a wonderful and easy option for left overs and weekly lunches. Additionally, paired with bbq meats on weekends, this salad is also a winner to take to friends or families for those weekend get togethers.
So, it seems I will continue to eat my words and my weekly bunch of kale as it moves from the familiarity of the oven into my eagerly waiting massaging hands. In fact, I am damn sure that the kale is not going back in the oven until we have the 21st century pleasure of insulation and a real ceiling. Till then I will keep massaging.
massaged kale salad w avocado, fig + seeds
serves

serves 5 – 6 as a side

preparation time

10 minutes

cooking time

nil
ingredients
1 large bunch kale (preferably organic), washed well
2 tablespoons extra virgin olive oil
1/2 teaspoon salt
1 teaspoon pepper
2 tablespoons hemp seeds (or sesame seeds)
4 tablespoons pumpkin seeds
1 avocado, diced
1/3 cup shaved hard goat cheese
1/3 cup dried figs, sliced
1 lemon, juiced
method
Start by stripping the kale leaves from the thick stem. I like to do this by holding the kale stalk upside down and running my hand in a fist down the stem, which naturally pulls the leaves away from the inner stem. Once you have removed all of the kale leaves from the stem, give them a rough chop then place them in a large mixing bowl.
Pour over 1 tablespoon of the olive oil and add the salt and pepper. Now using a rough massaging technique, knead into the kale crushing it between your palms. Continue to do this for around 2 minutes until the kale has turned a more vibrant green and feels less fibrous. I always eat a little to tell if it is ready for the next step. It should not be too tough basically.
Now that the kale is massaged, add in the hemp seeds (or sesame seeds), pumpkin seeds, avocado, dried figs, goat's cheese, lemon juice and remaining olive oil. Toss really well to coat all the ingredients in the juices of the lemon and the oil. Serve with your favourite meats, poached eggs or even some warmed falafels.
This massaged kale salad will keep well in the fridge in an airtight container for a good 3 -4 days.
nutritional information
Kale has had so much attention this last year past. It would have to be the food of 2015 as far as superfood attention goes. The reason kale gets such a good wrap is due to its abundance of vitamins, minerals and antioxidants. Kale is high in Vitamin A, C and K along with providing a good source of manganese, potassium and calcium. Kale is also rich in fibre and antioxidants lutein and zeaxanthin, which help keep our eyes health warding off macular degeneration. Kale is also rich in the phytochemicals isothiocyanates, made from glucosinolates which have been shown to play a role in reducing metastasis.
This kale salad is a wonderful source of calcium. Kale itself provides around 15% of your calcium needs in just 1 cup. The added dried figs are also a rich source of calcium, along with the added seeds and shaved goats cheese. Goats milk actually contains almost double the amount of calcium than cows milk.
Jessica Cox is a qualified practicing Nutritionist with a Bachelor Health Science (Nutrition) and over 15 years of clinical experience. She is the founder and director JCN Clinic, published author and established recipe developer. Jessica is well respected within health and wellness space for her no fad approach and use of evidence-based nutrition.