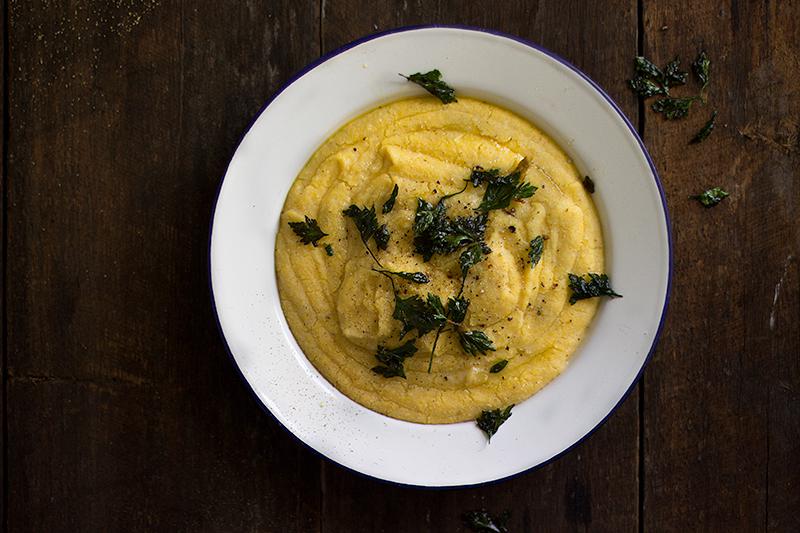 This dish (like many of my dishes) is inspired by Italy. I love the simplicity of polenta, how a grain (or a vegetable meal in this case) can come together with some hot stock and generate such a wondrous creation. A good polenta (like a lot of paired back recipes) really does require decent quality ingredients. There is nowhere to hide with only a handful of components.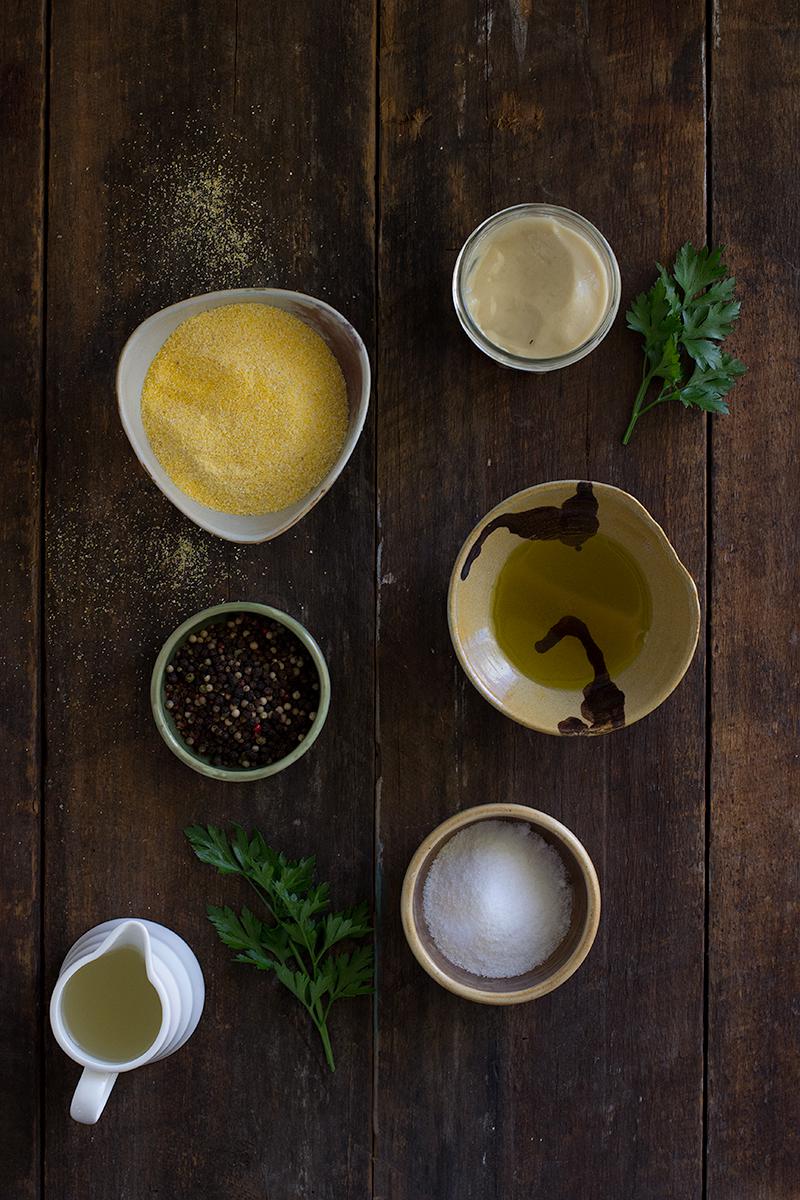 When making this recipe, choose a polenta with a course meal for some bite and texture. Secondly, and most importantly, use a stock that is either homemade or of worthy quality. For me spending a few extra dollars on a decent stock makes all the difference. Look at the ingredients on the packet and you should see a list of vegetables such as onion, garlic, carrot and celery, with the addition of some herbs and spices. There may be some chicken bones in a chicken stock, and always some seasoning. However, there is no need for sugar, additives, yeasts and 'vegetable flavourings'. Woolworths sells a really good stock in a liquid form that certainly ticks these boxes, so you do not have to slave over a hot stove for hours creating your own stock if you do not want to. If you do want to make a stock I suggest using this recipe here.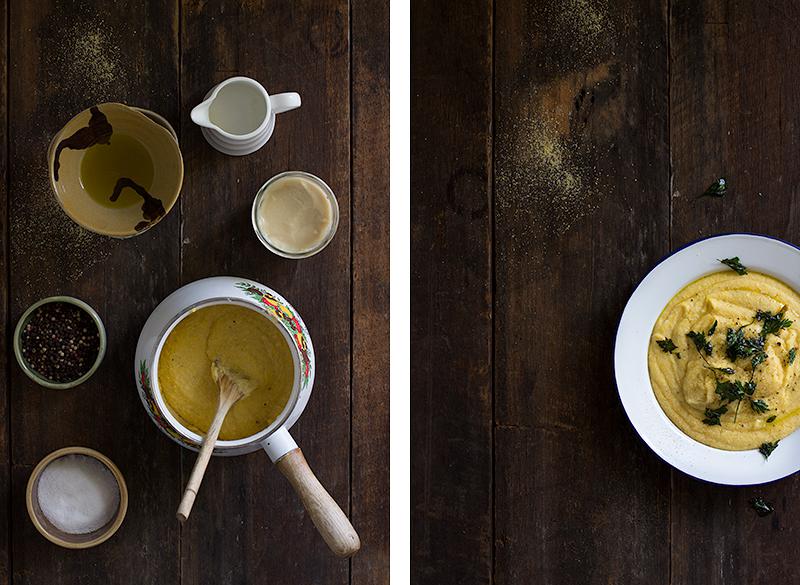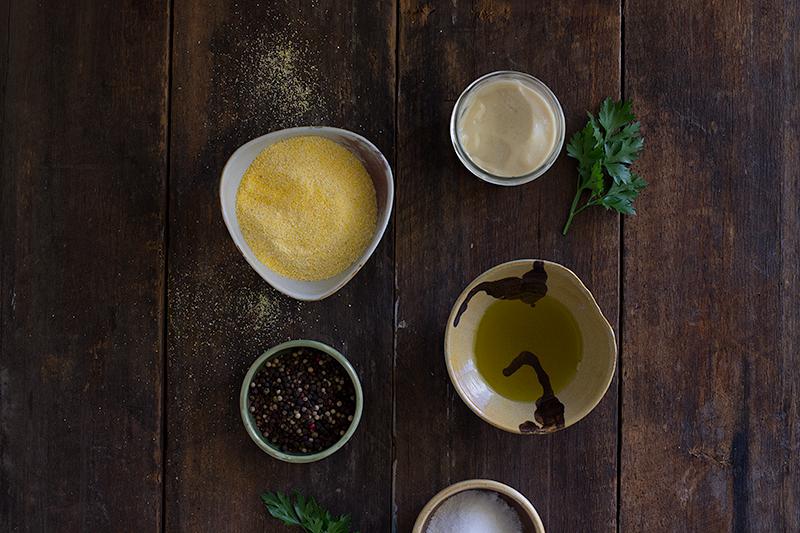 Polenta can be made with just stock and polenta meal and then some seasoning to finish. I certainly had it this way in Italy. The most memorable polenta I had was a white polenta served with squid in squid ink. The plate was a stark mix of white and black and it truly freaked my husband out for some reason. My black mouth mortified him as we ate our meals!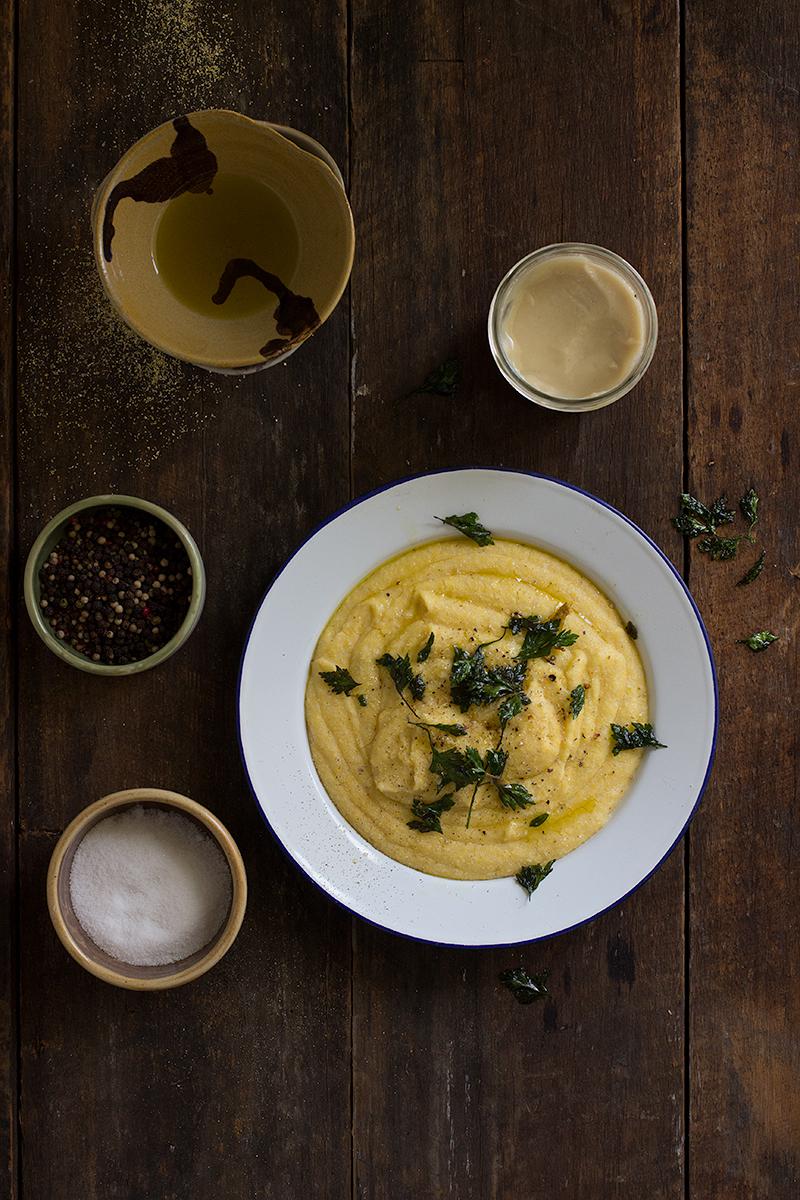 To increase the creaminess in this polenta I have in place of traditional butter added a generous amount of macadamia nut butter and some extra virgin olive oil. The macadamia nut butter has a pleasing neutral creaminess, not too sweet or bitter. I actually make my own macadamia nut butter by throwing a few handfuls of macadamia nuts in the blender and whizzing till creamy. Macadamia nuts are so full of oil that they will blend with ease in most blenders.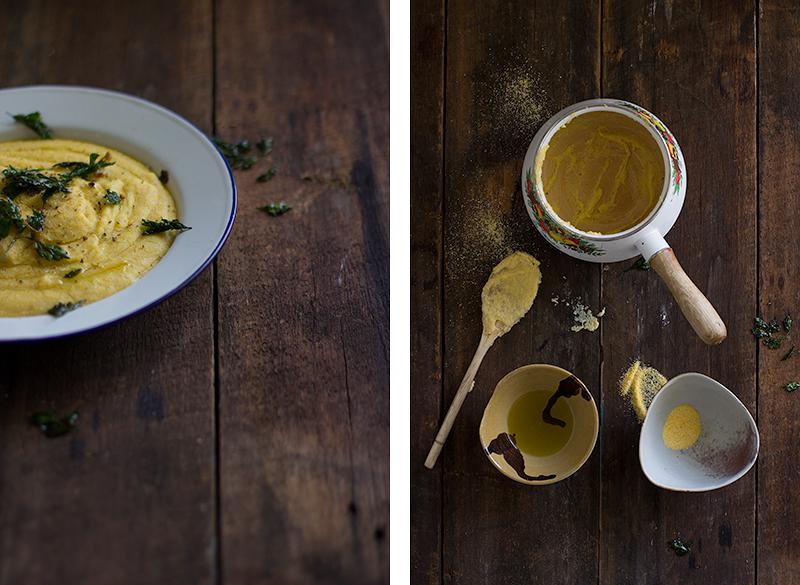 Lastly, don't be afraid to season your polenta well, it truly is what brings the polenta together. The crispy parsley leaves on top add a delicious crunch, so I do recommend them! Serve this creamy polenta with a side of greens and your protein of choice. I personally love it with a scotch fillet steak or a piece of salmon. It is also fabulous for breakfast topped with poached eggs and avocado.
creamy polenta w crispy parsley leaves
serves

serves 4 as a side

preparation time

2 minutes

cooking time

5 – 7 minutes
ingredients
1 cup polenta
3 cups quality vegetable of chicken stock
good pinch of salt and plenty of cracked pepper
1 heaped tablespoon macadamia nut butter (or hulled tahini or almond butter)
1 tablespoon extra virgin olive oil
handful of parsley leaves (optional)
method
Pour the stock into a saucepan and then add the polenta bringing to a medium to low heat. Use a wooden spoon to stir the polenta as it soaks up the stock liquid and begins to form a consistency similar to mashed potato. Once the polenta has soaked up the majority of the stock turn the stove down to a low heat, continuing to stir often to ensure it does not stick. Watch that it does not bubble and pop too rapidly, as it can be quite dangerously hot!
Add a good pinch of salt and plenty of cracked pepper. Add the heaped tablespoon of macadamia nut butter (or other butter of choice) and stir through. Taste the polenta for seasoning and adjust as needed. Before serving, add the tablespoon of olive oil and stir through. This will loosen the polenta slightly; however if you feel it is too thick simply add some more stock or a little hot water. Cover the saucepan with a lid if not serving immediately, or otherwise spoon directly onto plates and finish with a drizzle of olive oil, more cracked pepper and crispy parsley leaves if you desire.
If serving with the crispy parsley leaves, simply bring a small pan to a medium to high heat. Add a lug of olive oil and then toss in the parsley. Be careful, as it will spit a little. Allow the parsley leaves to fry in the olive oil till crispy to touch, around 2 minutes. Serve with pan juices on top of the creamy polenta.
nutritional information
Polenta (cornmeal) provides a rich source of carbohydrates with around 8 to 10 grams fibre per cup. Polenta is high in B vitamins, in particular B1 and B3. It is also a wonderful source of iron, magnesium, manganese, phosphorus and selenium. 1 cup of polenta also provides around 4-6 grams protein.
Overall polenta is dominantly rich in carbohydrates. When serving polenta as part of a meal aim to make the polenta portion 1/3 of your meal in its entirety. This will ensure you get your carbs, yet also do not create a carb dominant meal. Fill the rest of your plate with vegetables and a serve of protein.
Corn is also a rich source of antioxidants known as carotenoids, specifically lutein and zeaxanthin from yellow corn, which are know to be beneficial for eye health.
Jessica Cox is a qualified practicing Nutritionist with a Bachelor Health Science (Nutrition) and over 15 years of clinical experience. She is the founder and director JCN Clinic, published author and established recipe developer. Jessica is well respected within health and wellness space for her no fad approach and use of evidence-based nutrition.