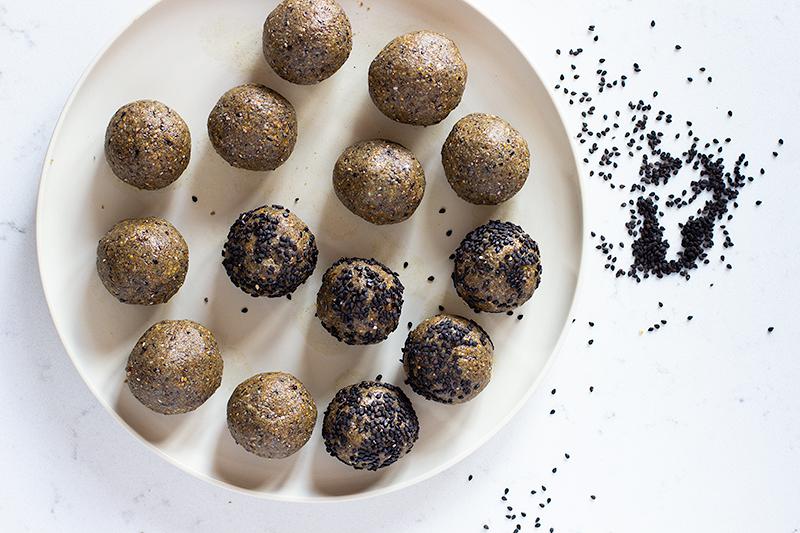 This post is going to be shorter than usual because I'm using my built-in dictaphone due to one very sore broken wrist. I have shared my broken wrist story on my social media, however if this is news to you dear reader, I am currently getting around with my left arm in a permanent cast. Yes, I am unfortunately left-handed making it even more diabolical.
Therefore, I'm going to keep today's blog post short because I'm already super behind in bringing you this post, as everything is taking triple the amount of time to complete. If I try and bring you my usual novel blog post you'll be waiting till Christmas Eve. I'm generally now 48 hours behind with everything that I do, so I must give thanks to the patience of not only those clients that I have already seen, but to those dealing with my handicap in the next month to come. There is now a waiting period for your nutritional prescriptions and dietary plan as I type away ferociously with my right hand after we finish.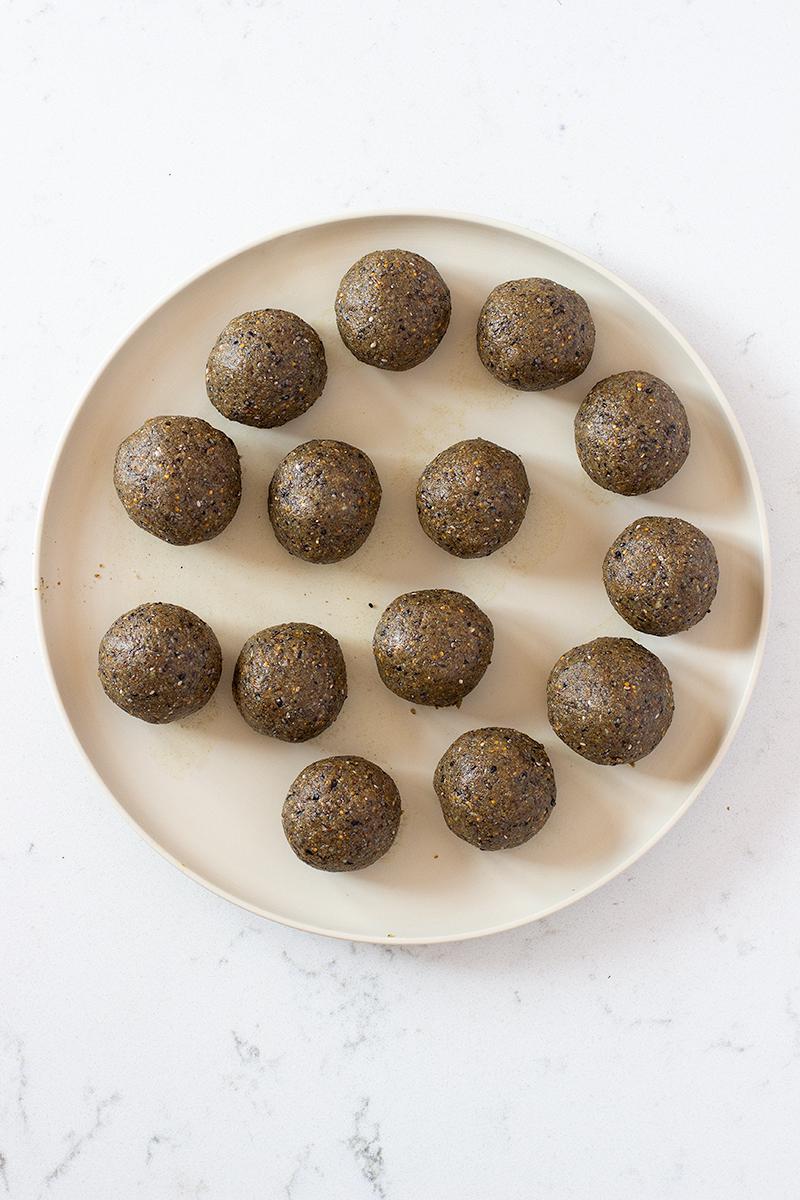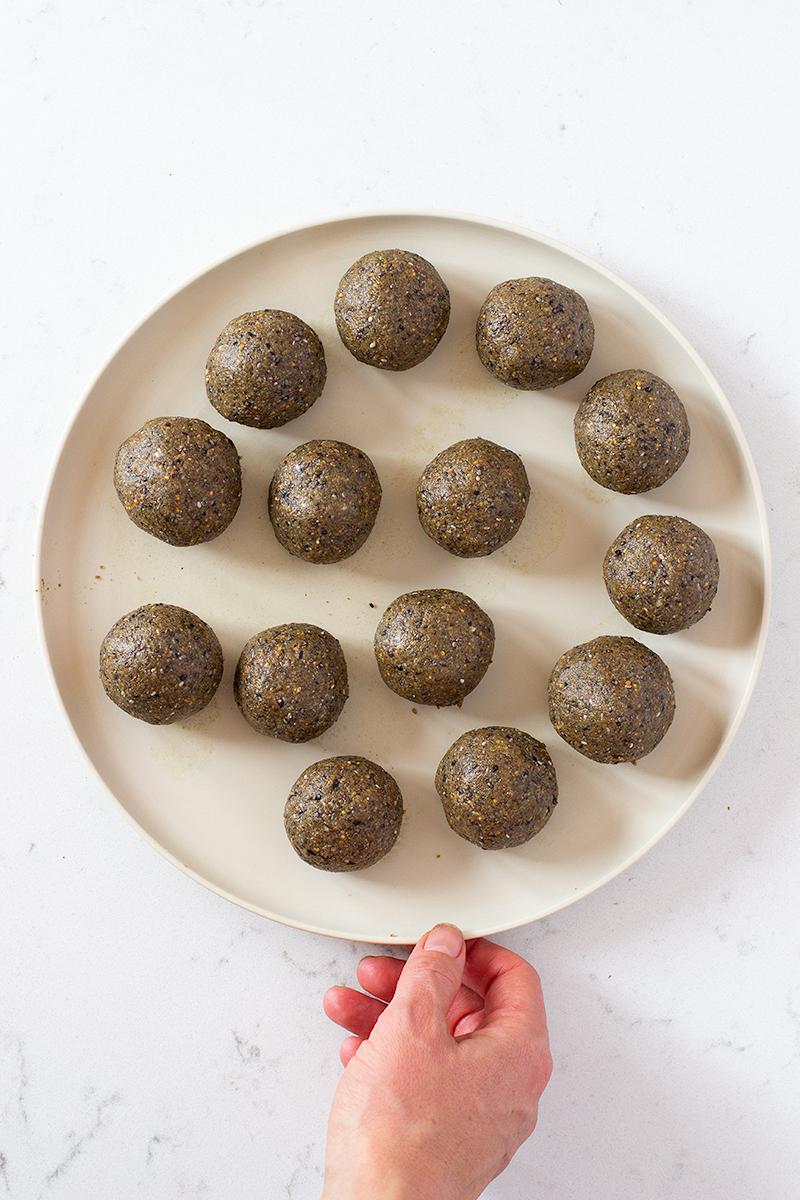 In saying that it's rather amazing what you can achieve with just one hand and how you can adapt. It's also illuminating as to what is so damn hard to do with only one free hand at your disposal. For instance, writing is reducing me to the capabilities of a four-year-old, in fact my nearly 5-year-old niece could write neater than I can. I've literally just written out some names on stickers here at the clinic for our client supplement pick ups and I know that Carissa is going to lose her shit seeing them when she comes in this week. It's like someone drunk has been given a pen and told to go to town.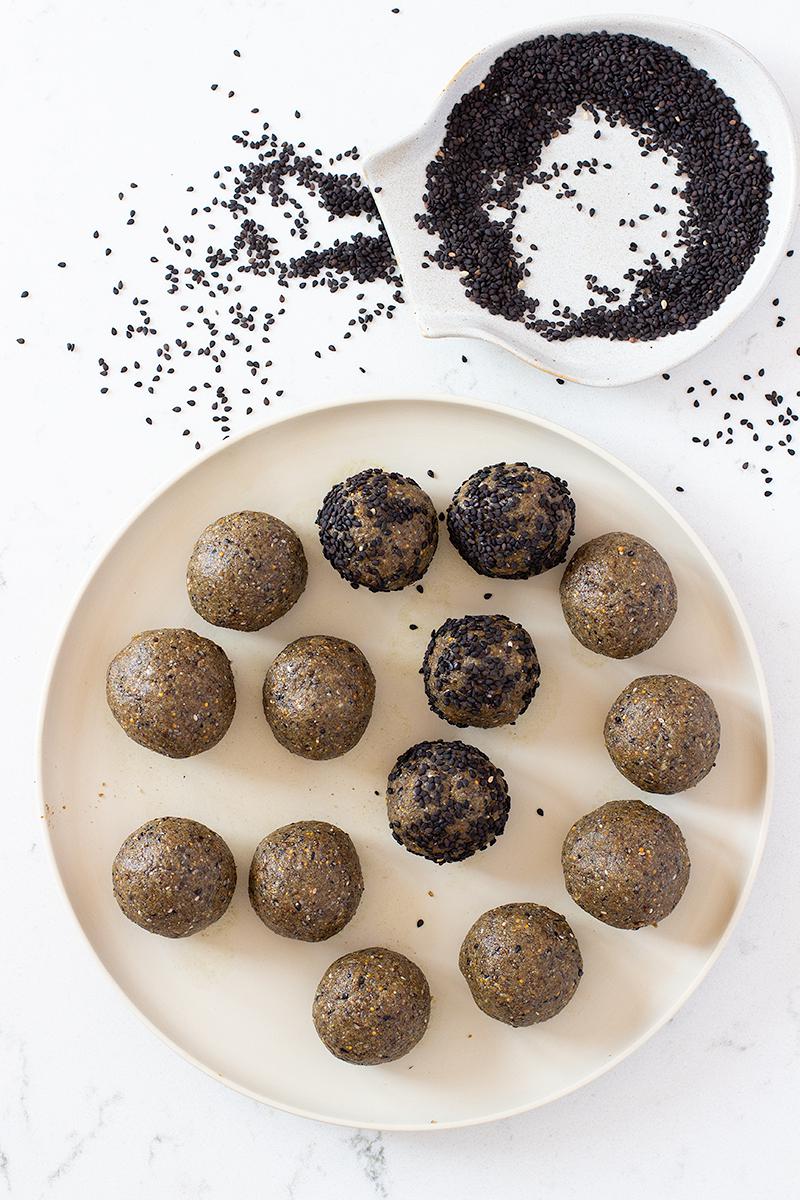 That brings me to these One-Handed Healthy Bone Bliss Balls, which were an idea to help me increase my plant based calcium intake and essential fatty acid, whilst still giving me something achievable in the kitchen. Some of you might think I'm crazy even trying to do so. You may be thinking 'just sit down and stop trying to achieve so much you crazy lady!' However, cooking and creating is my sanctuary and brings me immense joy. So being able to make something like these balls (even though it took me three times the amount of time it would usually take) was really rewarding. I did need my husband's help setting up my photography gear but other than that I was all good to go. I even figured out how to use my shoulder as a makeshift hand to lower down the tripod, which could have ended in disaster but luckily didn't.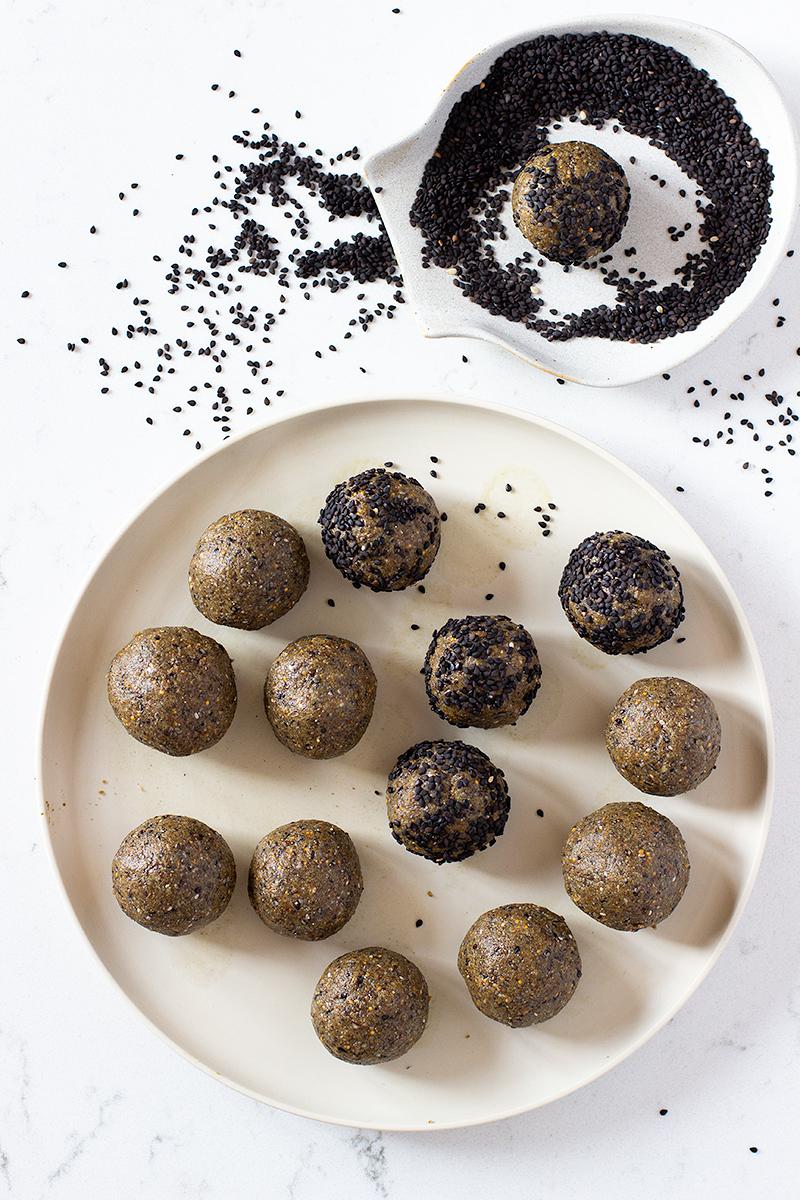 Overall I've got four weeks apparently left in this abhorrent cast and I am counting down the days till it is gone. Even more so I can't wait for my hand to resemble a normal hand and not a 90-year-old arthritic ridden version, or maybe more accurately a pufferfish. It's times like these that make you appreciate what you have day to day before your capacity to function as a normal human is affected. It also makes you appreciate the people around you who bend over backwards to help you out, drive you around, wash your dishes, do your hair, shave your armpits and open up container lids put on too tight.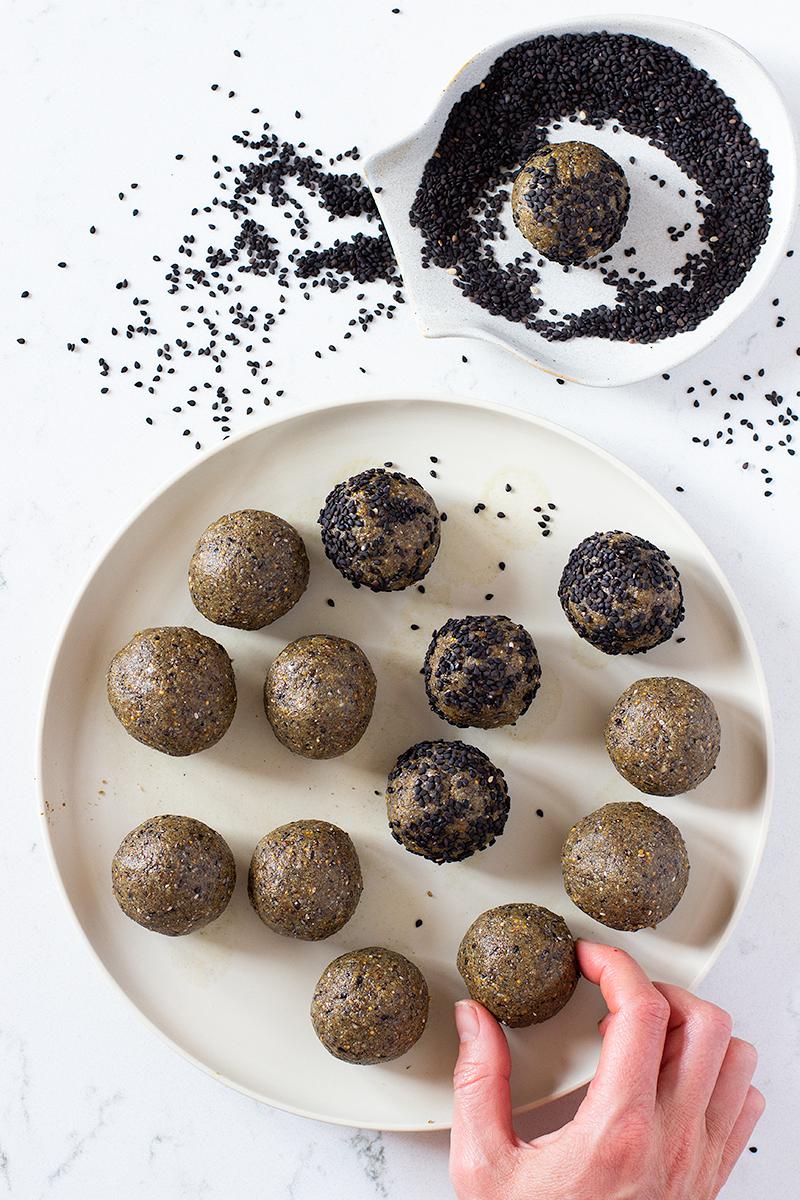 Well that still got rather long didn't it! The genius dictaphone can take thanks for that. However, I'm well and truly done and ready to go have my hot chocolate for the week, whilst slowly making my way home on the train for some well needed rest. In the meantime I hope you enjoy these Bone Healing Balls as much as I do.
ps. If you made it this far into my ramblings you may be wondering why these bliss balls contain a savoury ingredient like coriander. It was actually an accident because I read the jar wrong and thought I was using cardamom. I kept adding more and more of the coriander getting frustrated because the batter didn't taste like cardamom, until I actually looked at the lid and realise what I was doing. Instead of crying over spilt milk I decided to just add the cardamom anyway and was surprisingly happy with the flavour. I hope that you guys like them too, if not no worries just send them to JCN Clinic and we will eat them for you.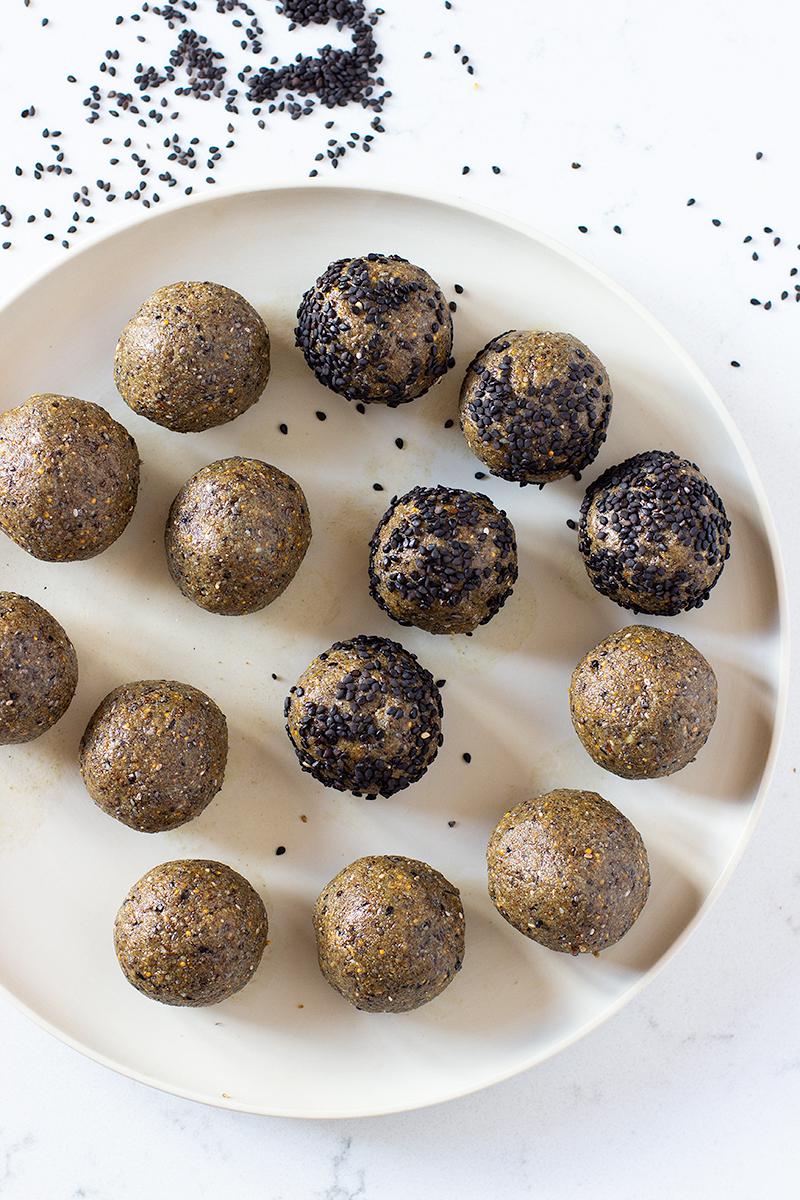 one-handed healthy bone bliss balls
serves

14 – 15 balls

preparation time

30 minutes, triple though if one handed!

cooking time

nil
ingredients
1 cup almond meal*
1/4 cup chia seeds
2 tablespoons sesame seeds (I used black ones), plus extra for rolling
3/4 cup chopped organic dried figs, stems removed
1/3 cup hemp protein powder
1/2 cup hulled tahini + extra 2 tablespoons if needed
pinch of salt
3 tablespoons collagen powder
2 teaspoons ground coriander
3 teaspoons ground cardamon
method
*You can use pre-ground almond meal for these balls, however be aware that this will effect the wet portions. Freshly ground nut meal will be more oily, where as the bought option will be drier. Most commonly you will need a little more wet ingredients with the bought options.
Place all ingredients in a food prossesser and blend to a rough, sticky dough is formed. Remove the lid and try rolling a bit of the dough. If its not sticky enough add the extra tahini.
Once the ball dough has come together, roll into balls around the size of a twenty cent piece. Roll in additional sesame seeds if desired.
Store in the fridge and eat within 2 weeks, or freeze.
nutritional information
Chia seeds are a wonderful alternative source of plant based calcium. Just 30 grams of chia seeds has 180g calcium, close to 20% of our daily recommended intake. Chia seeds are also high in fibre (10grams per 30 grams of chia) and provide around 4.5 grams of protein. The filling nature of chia is due to this combination of fibre and protein.
Sesame seeds are also the only source of phytochemicals sesamol, sesamin and sesamolin that belong to the lignan family. These antioxidants have been shown to reduce oxidative stress. Sesame seeds are also high in y-tochopherol (a form of vitamin E), which keeps the oils in the sesame quite stable, therefore inhibiting easy oxidation. The sesamin in the sesame seed actually increases the retention of vitamin E meaning it has a longer shelf life in the body.
These one-handed healthy bone release balls are super high in plant based calcium, which can be found in numerous ingredients within the recipe. This includes the sesame seeds, tahini paste, chia seeds and almond meal in particular. These balls also contain a high amount of essential fatty acids in particular omega 3, important for down regulating inflammation. They also contain collagen, a vital building block for healthy bone development.
Jessica Cox is a qualified practicing Nutritionist with a Bachelor Health Science (Nutrition) and over 15 years of clinical experience. She is the founder and director JCN Clinic, published author and established recipe developer. Jessica is well respected within health and wellness space for her no fad approach and use of evidence-based nutrition.