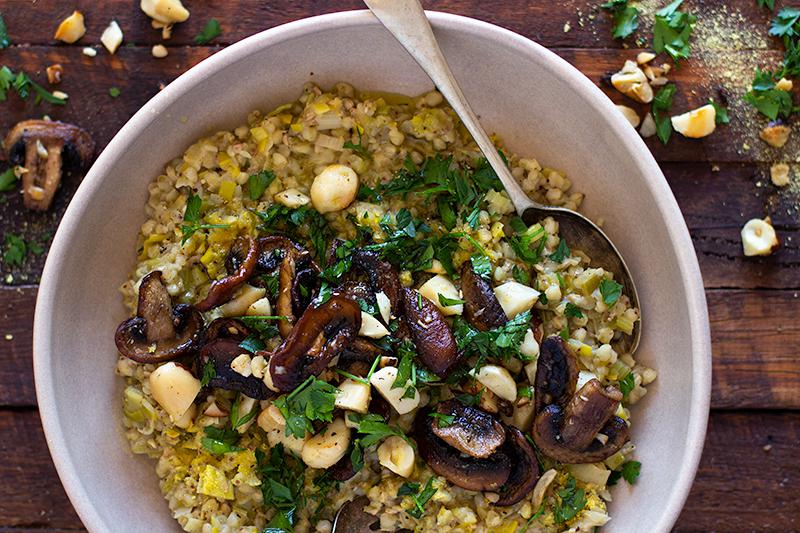 I'm sharing my secret to a creamy, oozy risotto with you today made with buckwheat as the base. Traditionally, to get the type of starchy gooey finish we associate with risotto you need the starch from arborio rice. Until recently I cooked up my alternative grains similar as I would cook a normal risotto, as seen in this Buckwheat Mushroom Risotto. This is delicious, don't get me wrong, but this brand new method for preparing the buckwheat really takes alternative grain risotto to a new level.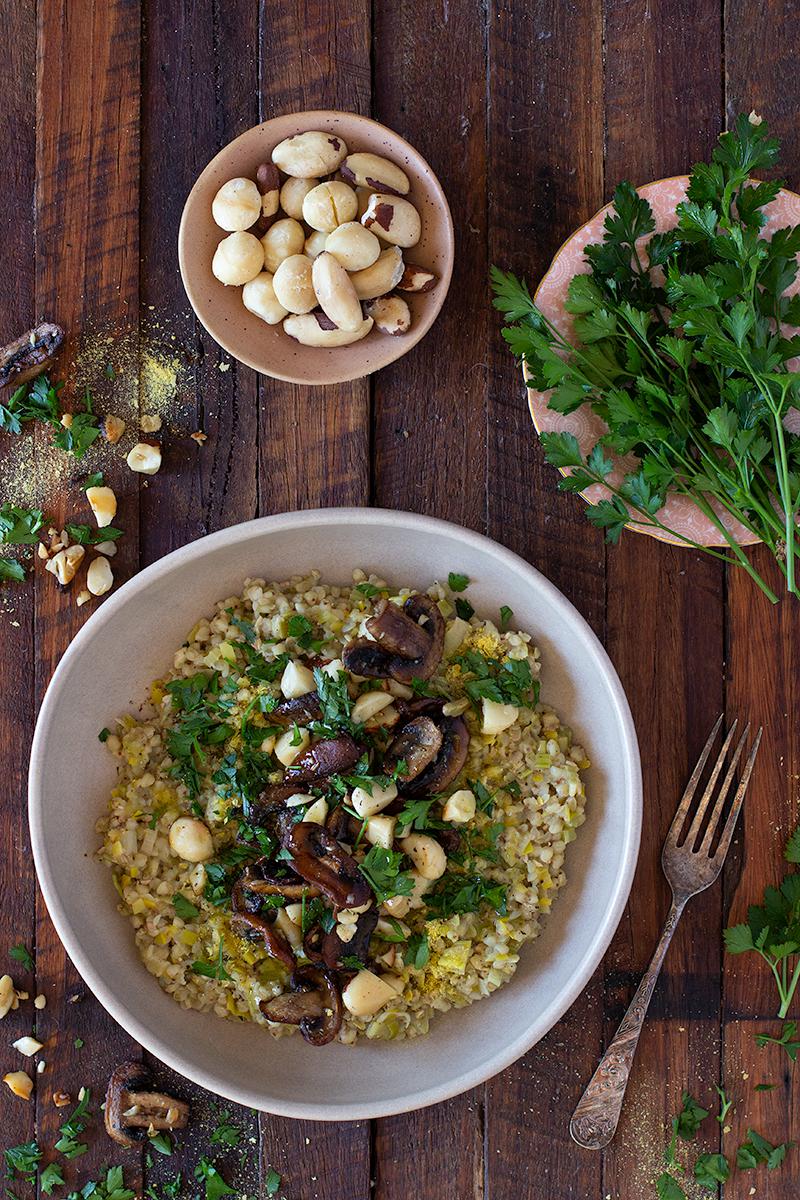 This actually came about due to a kitchen disaster. A few months back I discovered tiny little bugs in some of my storage jars in the pantry (if you follow me on Instagram you would have seen these – especially the one that has been 'vandalised' to say placenta instead of polenta #hubbardstrikesagain). As you could imagine I was pretty distressed, my pantry is my favourite place that holds all of my favourite possessions. I feel about my panty possessions the way some of you may feel about your shoe collection or your tool collection in the shed.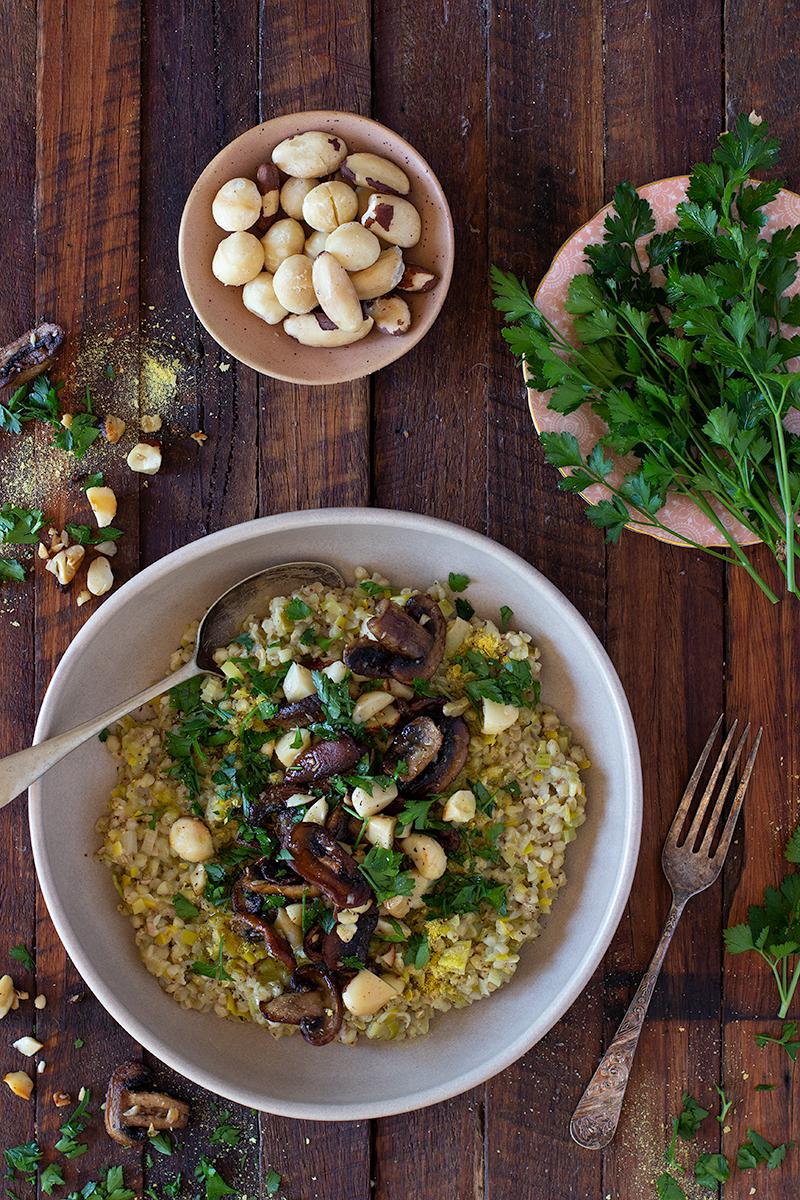 To act quickly I removed all the effected jars and lucky found that the majority where not too greatly infested, besides the buckwheat which was seething with the little blighters. Taking my mum's 'she'll be right' attitude, I decided to run the buckwheat through a large sieve and filter out all the bugs. I then boiled up the buckwheat till tender with the thought that it would boil to death (sorry animal lovers) any bugs remaining.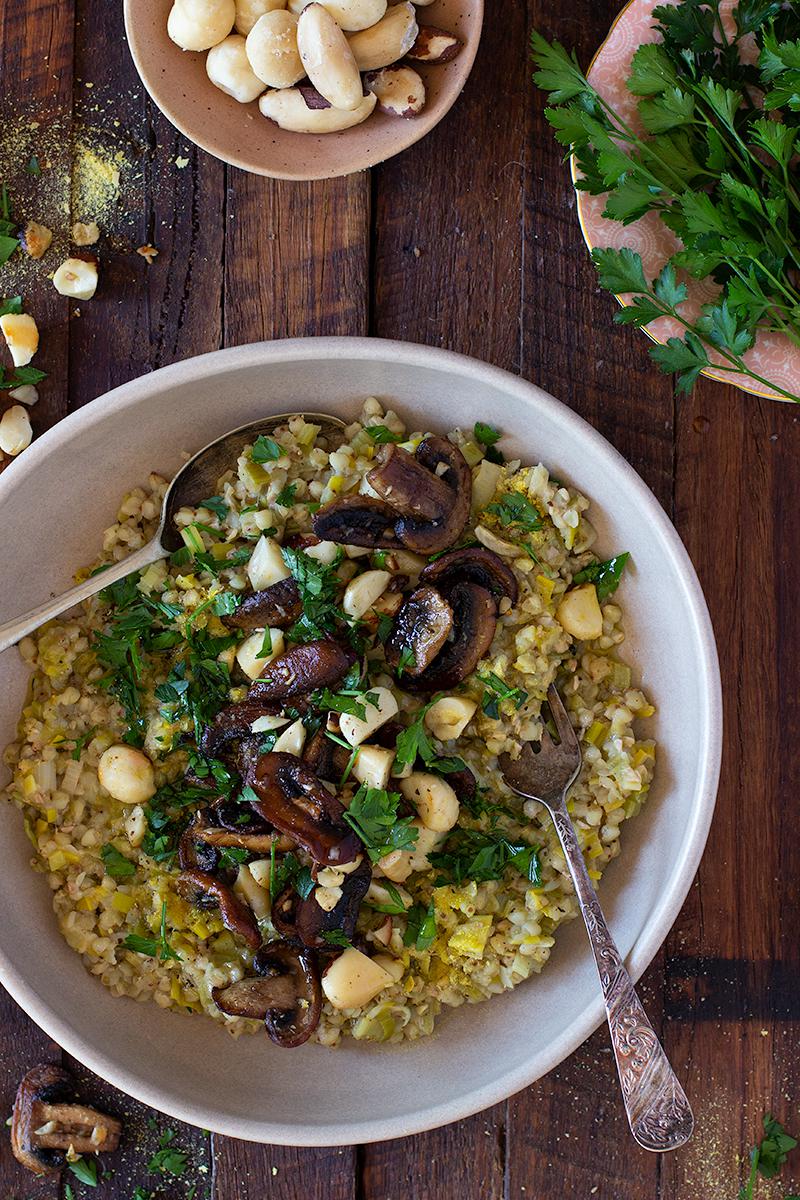 Once I had the buckwheat cooked I froze it in portions for later use. Insert a few weeks later when I wanted to make buckwheat risotto and realised I had none besides the frozen stuff. My initial thought was that it would be a bad idea and result in a mushy mess, further resulting in kitchen cussing. However, I decided to give it a go and was hugely surprised to see that the second cooking actually created a gooey, oozy finish that risotto should have. Cool right!
As you can imagine, the remaining frozen stash was used quickly in a variety of risotto experiments with the ultimate favourite being this Mushroom & Leek Risotto topped with its crunchy finish of toasted nuts. It is truly glorious and really is a bold vegan dish showing that vegan based food can be flavoursome and textural.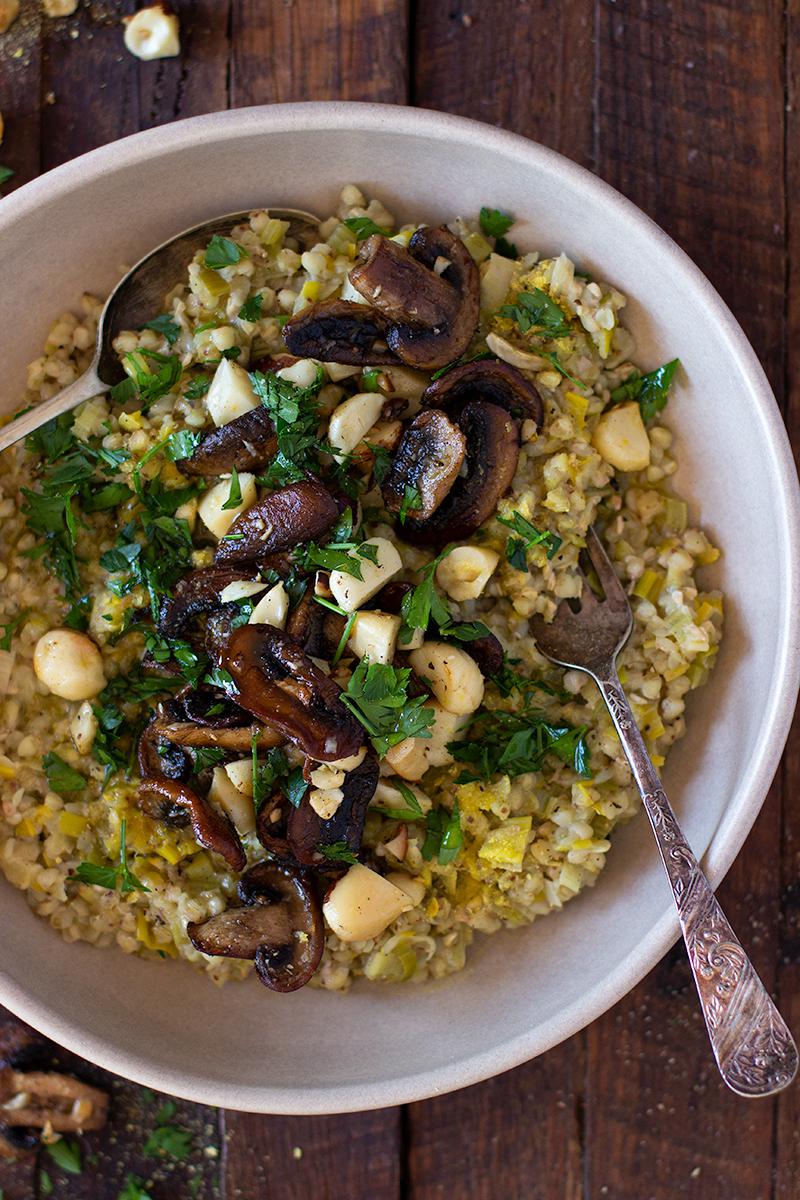 Need personalised nutrition advise catered to your needs?
Contact us at JCN Nutrition Clinic to make an enquiry
So there is my secret. Double cooking the buckwheat! I know its an extra step but trust me its so worth it. You can precook it and have it frozen to go and if you think about it, even use it to make porridge for that same starchy finish that is so often devoid of gluten free type dishes. Let me know what you think once you have tried it in the comments below. xx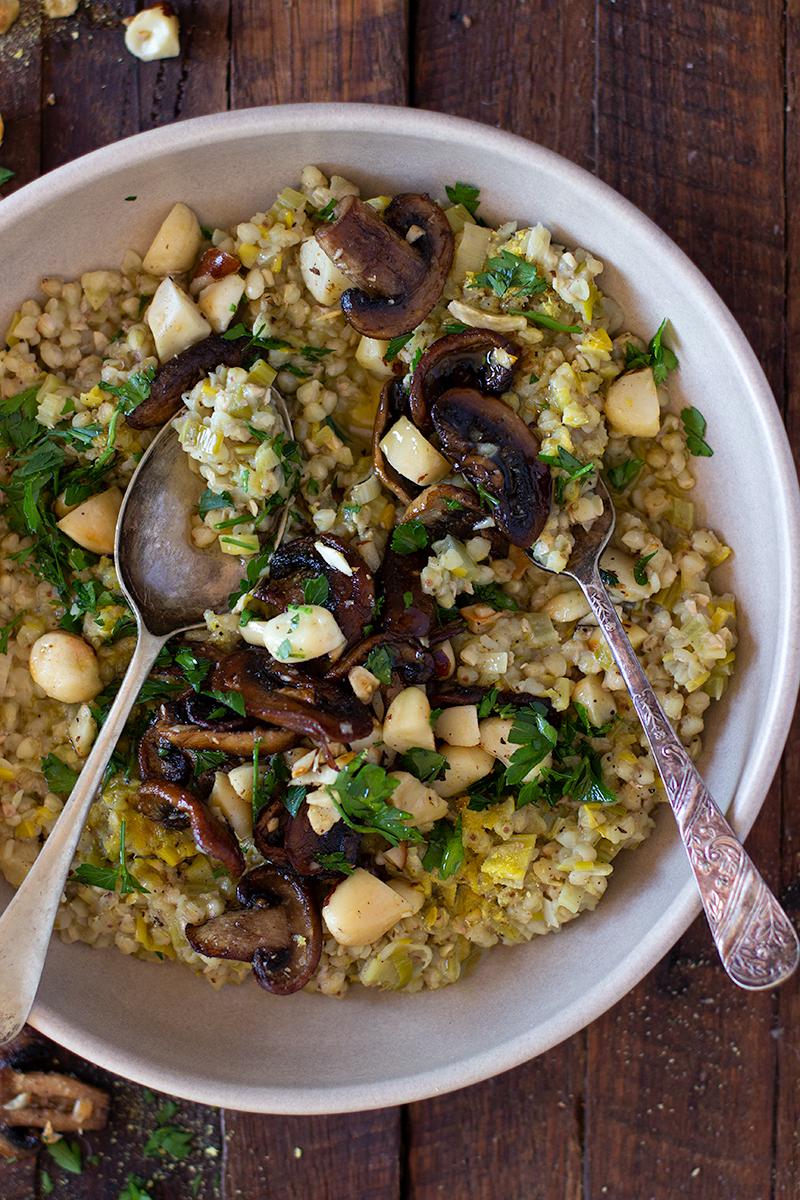 the best mushroom & leek buckwheat risotto
serves

makes 3 – 4 serves

preparation time

15 minutes

cooking time

30 minutes
ingredients
1 cup buckwheat groats
200g chopped leek
1 stem celery, finely chopped
1 clove garlic, crushed
2 tablespoons extra virgin olive oil
salt and pepper to season
2 cups quality chicken stock
1/4 cup nutritional yeast
// mushroom & toasted nut topping //
3 tablespoons extra virgin olive oil
300g mushrooms, sliced (any variety is fine)
1/4 cup roughly chopped brazil nuts
1/4 cup roughly chopped macadamia nuts
salt and pepper to season
1/2 cup roughly chopped flat leaf parsley
method
This recipe works really well if you precook the buckwheat and have it in your fridge or freezer ready to go. It makes a really quick mid week option that pays off with big flavours.
Begin with precooking the buckwheat. Take a medium sized saucepan and fill with water. Add the buckwheat and bring to the boil, then turn to a simmer for around 10 – 12 minutes until the buckwheat is nice and tender and soft.
Pour the buckwheat and the water through a sieve and then rinse the buckwheat really well with hot water. Set aside.
Heat another medium sized saucepan or a deep dish frying pan to low – medium heat. Add 2 tablespoons of extra virgin olive oil. Add the celery and leek and sauté for a good 10 minutes until nice and soft. Add the garlic in the last few minutes and stir through.
Now add the cooked buckwheat with the stock and bring to a simmer. Season really well with salt and pepper and cover with a lid allowing the risotto to simmer on low for 5 – 10 minutes. Add a little more stock if you feel it is needed.
While the risotto is simmering, heat another medium sized saucepan to medium heat and add in the remaining extra virgin olive oil. Add the mushrooms and cook for a good 10 minutes, stirring every couple of minutes. You want to push them until they are super golden and beginning to crispy up a little. In the last few minutes of cooking add the chopped macadamia nuts and brazil nuts and the crushed garlic. Toss well until the nuts are golden and then remove from the heat.
Add the nutritional yeast to the risotto and stir through. Taste for seasoning and adjust if needed.
To serve, spoon the risotto into dishes and top with the mushroom and toasted nuts. Finish with fresh parsley, additional nutritional yeast, cracked pepper and a drizzle of extra virgin olive oil.
nutritional information
Using buckwheat in place of arborio rice in risotto adds more fibre to this traditional dish and amps up the nutritional status, thanks to the high amounts of B vitamins and magnesium in the buckwheat. Buckwheat is also high in protein in so far as grains (or pseudo grains go), so combined with the added nuts this dish provides a solid amount of vegetarian based protein. Buckwheat is additionally rich in the amino acid lysine, which has anti-viral properties.
Jessica Cox is a qualified practicing Nutritionist with a Bachelor Health Science (Nutrition) and over 15 years of clinical experience. She is the founder and director JCN Clinic, published author and established recipe developer. Jessica is well respected within health and wellness space for her no fad approach and use of evidence-based nutrition.