I'm feeling kind of smug about this recipe post. Reason being, its one of those recipe creations that is just next level delicious. I've been working on the mustard mayo for a week or two, perfecting the ingredients in anticipation of bringing it to you. At first it was going to just be about the mayo, but then I decided I'd add a little something for the mayo to adorn. Enter stage right these herbed zucchini fritters.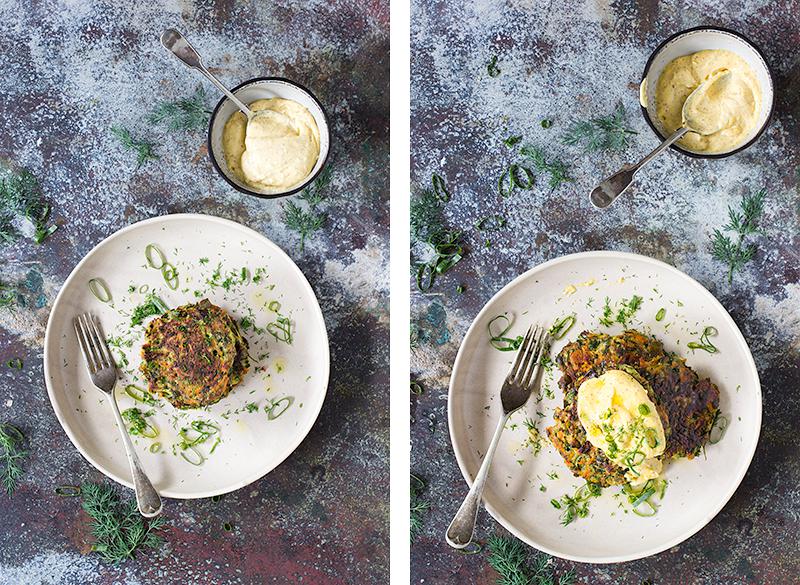 Just about every week (sometimes twice weekly) we have breakfast at our local café called Satori's. On the menu is the Fritter and Avo Stack with Poached Egg and I seriously cannot go past it. Every now and then I deviate but then find myself having separation anxiety. The flavour combinations are spot on and I wash it down with the most perfect hot chocolate.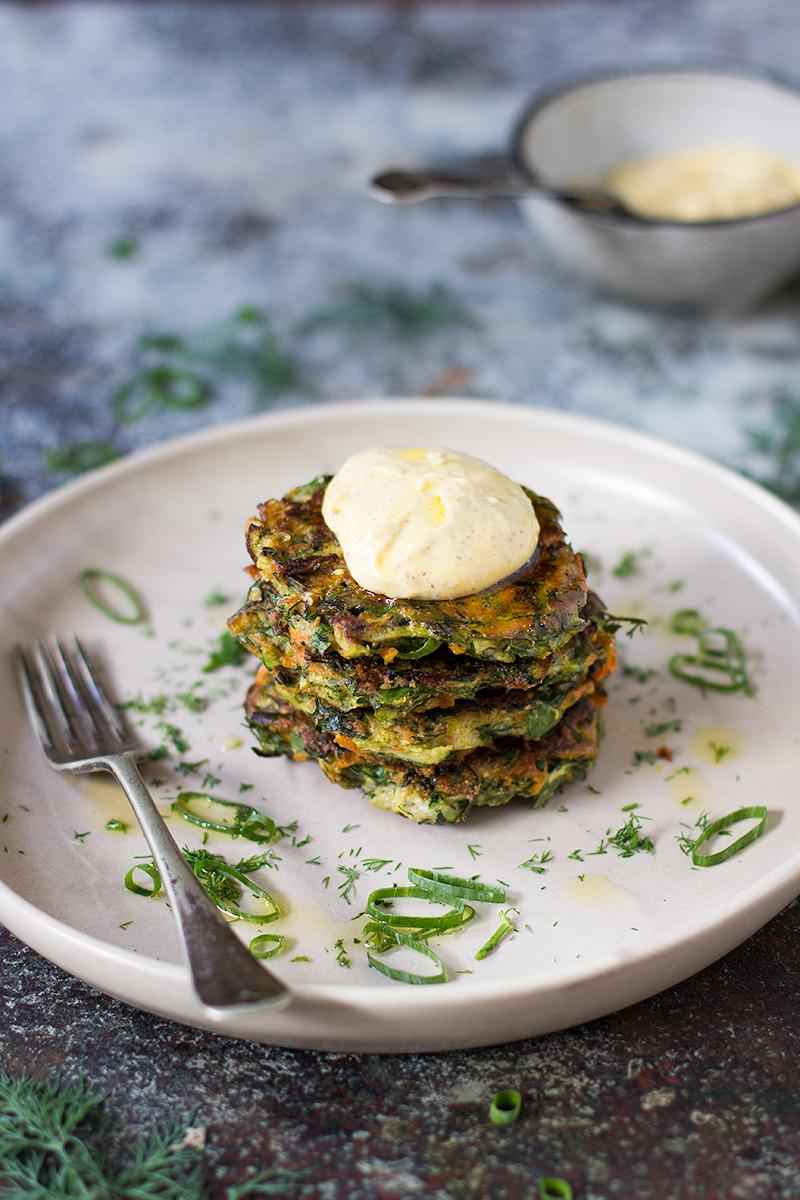 As one does when they are a little food obsessed, I started thinking about making fritters for home (and therefore for you). I often suggest fritters to my clients as an alternative breakfast but I've never gotten around to actually committing to making some myself. The only other fritter recipe on the website is my Pumpkin Cheese & Spinach Fritters, which are delicious but were not quite the flavours I was after.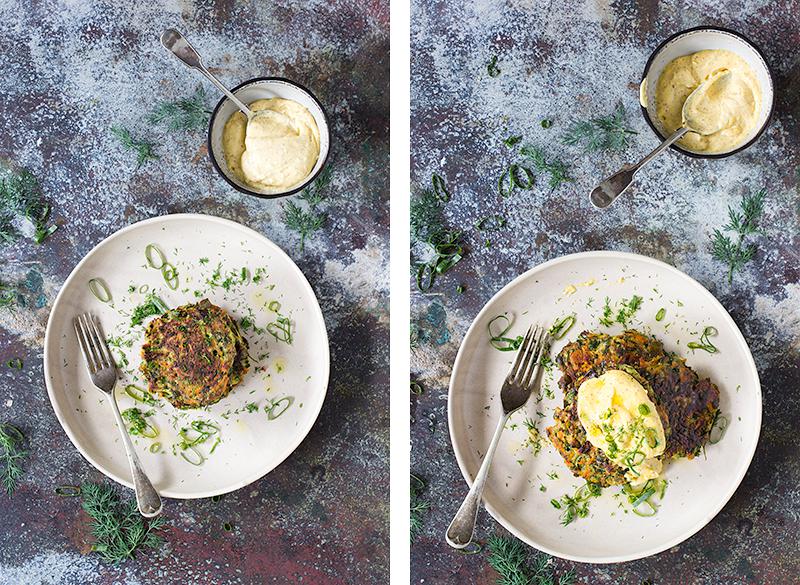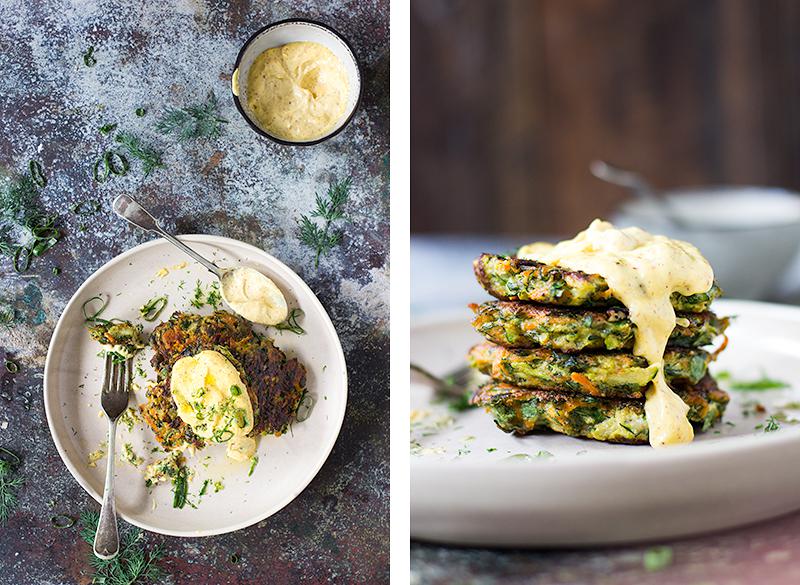 With the cogs turning I started nutting out a recipe in my head. This is usually how it goes actually. A recipe idea comes to me in the form of 'I want to make that', then I spend the next few day/weeks thinking it over at times when my mind is idle. This is usually just before going off to sleep at night, doing drop push-ups Kayla style at the gym or annoyingly in the middle of the night if I wake up. I'll toss and turn thinking about the ingredients and how they will mesh, how they will unite with each other to bring all the flavours to the party. It's a bit of an obsession.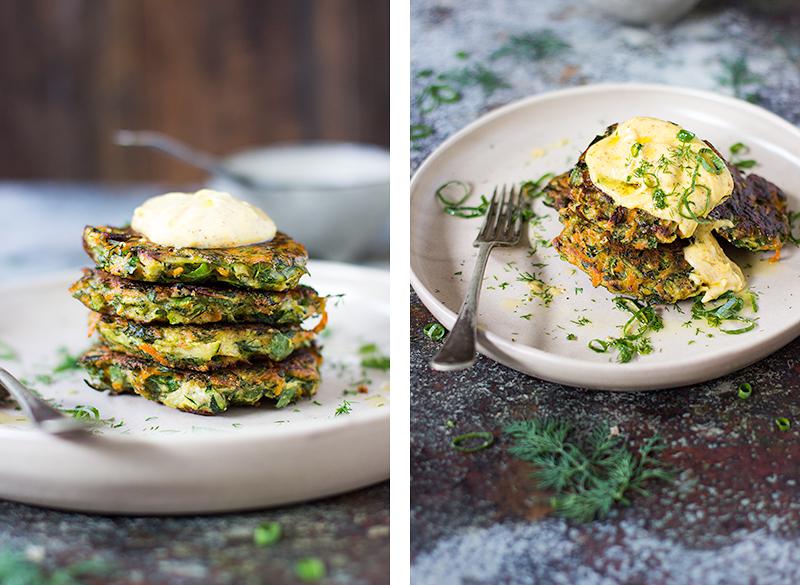 Once I have that final concept its go time. Into the kitchen I go with bounding enthusiasm with the intention of making a diabolical mess along the way. Sometimes I write down what I am doing as I go, but most of the time I remember it in my mind and then write it down later. I have an oddly photographic memory for recipe ingredients for a space of 24 hours. After that its trouble city.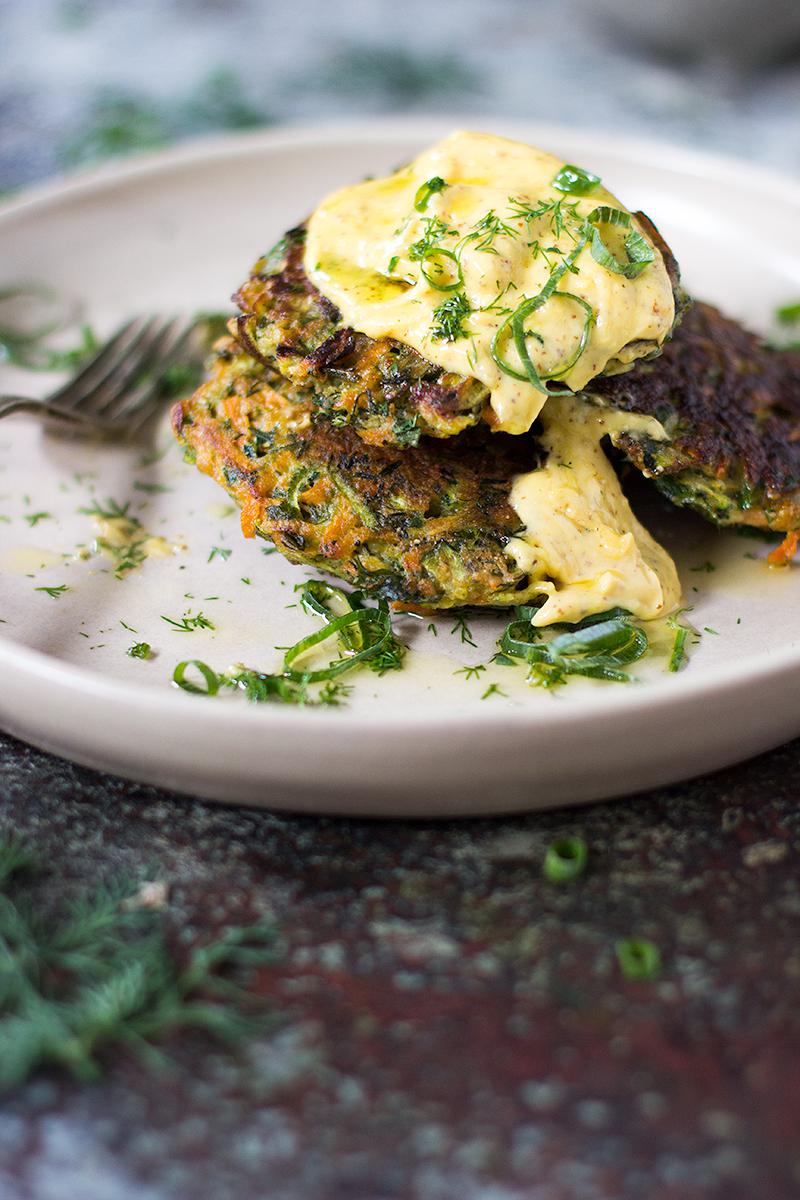 That my friends is how most of the recipes here come about. These Herbed Zucchini Fritters are no exception, and I am seriously chuffed with the final result. They are wildly flavoursome and deliciously juicy, yet crispy on the outside too. Enjoy them at any meal time, just enjoy them soon.
herbed zucchini fritters w mustard mayo
serves

makes 8 fritters + 1 cup of mayo

preparation time

20 minutes fritters + 10 minutes mayo

cooking time

10 minutes
ingredients
2 cups of tightly packed grated zucchini
1 cup tightly packed grated carrot
1/4 cup tightly packed chopped parsley
1/4 cup tightly packed chopped dill
1/4 cup tightly packed shallots (green ends)
1/2 cup buckwheat flour
2 eggs
1/2 teaspoon salt
1/2 teaspoon ground pepper
extra virgin olive oil for cooking
// mustard mayo //
2 teaspoons yellow mustard seeds
2 teaspoons black mustard seeds
3 teaspoons apple cider vinegar
4 teaspoons lemon juice
3 egg yolks (rinse well if intolerant to egg whites)
200mls extra virgin olive oil or unrefined cold pressed macadamia nut oil
generous pinch each of salt and pepper
method
Place grated zucchini, carrot, dill, parsley and shallots in a large mixing bowl and combine. Add buckwheat flour and stir through till everything is well coated. Season with the salt and pepper and then add the eggs and mix till everything is really well combined.
Heat a large frying pan to a medium heat and add a generous lug of extra virgin olive oil. Add heaped tablespoons of the zucchini fritter batter and push out with the back of the spoon into a fritter shapes. Large frying pans will fit around four fritters.
Allow the fritters to cook on the underside for a good 4 – 5 minutes until lovely and golden. Keep an eye on them to make sure they are not browning too fast as you want the heat to slowly cook them through. When ready, flip the fritters and cook till golden on the other side. Repeat until all the fritters are cooked.
While the fritters are cooking you can make your mustard mayo. Add the egg yolks, mustard seeds, apple cider vinegar and lemon juice to a blender or food processor. Blend till well combined and creamy (the mustard seeds should break down and create little flecks of black through the yellow mixture). Now with the blender/food processor turned on (medium to high speed), start to slowly drizzle in the oil. Be careful not to add it too quickly or the mayo will split. Continue to slowly drizzle in the oil and the mayo will thicken up as you go. Once all the oil is added season with salt and pepper and then taste your mayo. If you feel it needs more acid then just add a touch more lemon juice. Set mayo aside ready for serving.
Once the fritters are all cooked you can serve them hot or allow them to cool and place in the fridge to use as needed. They will keep for 3 days and then they should be frozen. Serve fritters with a generous dollop of mustard mayo and added protein of choice such as salmon or a poached egg.
The mustard mayo will keep in the fridge for 4 days in a sealed jar, so ideally use it liberally till finished! It doesn't last long in our house.
nutritional information
Make these fritters egg free by substituting the 2 eggs for 2 tablespoons of chia seeds or flaxseed meal and 6 tablespoons of water. Allow the seed and water to form a gel and then stir into the zucchini fritter batter in place of the eggs. If you are only intolerant/reactive to the white of the egg you can still make the mayo. Just rinse the yolks very carefully under the tap to remove the yolk and then use.
To make SIBO Friendly: these fritters will already be suitable for most on a SIBO or low FODMAP diet. However, if you are finding you are super reactive you can change up the buckwheat flour for almond meal or sunflower seed meal and omit the green ends of the shallots.
Jessica Cox is a qualified practicing Nutritionist with a Bachelor Health Science (Nutrition) and over 15 years of clinical experience. She is the founder and director JCN Clinic, published author and established recipe developer. Jessica is well respected within health and wellness space for her no fad approach and use of evidence-based nutrition.