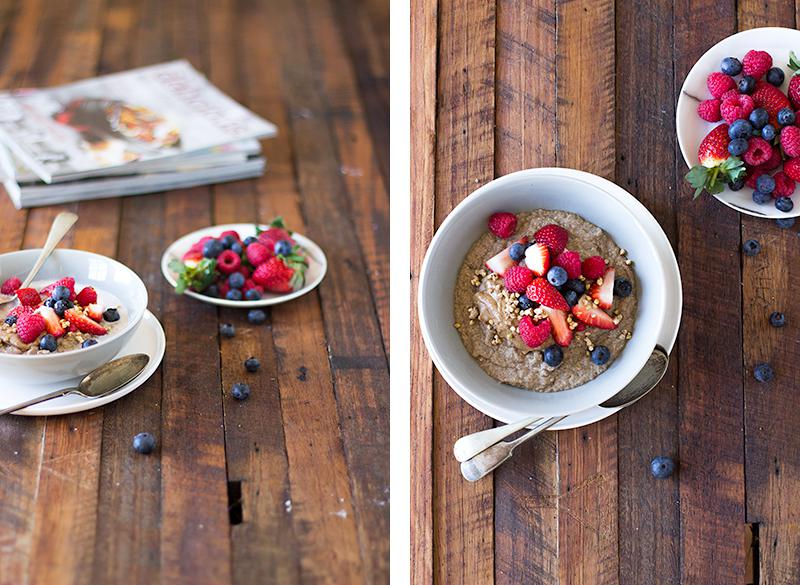 I know this is another porridge but stick with me. I've wanted to play with this concept for some time now after seeing a few similar recipes over the past 12 months. To be honest, I am hanging to do a savoury version so I will probably be hitting you up with that option next. For today though, it's all about the glory of seasonal winter berries adorning the top of some super charged protein porridge.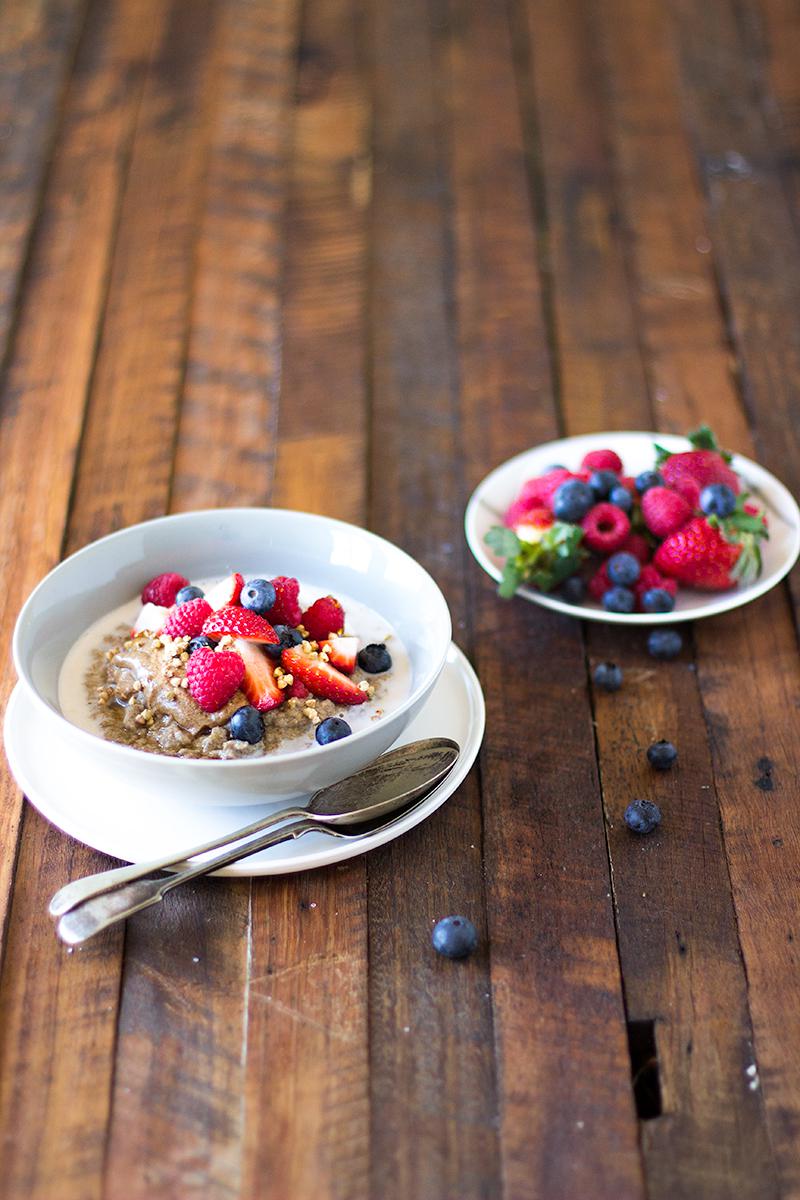 I am sorry to say that if you have an egg intolerance this one is not for you. Of course I will include some options for a swap in the nutritional info below but for today we are all about the egg. Adding an egg to porridge might seem a little perplexing. Initial judgments are of scrambled bits of egg caught up in clumps of porridge right? Not so appealing. The way around this is to make a type of custard as such first, then add the grains so that everything is cooked together on a nice low heat. Voilà, creamy porridge minus the dodgy omelette.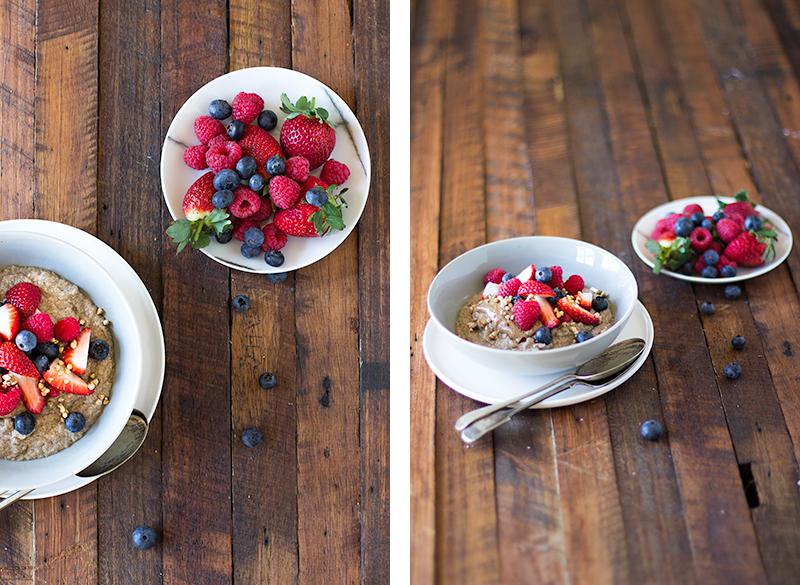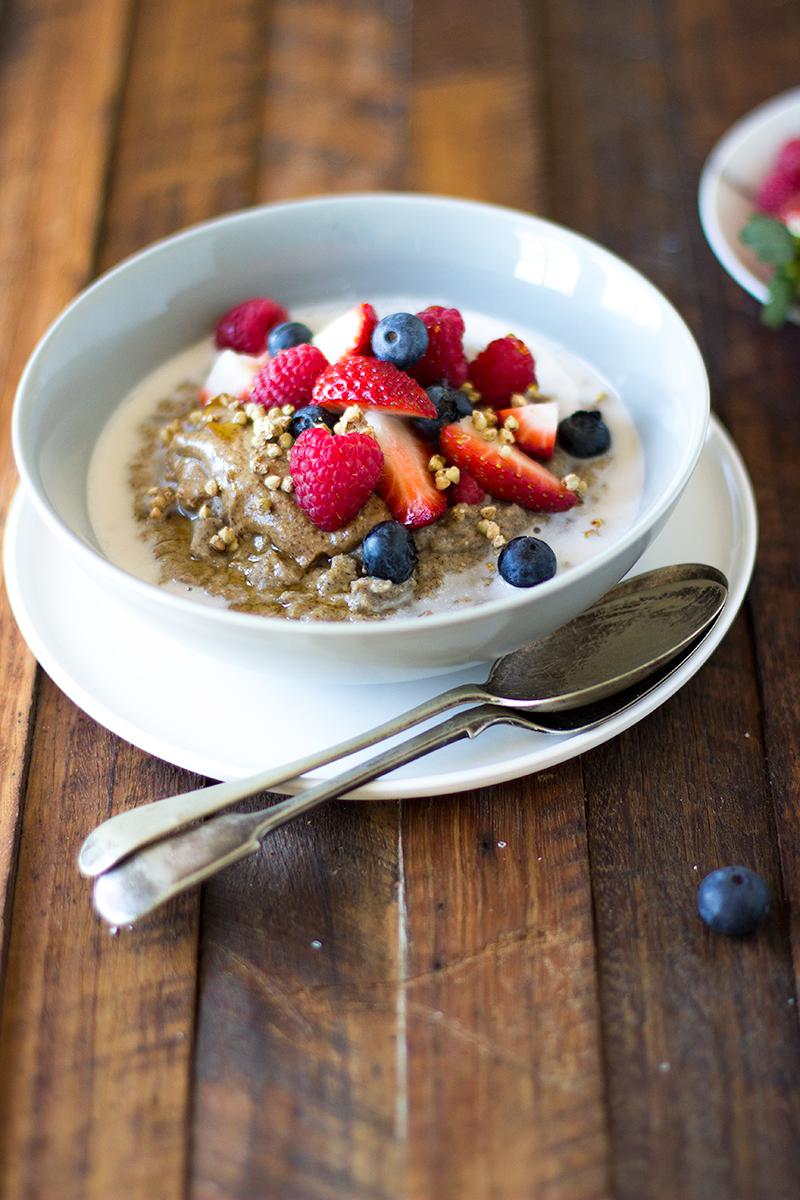 The thing about traditional porridge made from oats (or your grain of choice) with some milk and spices is that it lacks protein and fats. Other porridges here on the website provide protein and fat by using nuts, seeds and protein powders. The problem with adding protein powders though is that they can make a porridge a bit gritty. Gritty porridge is up there with dodgy omelette porridge. Not appealing.
I find this porridge is a marvellous option after a work out. I literally ate it this morning post gym session. That is, I ate this actual bowl of porridge pictured here. The only problem with that scenario was holding off eating it till I had the images I wanted. For someone who is pedantic and obsessive about perfection with imagery, this was kind of a form of torture. Not a Games of Thrones type of torture, but torture non-the less. Have you every tried photographing food when you have the hangry's? It's not pretty. Literally the moment I was sure I had the shots I needed I leapt at the bowl like a crazed lunatic, consequently devouring it too quickly submerged in a porridge stupor (a habit I try to break in clients, not encourage).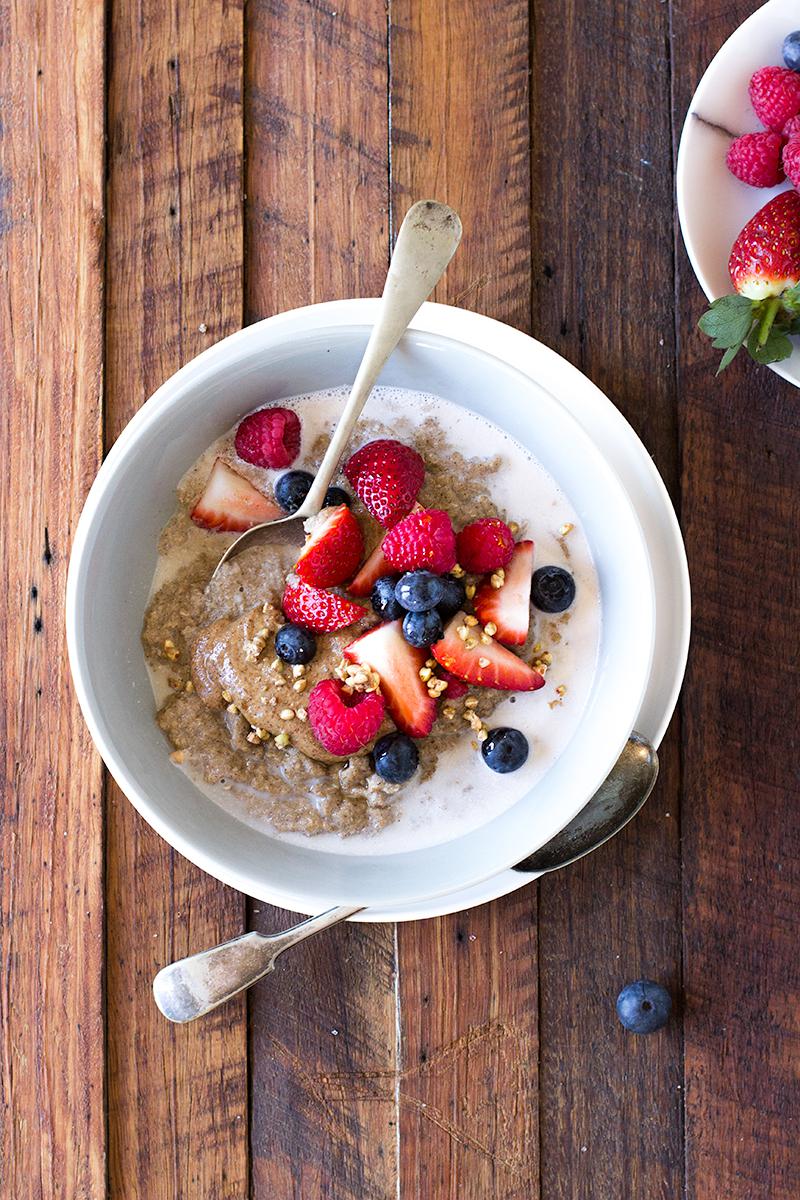 Eating too fast aside, this porridge kept me going for a few hours post work out while in the midst of cleaning the house for a pending evaluation and working productively on the laptop. For me, that's the type of meal that ticks all of the right satisfying and 'will make again' boxes.
protein boosted quinoa vanilla porridge
serves

serves 1

preparation time

5 minutes

cooking time

3 – 4 minutes
ingredients
1/4 cup quinoa flakes (or rolled oats)
1/2 cup almond milk (or milk of choice)
1/2 cup water
1 free range egg (use 2 eggs if you are super hungry!)
2 teaspoons pure vanilla extract (or 1 heaped teaspoon pure vanilla powder)
1 teaspoon macca powder (optional)
2 teaspoons macadamia nut butter (or hulled tahini)
pinch of salt
// to serve //
1 heaped teaspoon almond butter (or nut butter of choice)
1/3 cup mixed seasonal berries of choice
1 teaspoon of maple syrup (optional)
splash of warmed almond milk (optional)
method
In a small saucepan whisk the egg with the milk, water, salt, vanilla and macca if using. Stir in the quinoa flakes and place the saucepan on the stove top on a low – medium heat. Bring to the boil and then turn down to a simmer, stirring often until the porridge is nice and creamy.
To serve, pour the hot porridge into a bowl and top with seasonal berries, almond butter, splash of warmed milk and a drizzle of maple syrup. I have also added some buckini's here for crunch.
nutritional information
If you would like to make this porridge egg free I would suggest using a chia or flaxseed meal egg and also boosting the porridge with some protein powder. Simply mix 1 tablespoon of chia seeds or flaxseed meal into 3 tablespoons of water. Add this to the porridge with 1 tablespoon of your favourite protein powder to ensure your protein porridge is still going to give you that protein hit.
Porridge in its traditional sense is generally too low in protein and fats to provide a well-balanced meal. When we add in protein from nuts, seeds, protein powders, eggs, dairy or even silken tofu we make the porridge a lot more sustaining. Grains do provide some protein, yet generally not enough for lasting satiety. Fats can be added in the form of nuts, seeds and their butters, oils, egg yolks and dairy. There are so many ways to combine these ingredients so enjoy going to town with your favourite combinations!
Jessica Cox is a qualified practicing Nutritionist with a Bachelor Health Science (Nutrition) and over 15 years of clinical experience. She is the founder and director JCN Clinic, published author and established recipe developer. Jessica is well respected within health and wellness space for her no fad approach and use of evidence-based nutrition.