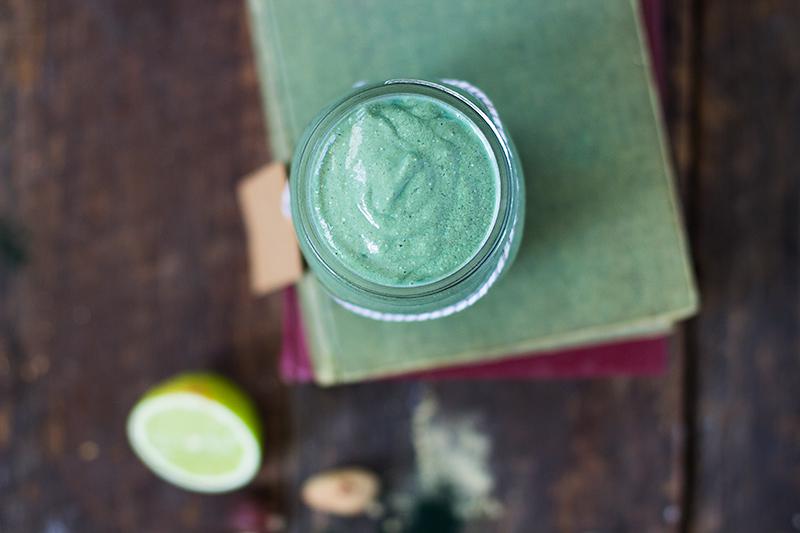 I know its an odd time to be posting a smoothie recipe as we head into the end of May, and I do promise to saturate you all soon with slow cooker recipes. The thing is I really wanted to get this one down for you, as considering how much we use them in the JCN Clinic I do not have a breakfast smoothie recipe here on the website that provides a balanced start to the day. Sure, there is the fancy pants smoothie bowl if you wanted to just add a bit more liquid. Then there are the recipes for my hazelnut and cacao smoothie, dandelion choc smoothie and salted caramel smoothie that all require adjustments if you want to rely on them as a meal. Therefore, this key lime pie smoothie has all the fundamentals covered as a sure fired macronutrient balanced start to the day.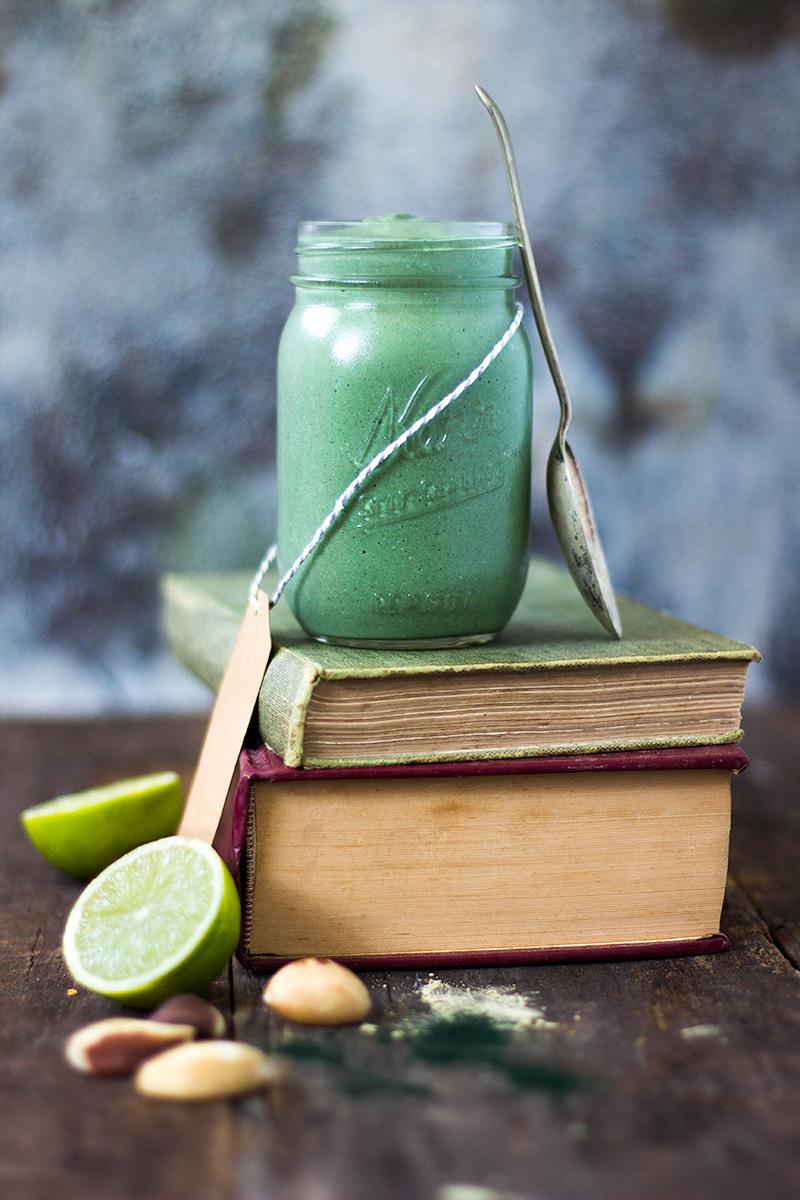 Personally you will actually never see me have a smoothie alone for breakfast. I like something to crunch on, so if I do have a smoothie I have my carbs on the side with a piece of toast (#smoothieandtoastcombo Instagram world) or I have it after a work out as a snack. However a large amount of our clients at the JCN Clinic love smoothies for breakfast as a no fuss, on the go breakfast option. I'm amazed how they even continue to chug them down into these cooler months, where all I can think about for breakfast is warming my belly with hot food.
I've previously talked about how to make a balanced smoothie here and here, so I am not going to go ranting about the inadequacies of popular smoothies I see on social media feeds. I've already done that. I will remind you as I do my clients though that it is essential to get the balance right. I have one lovely client in particular whom I have been asking nagging to get her complex carbs in her smoothie because she has a 'don't mess with it' routine already. We've tried so many options and I think we have finally cracked it with a pre-bought blend of oats and seeds. I'm like a stuck record repeating the same tune over and over relentlessly until I get what I want.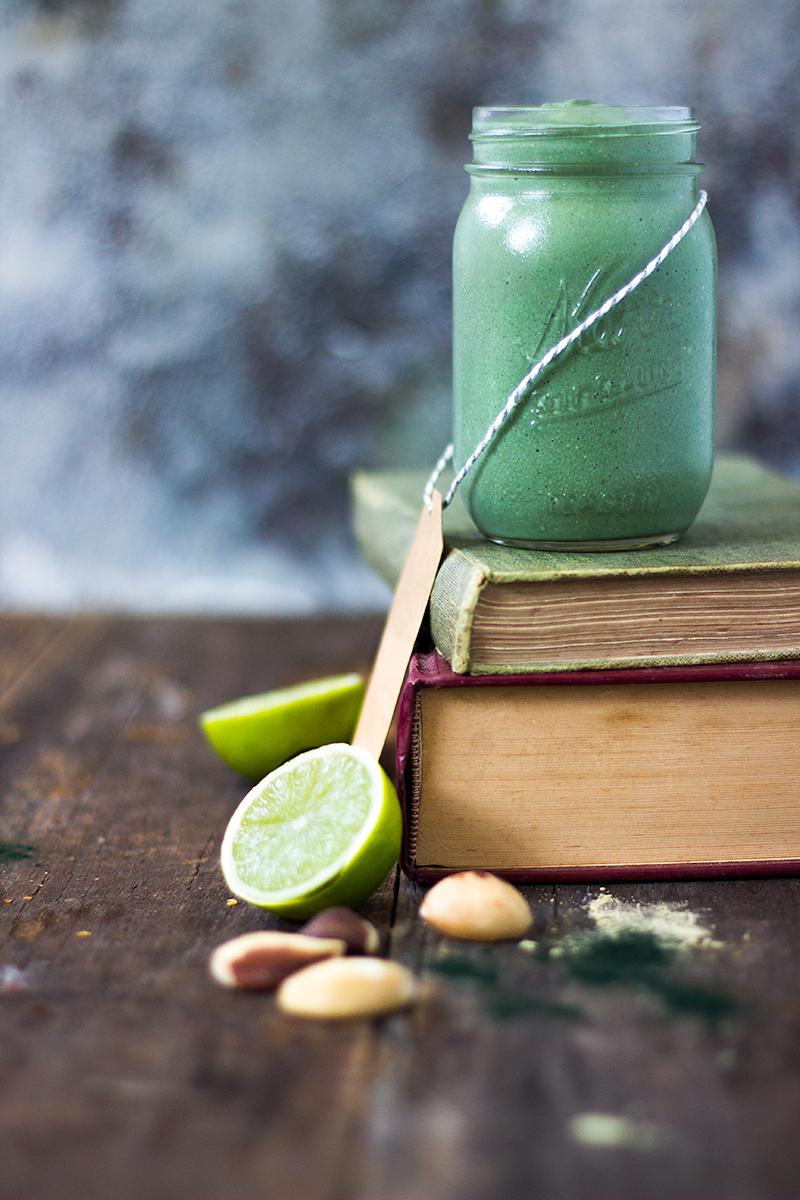 This key lime pie smoothie can be heavily adapted to suit the flavours you love. Key lime pie flavour is pretty delicious mind you, but here are a few ways you can adapt it to mix it up:
berry smoothie: swap the banana for 1/3 cup of frozen berries; take out the celery, kale, lime, spirulina and cucumber. Swap the avocado for almond butter and add 1 medjool date.
mango & banana smoothie: use ½ a banana and add ½ mango. Omit the cucumber, kale, spirulina and lime and swap for a handful of baby spinach. Swap the avocado for macadamia nut butter or tahini.
chocolate peanut butter smoothie: omit the lime, cucumber, spirulina and celery. Add 1-tablespoon raw cacao and swap the avocado for peanut butter.
golden chai smoothie: omit the lime, celery, kale, spirulina and cucumber. Swap the avocado for almond butter. Add in ½ a carrot, thumb size piece of ginger, 1-teaspoon cinnamon, pinch of black pepper, 2 cardamom pods and 2 cloves and ½ tsp of turmeric.
I could go on and on…but I'll stop there. Although if you have some favourite combinations that you make as breakfast smoothies let me know in the comments below. I love hearing your recipes! xx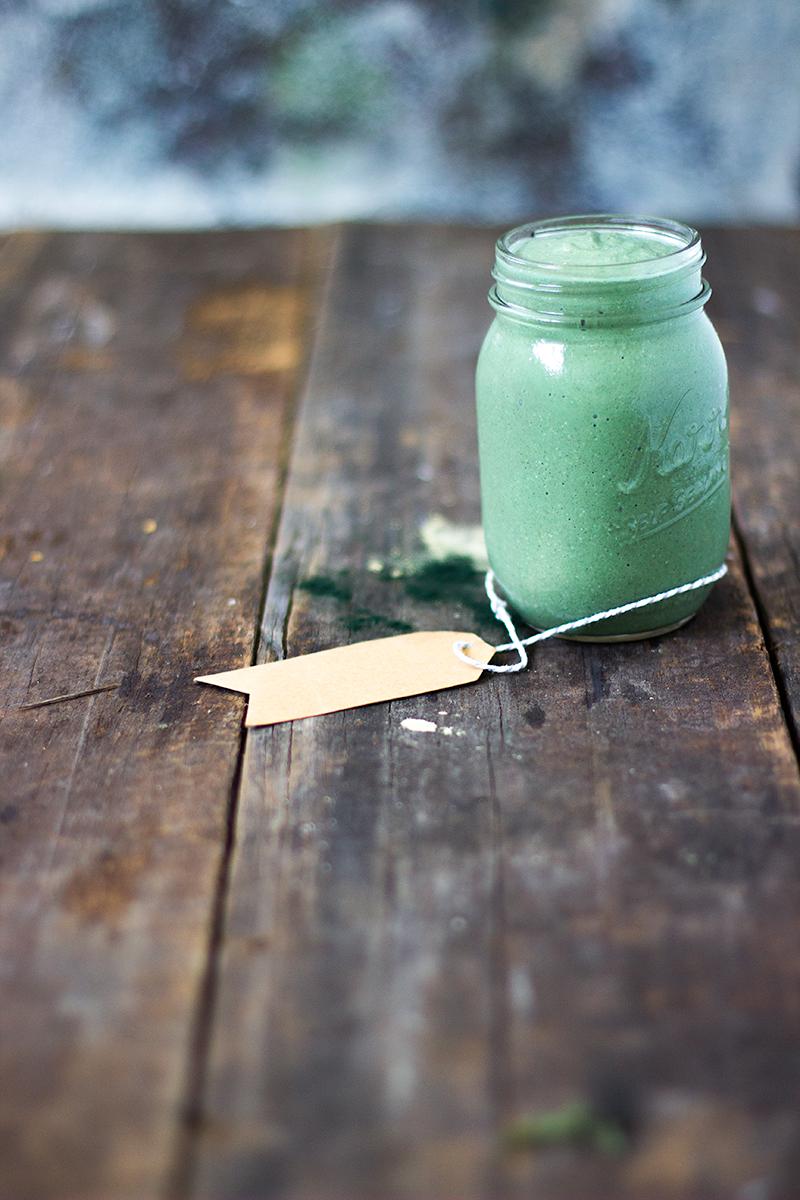 key lime pie breakfast smoothie
serves

serves 1

preparation time

5 minutes

cooking time

nil
ingredients
1 frozen banana
1/2 stick celery
1 stem of kale
1 large chunk of cucumber
1/2 lime, skin and all
1/4 avocado*
2 tablespoons plain flavoured protein powder*
1/2 teaspoon vanilla
2 brazil nuts
1 teaspoon spirulina (optional)
1 cup almond milk
2 tablespoons quinoa flakes*
5 – 6 ice cubes
method
* These ingredients are you base ingredients providing complex carbs, protein and fats. Do not omit these if you want to keep your smoothie balanced. You can swap them of course for other options. For example, use oats instead of quinoa flakes or nut butter or coconut cream instead of avocado.
Place all ingredients in a blender and blend till creamy and smooth. Enjoy!
nutritional information
This key lime pie breakfast smoothie is a sustaining balance of complex carbs, protein and essential fats. Enjoy this smoothie bowl as a main meal and ensure you basics essentials of he smoothie if you are changing around the fruits and vegetables to suit any flavours that you like.
The celery in this smoothie is quite subtle in its taste, if anything adding an underlying freshness to the overall flavour. Celery is often referred to as a blood cleanser and a diuretic. It is rich in phenolic phytonutrients, which have high antioxidant capacity (well documented in a 2010 study- J Food Science). Celery is also rich in Vitamin A, Vitamin K potassium and folate.
Limes are bursting with a vitamin C and flavonoids. The naturally occurring antioxidants in limes are useful for supporting the immune system along with boosting the health of our vascular system. The peel and the juice of citrus contains different types of antioxidants, so its good practice to get into using both aspects of your citrus. Both the juice and the citrus have been shown in studies to help reduce the levels of LDL oxidation (more detrimental cholesterol). The peel extract has a stronger effects at lowering LDL oxidation at small dosages, giving even more of a reason to use this wondrous food source. (J Res, 2011 Med Sc).
Jessica Cox is a qualified practicing Nutritionist with a Bachelor Health Science (Nutrition) and over 15 years of clinical experience. She is the founder and director JCN Clinic, published author and established recipe developer. Jessica is well respected within health and wellness space for her no fad approach and use of evidence-based nutrition.