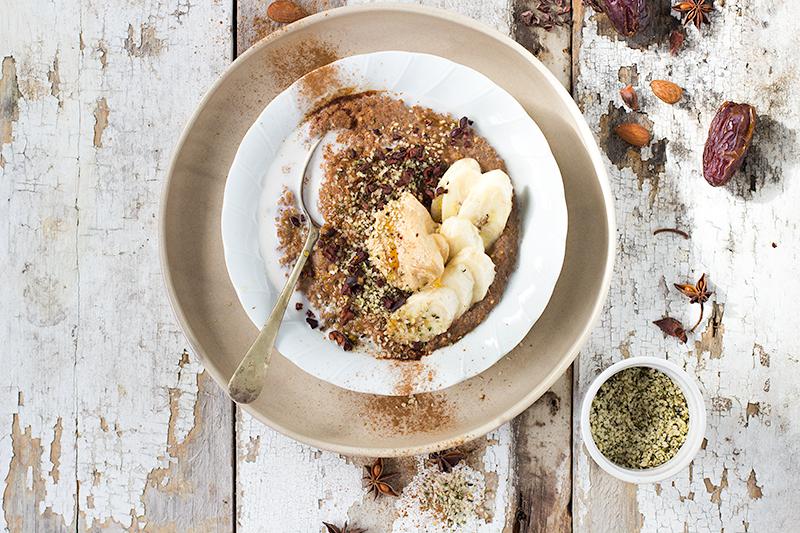 Without being one of those people who goes on and on about the weather, it has finally changed to a cooler climate here in Brisbane. Its perfectly wonderful, I'm so happy to not be sporting a constant sweat moustache. Plus, the even cooler nights mean its 'spooning temperature' again. When the nights are warm your partner is banished to the other side of the bed, but the brisker evenings bring back the marvellous comfort of the bed time spoon.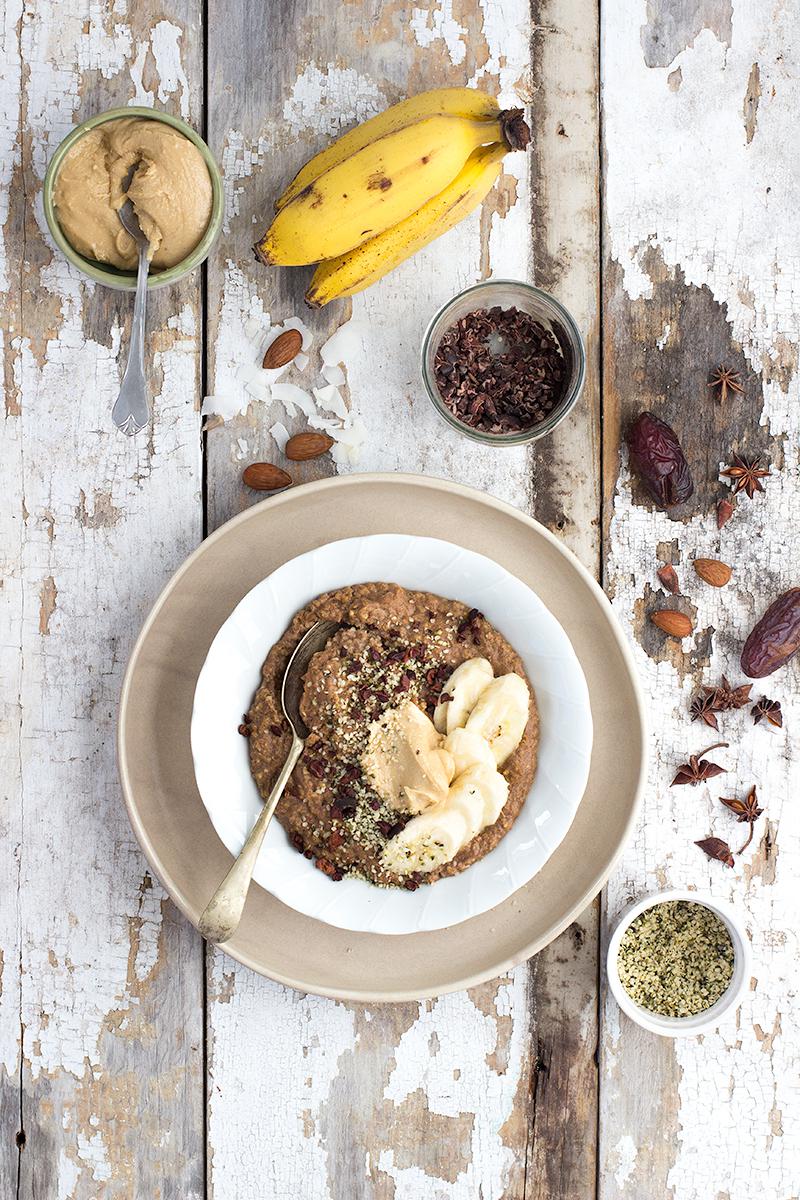 It seems that our bodies and our taste buds know when it times for a change too. I found about 2 -3 weeks ago (along with many of my clients) that I was starting to crave porridge alongside longing for curling up with a warm curry or some slow cooked lamb shanks. I've given a few porridges a go already and ate them in a defiant sweaty mess in my kitchen. This time though, the weather gods were on my side.
I woke up this morning ready for my usual slice of Gut Friendly Bread to go in the toaster and I thought – this is porridge weather. I'm making porridge and it will be splendid! I've already dropped a few porridge recipes on the website here, my creamy almond milk porridge and barley porridge. This chai-spiced porridge is somewhat similar in its construction, yet celebrates using millet as the grain base (see below in nutritional information for more on millet).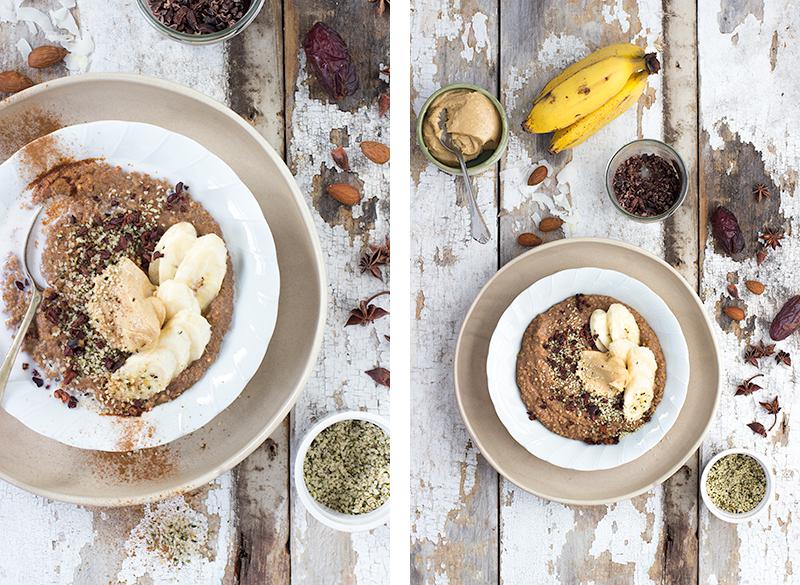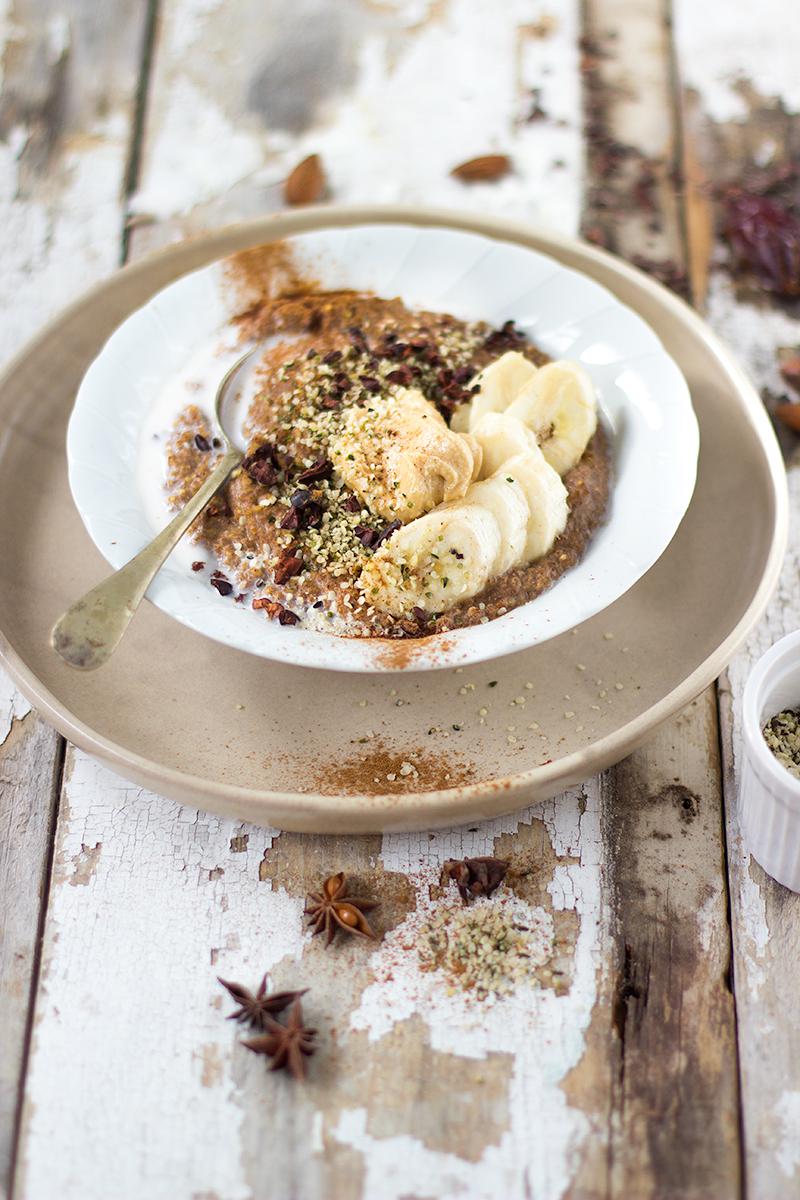 The thing with millet is that it will take longer to cook. If you are after a porridge that is done and dusted in 5 minutes then you better leave this one for a rainy day when you have more time up your sleeve. Of course you could pre make it and have it ready in the fridge to go, but I love the thought of waking and stirring away in the early hours of the morning sipping on my matcha latte. Its cathartic and too often we are in a frantic state to get out the door in the mornings. This porridge physically slows me down, which is not a bad thing at all.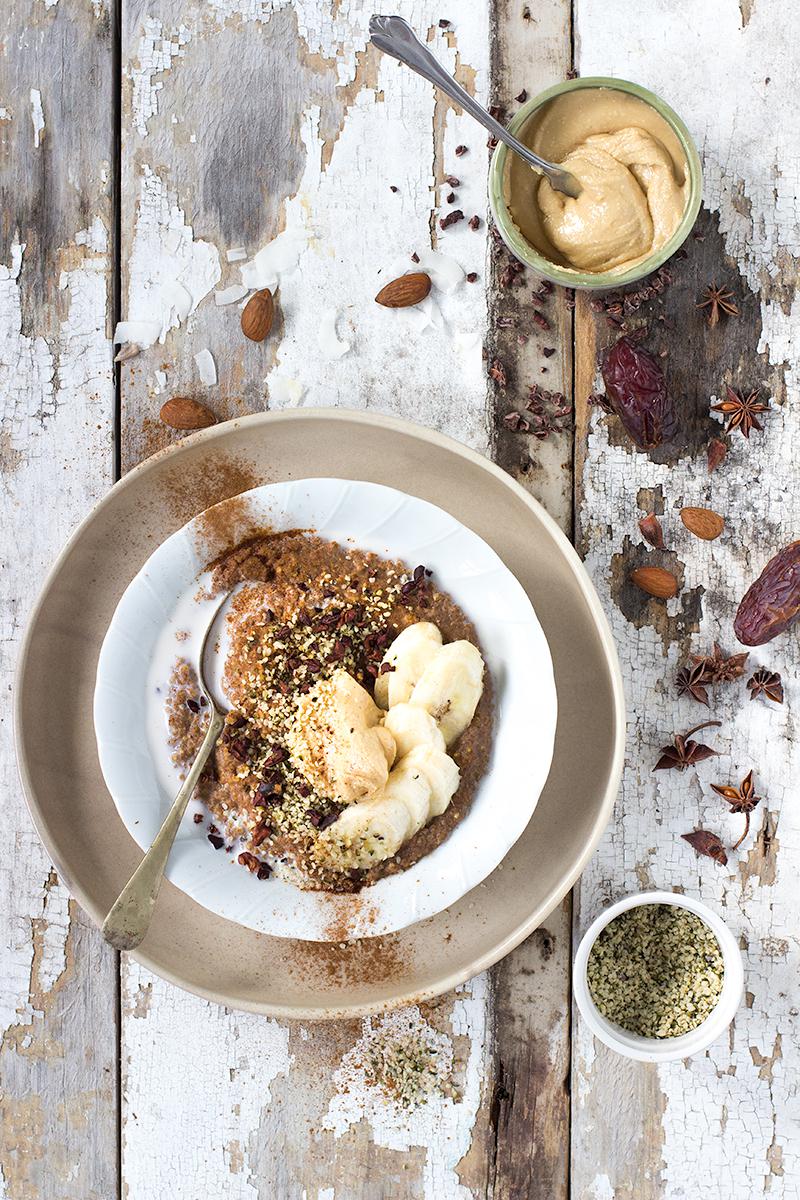 This chai-spiced porridge also uses a combination of so many of my favourite ingredients and flavours. It doesn't take a genius to realise I love chai, so adding these spices to a thick and creamy porridge is just true love for me. Spices like cinnamon, cloves and star anise have warming properties that support your digestion and also encourage blood flow from a chinese medicine perspective. You could amp this up further with adding turmeric and ginger for a dynamo of warming and anti-inflammatory spices.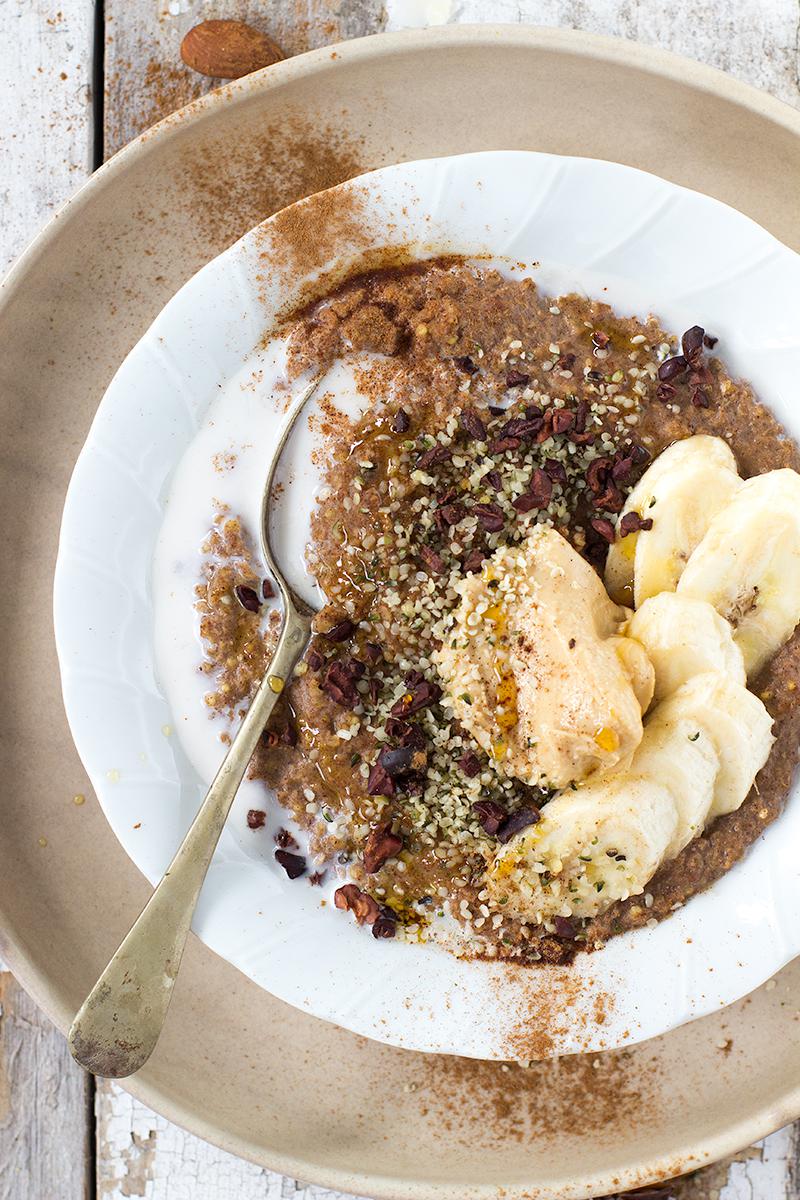 I know it's only a matter of time now before the cool really sets in. The tell tale sign will be when a breathing lump appears under the doona that meows annoyingly when growled at to 'get out'. It will bring a time to start shutting bedroom doors during the day to save our sheets from being soiled by a short haired, grubby, cold devon rex. This is the true sign of winter on its way.
spiced chai millet porridge
serves

serves 2, or makes 1 very large bowl for a very hungry person!

preparation time

5 minutes

cooking time

20 – 25 minutes
ingredients
1/4 cup millet, washed
1 & 1/2 cups water
1/4 cup almonds
1 & 1/2 teaspoons cinnamon
1 teaspoon vanilla
6 cloves
1/2 star anise
generous pinch of salt
1 medjool date
// suggested servings //
1 banana, sliced
2 heaped teaspoons nut butter of choice
4 teaspoons hempseeds, or seeds of choice
2 teaspoons cacao nibs
drizzle of almond milk
2 teaspoons maple syrup (optional)
method
*If you want to skip making the fresh almond milk you can simply use packaged almond milk and add spices with the milk directly to the porridge. Just ensure you use ground versions of the spices if doing the recipe this way.
Begin by making your fresh-spiced almond milk. Place the almonds in the blender with the water, cinnamon, vanilla, star anise, cloves and salt and blend till well combined and creamy. You do not need to sieve the almond milk; the pulp will add extra creaminess and flavour.
Heat a saucepan to a medium heat and add in the well-rinsed millet followed by the fresh-spiced almond milk. Bring to the boil and then turn to a simmer, covering with the saucepan lid. Leave the porridge to simmer on a very low heat, stirring often as the millet takes up the milk. This will take around 20 – 25 minutes until the millet is softened. If it becomes too thick for your liking add a little more water.
Once the porridge is done pour the porridge into two serving bowls. Divide the toppings between the bowls evenly garnishing with the sliced banana, nut butter, hemp seeds, cacao nibs and finish with a drizzle of almond milk and maple syrup if desired. Enjoy while hot and steamy.
nutritional information
Almonds are rich source of plant-based calcium. You can boost your plant-based calcium further by using tahini as your butter of choice to serve with the porridge. You can soak you almonds over night if you like and then use them to make your almond milk in the morning for this recipe. This will make them a little easier to digest for those with super sensitive digestive systems; otherwise I do not feel it is really that necessary.
Millet provides a wonderful mix of carbohydrates and protein in a grain base. Just cup of millet (approximately 50 grams) contains 5 grams protein and 23 grams complex carbohydrates. Millet is also quite abundant in magnesium and phosphorus and manganese. When combined with the almonds in the milk and added nut butter the plant based protein increases again. cup of almonds add around 6-7 grams protein and the added nut butter will (depending on the source) add another few grams. In total, the plant-based protein in this porridge can easily provide between 15-17 grams protein when eaten as a one portion. Divided, that is still a good 7-9 grams of protein, similar to an egg. If you feel you require more protein, especially if used as a post work out meal simply add some protein powder to you milk blend.
Jessica Cox is a qualified practicing Nutritionist with a Bachelor Health Science (Nutrition) and over 15 years of clinical experience. She is the founder and director JCN Clinic, published author and established recipe developer. Jessica is well respected within health and wellness space for her no fad approach and use of evidence-based nutrition.