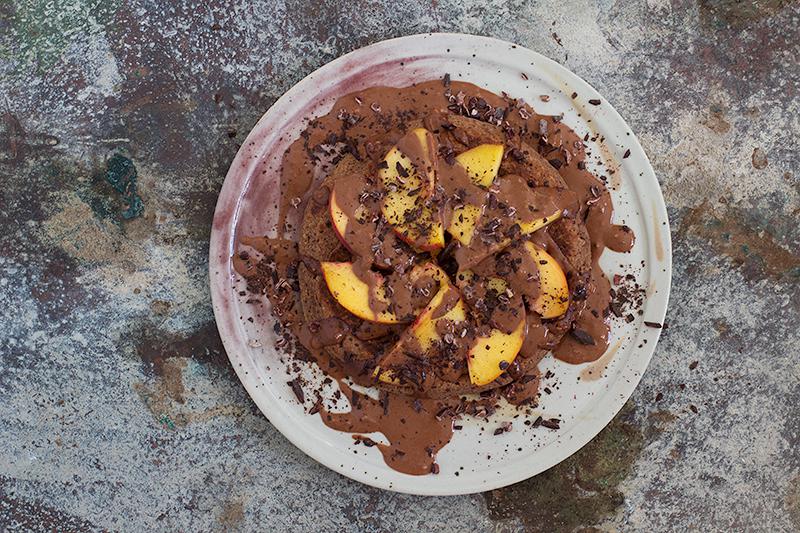 With Easter just around the corner I thought it fitting to create a decadent Easter chocolate recipe that carried an air of opulence and indulgence. I also wanted something that you could share with a loved one, so the ultimate idea of this triple chocolate pancake is to share one giant pancake smothered in a ridiculous amount of chocolate sauce with someone special.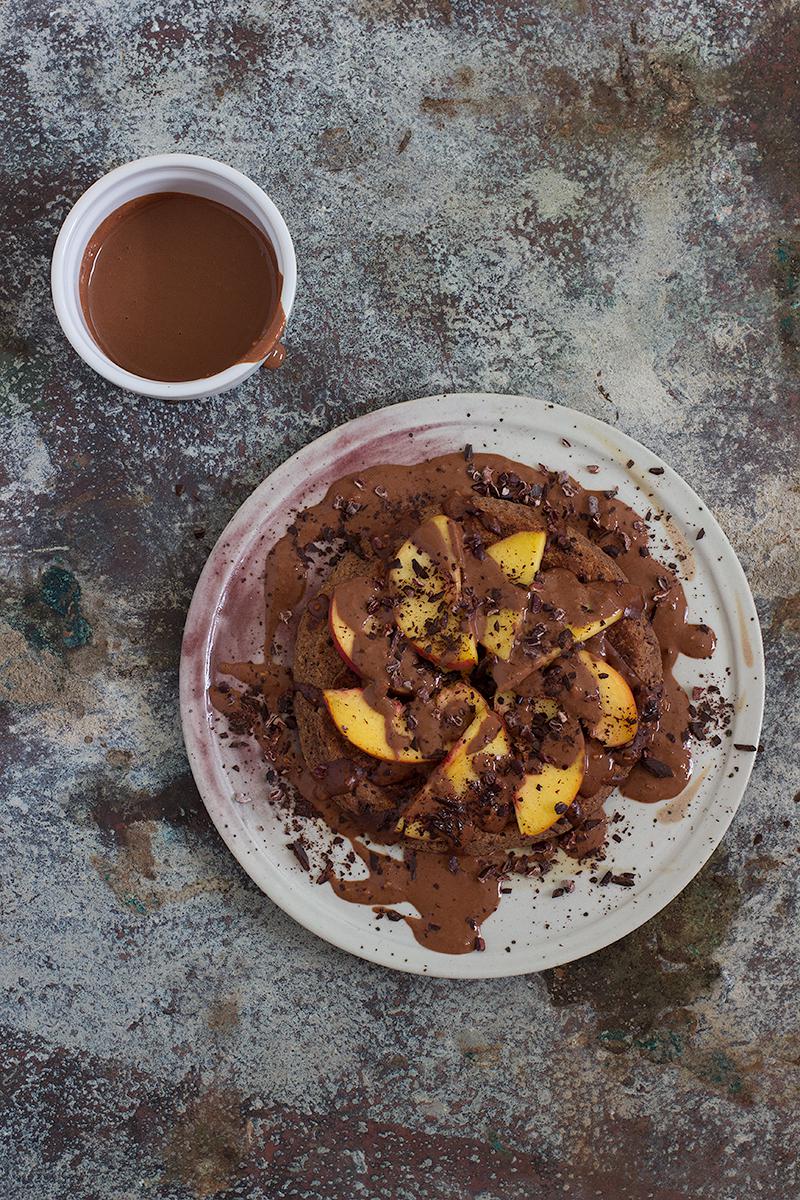 I also wanted to create a vegan version that was free of banana. The reasons for this being that many of my lovely clients have issues with eggs and need alternatives. I've been on a bit of an egg bender lately, and I feel somewhat guilty for not keeping the egg alternatives flowing on the website and social media pages for those of you who need egg free inspiration. Additionally, not everyone is as into banana as a base flavour as I am, so using another fruit base such as pear is a wonderful way to create the texture we need with vegan gluten free baking without the banana taste.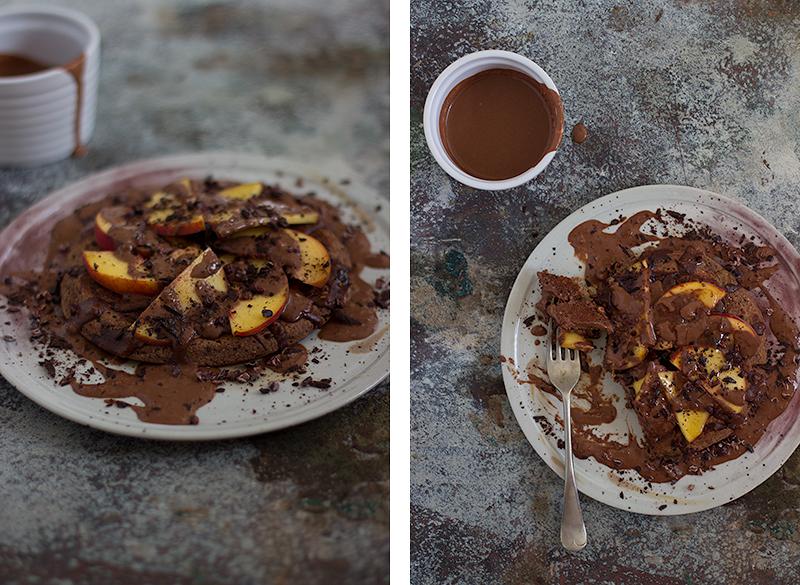 This triple chocolate pancake is quite dense, so please do not expect a light and fluffy pancake. It almost has a raw cake like texture, somewhat similar to a dense mud cake. Personally I love this type of density, it fills you up and keeps you going for hours. Toped with the juxtaposition of crunchy cacao nibs and silky creamy chocolate sauce, its just a winner all round.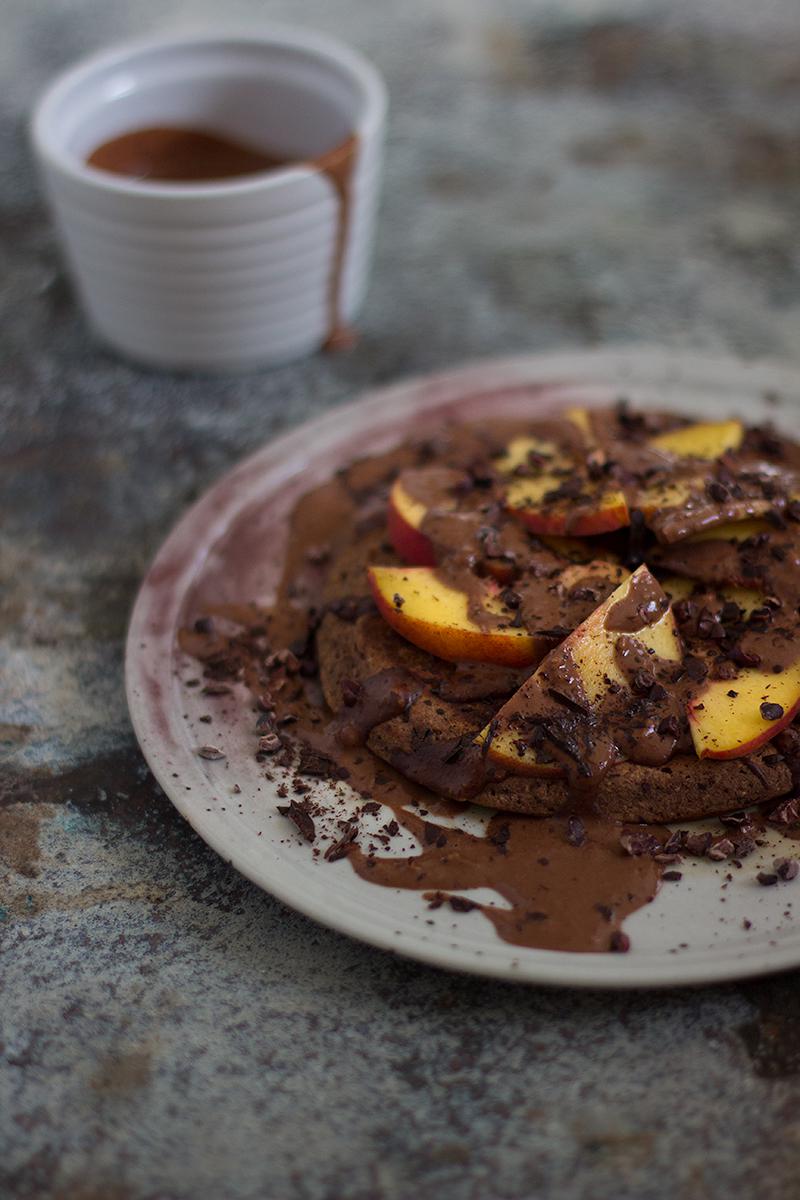 The secondary idea of this chocolate extravaganza is to incorporate chocolate into Easter in more of a balanced way. Instead of eating Easter eggs for breakfast, this pancake still includes chocolate within, though it is balanced out with wholegrain flours, protein and healthy fats. This means you end up eating less chocolate in general because this type of option is filling and satisfying.
Of course, if the Easter bunny leaves you some special treats next weekend, enjoy them. Life is to be lived and the Easter bunny does only come once a year after all.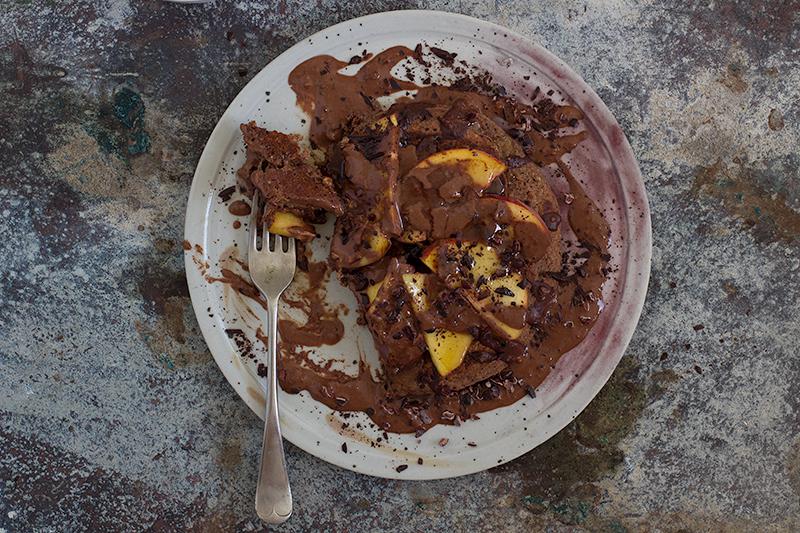 triple chocolate pancake w peach + creamy chocolate sauce
serves

serves 2 (share, or make into two pancakes)

preparation time

5 minutes

cooking time

3-4 minutes
ingredients
1/4 cup buckwheat flour
2 tablespoons dairy free protein powder
1 tablespoon flaxseed meal
1 tablespoon raw cacao
1/4 teaspoon baking powder
1/4 teaspoon cream of tartar
1 tablespoon cacao nibs
1 tablespoon chopped dark chocolate ( I used 90%)
1/4 cup + 2 tablespoons rice milk
1 tablespoon olive oil
1/2 pear, grated (could also use mashed banana)
// to serve //
freshly sliced peach, or other seasonal fruit of choice
chocolate sauce (see link below)
1 tablespoon cacao nibs
1 tablespoon finely chopped dark chocolate
honey (optional)
method
In a medium sized mixing bowl combine all the dry ingredients then stir through the grated pear, cacao nibs and grated chocolate. Make a well in the centre and add in rice milk and olive oil till well combined. You want the batter to be a bit wetter than a cake batter, but not as runny as crepe batter. If you add all of the milk and need more liquid, simply add a little more.
Heat a frying pan to a medium heat and add a lug of olive oil or oil of choice. Spoon the batter into the frying pan to create either one large giant pancake, or two pancakes. Allow them to cook until little bubbles form on the top of the pancakes, then flip over to cook through on the otherside. Ensure you give each side ample time on a medium heat, as if the heat is too high the pancake will not cook properly in the centre.
While the pancakes are cooking make your chocolate sauce.
To serve, top with peach slices, chocolate, cacao nibs, chocolate sauce and honey if desired.
nutritional information
These triple chocolate pancakes are filled with complex carbohydrates provided by the buckwheat flour. Carbohydrates provide ample fibre and slow release energy that gives the body a great start to the day. Adding flaxseed meal to the pancake batter gives more binding capacity, as these pancakes are egg free. Flaxseed meal is also high in lignans, shown to help reduce cholesterol and modulate estrogen levels.
Flaxseeds are also very high in fiber and rich in mucilage, a slimmy/gum like substance that expands when in contact with water (this is why it is so useful in vegan baking as a n egg substitute). Inside the intestines this helps provide bulk to stools aiding their movement through the gastrointestinal tract.
Cacao nibs are high in flavonoids (antioxidants) and minerals such as magnesium. Cacao nibs are a great way to introduce the chocolate flavour without the added sugar of regular chocolate.
Jessica Cox is a qualified practicing Nutritionist with a Bachelor Health Science (Nutrition) and over 15 years of clinical experience. She is the founder and director JCN Clinic, published author and established recipe developer. Jessica is well respected within health and wellness space for her no fad approach and use of evidence-based nutrition.