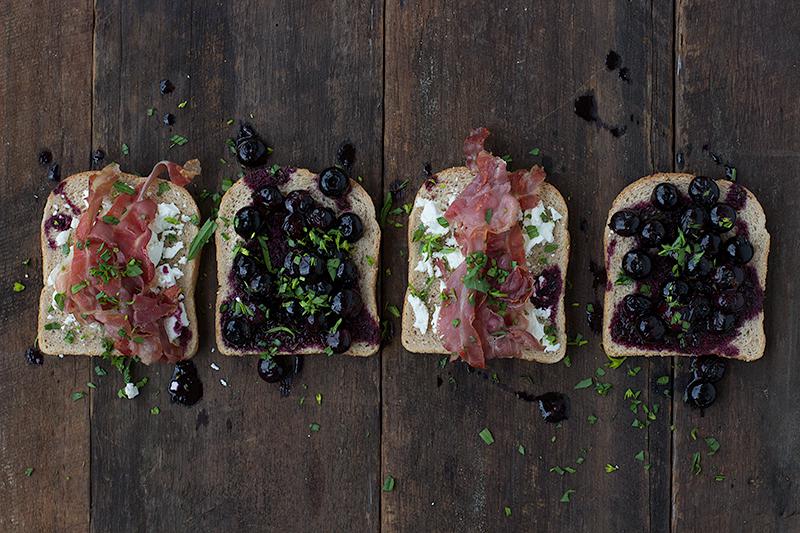 These toasties with braised balsamic blueberries, goat's cheese, prosciutto and rocket where one of those crazy brain wave ideas I sometimes (often) get. I was pondering how I would like to use the surplus of blueberries I had, and I started going off in all sorts of weird and wonderful directions until this one came to me. The original version was made with tarragon, but that was an epic fail as the bold tarragon took over the flavour of the other subtle ingredients.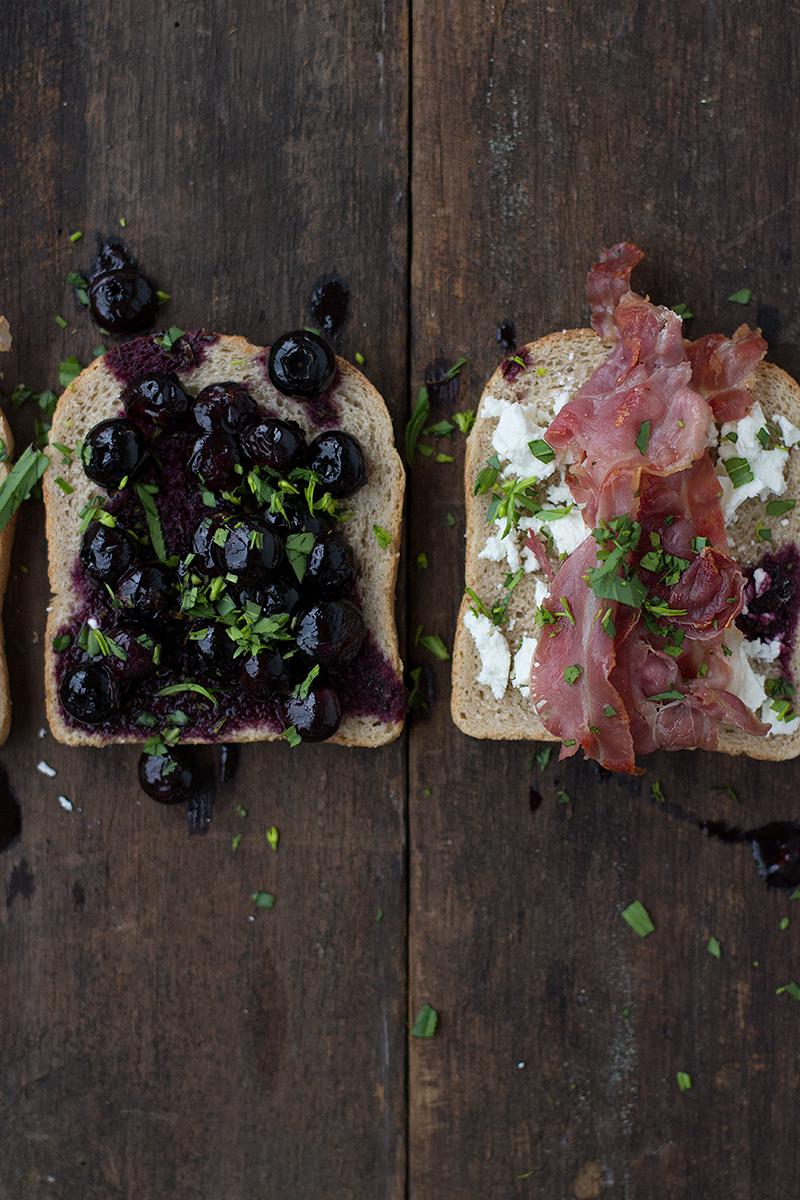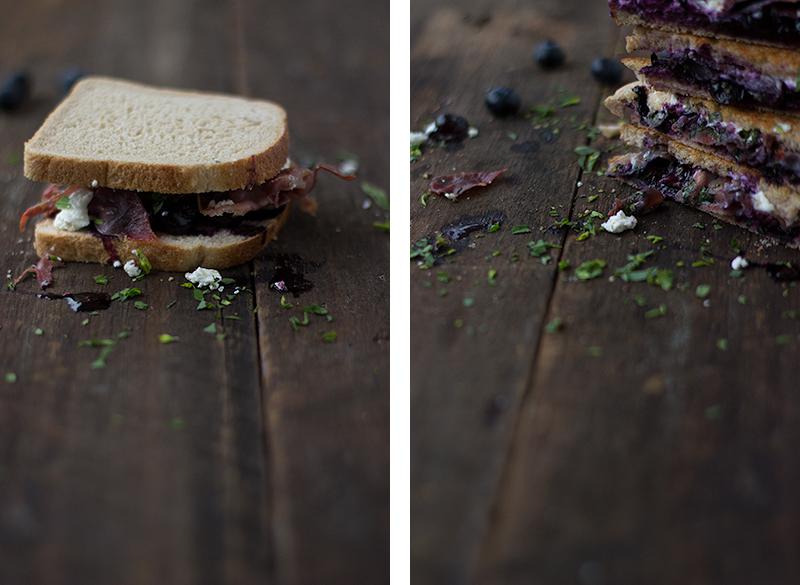 Everyone loves a toastie. Perhaps there are some out there that have an aversion to them (I am yet to meet one of them), maybe due to the thought of 'heavy' bread 'weighing them down'. A toastie that leaves you feeling light and bloat free requires a little toastie modification, often as simple as finding the right bread base to suit your needs. Here I have used a yeast free sourdough made with spelt. Additionally, traditional toasties are usually coated with butter before hitting the searing heat, where as here I have used a generous splash of olive oil.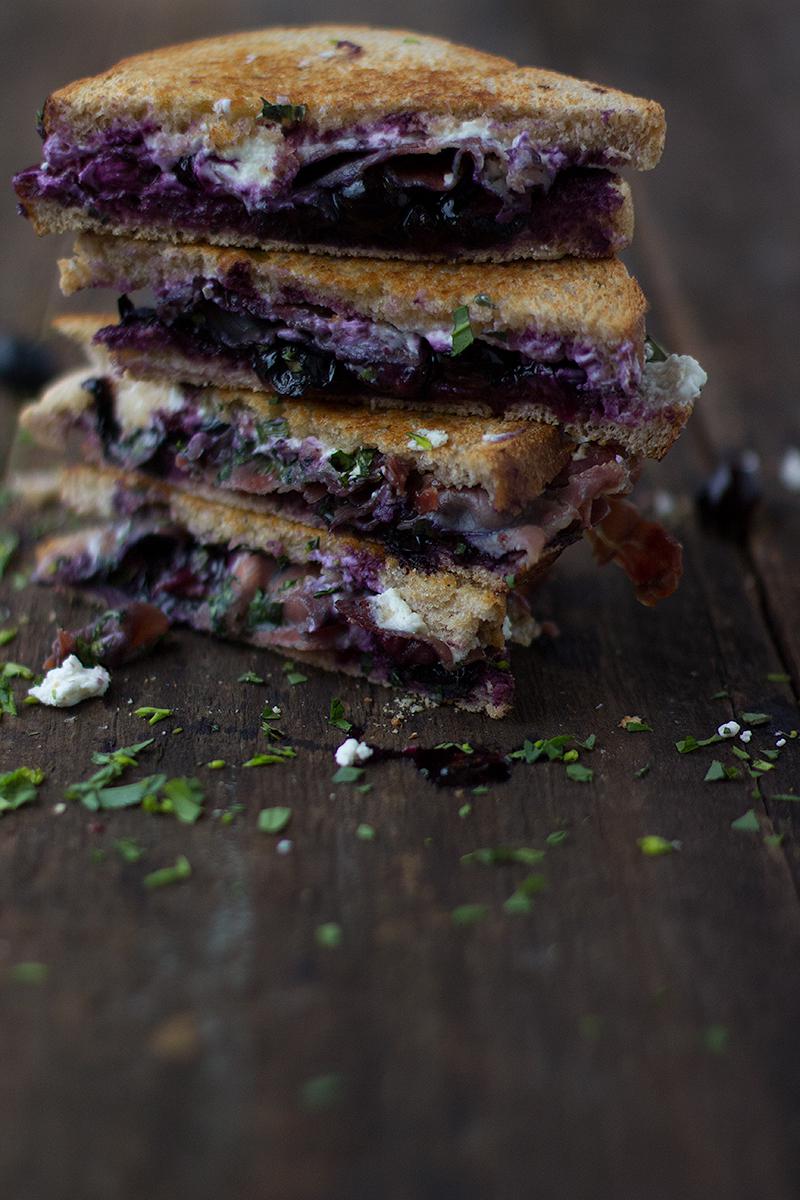 For me, and I imagine for you, a toastie is about the ooze factor. This blueberry toastie brings double ooze with the balsamic sauce glaze that mingles with the soft goat's cheese. Then, just to make it even more delightful there is the crunchy saltiness of the pan cooked prosciutto (you could of course leave the prosciutto out for a vegetarian version).
Toasties are really one of those meals that cannot nestle comfortably into any food category. For instance, here I have labeled this particular recipe under breakfast, lunch, dinner and snacks! I don't think a toastie is an everyday meal option, but it is wonderful as a throw together meal on a late Friday night finish (often the case in our household), or just as pleasurable as an on-the-go prework out snack in the morning.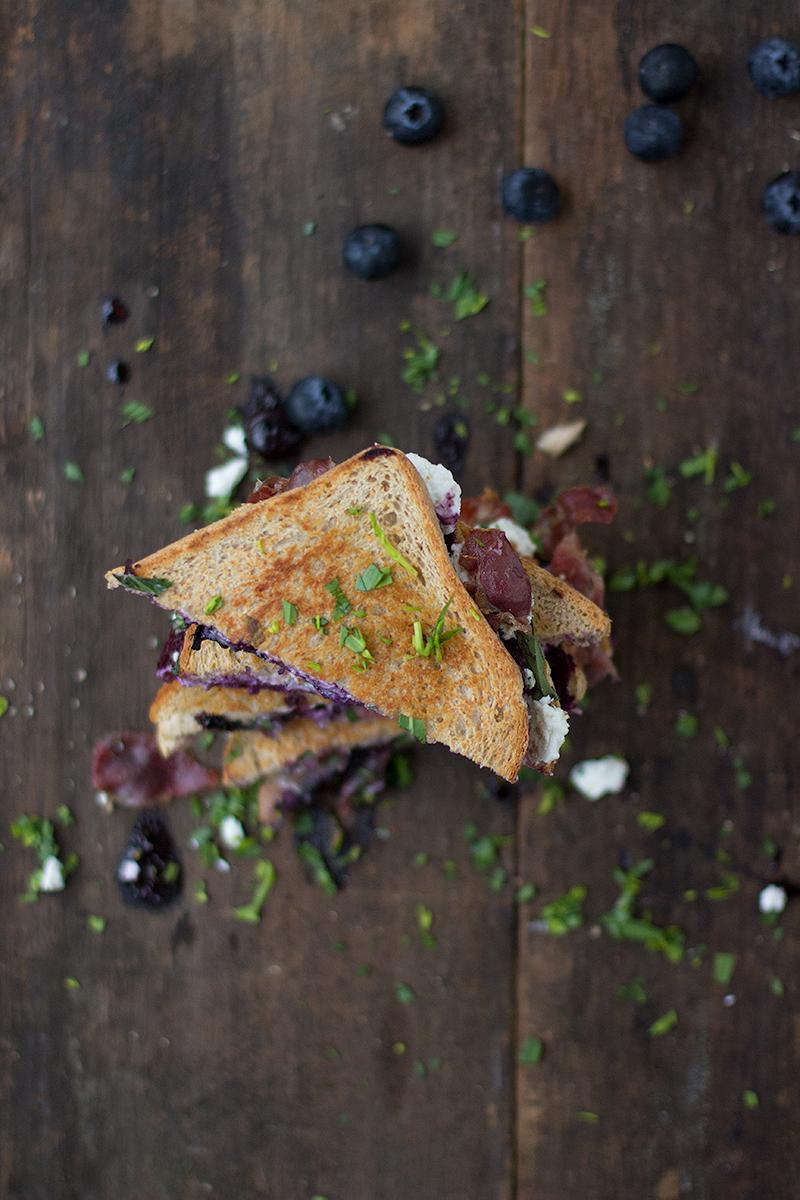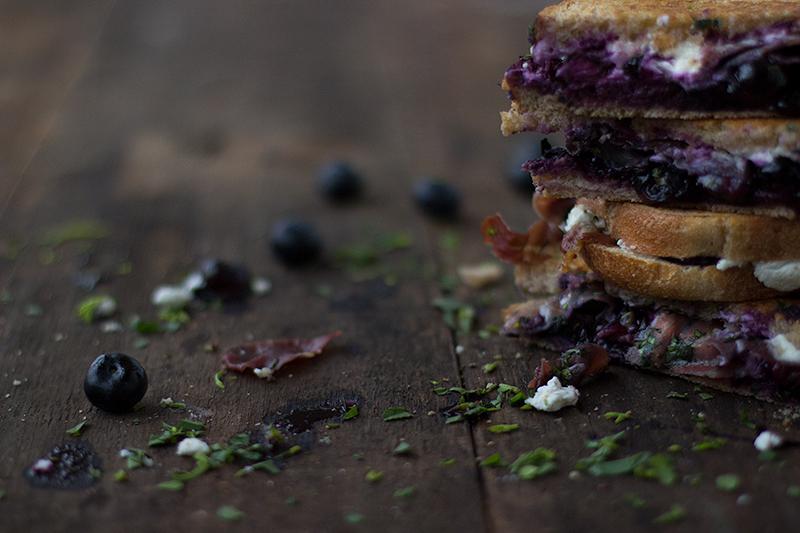 As always, feel free to experiment with your own versions. You could use other berries in place of the blueberries, or even some banana would be delicious! You many even want to drop the bread and use a wrap, then plump it up with some wilted spinach. Go to town I say!
toastie w braised balsamic blueberries, goats cheese, prosciutto & rocket.
serves

makes 2 toasted sandwiches

preparation time

5 minutes

cooking time

5 – 8 minutes
ingredients
4 slices sourdough bread of choice
125 grams blueberries (1 cup)
2 teaspoon quality balsamic vinegar
2 tablespoon roughly chopped rocket
4 slices of quality italian prosciutto
2 heaped tablespoons soft goats cheese
method
First off, you will need to prep your berries. Pour the blueberries into a medium – low heat pan, then add the balsamic. Heat the berries through, stirring with a wooden spoon to combine the blueberry juices and the balsamic. Once a nice sauce has been formed, turn off the heat and set the blueberries aside.
Heat another pan (or pour the blueberry mixture into a bowl and use the same pan) and heat to a medium – high heat. Add the slices of prosciutto and pan fry until lovely and crispy on both sides. Set aside.
Bring a flat toastie maker to heat (or an old school jaffle iron will also do the trick). Take the sourdough slices and top with crumbled goats cheese, then spoonful's of the berry mixture, then crispy pieces of prosciutto followed lastly with the finely chopped rocket. Place the other piece of the sourdough bread on top and lightly push down.
Place your toastie in the hot flat toaster and lightly brush the bread with olive oil. Close the flat toaster and leave till the bread is toasted a beautiful brown colour and the cheese begins to sizzle. Serve and eat immediately.
nutritional information
This braised blueberry toastie provides complex carbohydrates, protein and fats ensuring all macronutrients are present. However, it is also good practice to have vegetables more prevalent within your meal options (lets not kid ourselves here), so please note that this is not an everyday option for a lunch or dinner, more like a once/twice a week option, dependent on your health and wellness goals.If you like the combination as much as I do and want to do it frequently, I would suggest having once slice of toast and then topping it like an open sandwich with the filling ingredients and a little more rocket. This would make a delicious breakfast!
Goats cheese is often digested easier than cows milk and therefore is a great option for those looking for a cheese alternative. Often in clinic we see goats milk testing quite low as a reactant, with cows milk sky rocketing above goats milk in its level of reactivity. This is thought to be due to goats milk fat molecules being smaller and easier to digest.
Jessica Cox is a qualified practicing Nutritionist with a Bachelor Health Science (Nutrition) and over 15 years of clinical experience. She is the founder and director JCN Clinic, published author and established recipe developer. Jessica is well respected within health and wellness space for her no fad approach and use of evidence-based nutrition.