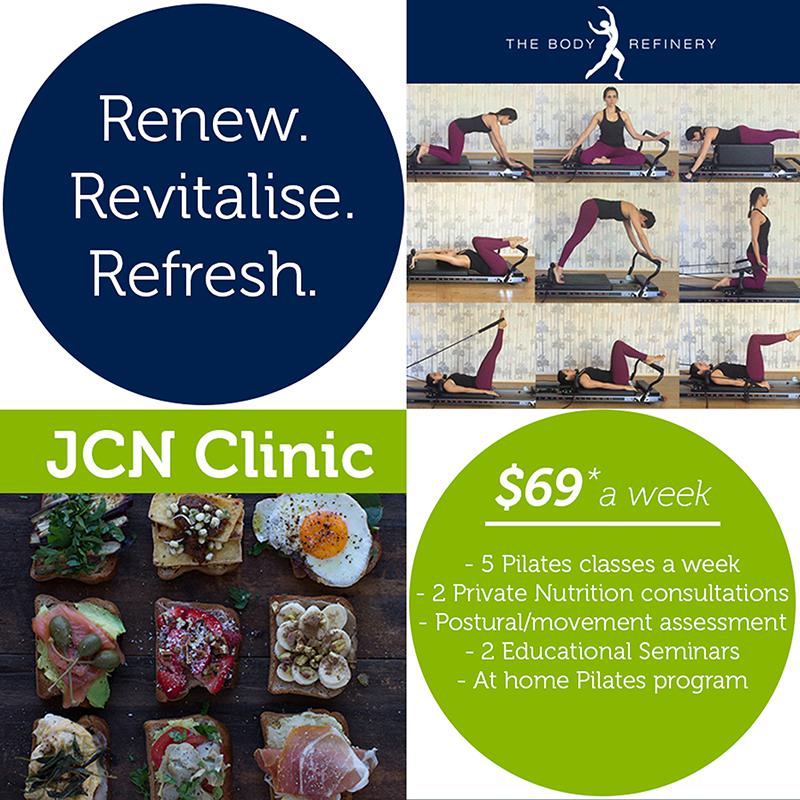 Looking for the perfect combination of nutrition and exercise to bring in 2016 with a bang? Well, look no further!  We are super excited to be combining forces with The Body Refinery to bring you in January 2016, The Five Week Wellness Challenge.
This five-week challenge encompasses for just $69 per week;
A private consultation with a physiotherapist to assess your movement and posture to develop your personalised movement program
A comprehensive initial consultation with a JCN Clinic Nutritionist to receive your personalised nutritional plan catered to your individual goals, lifestyle, work environment and comfort levels of change
5 Pilates classes a week with a Diploma qualified instructor
Access to weekly educational videos pertaining to key nutritional topics and core health.
Receive an 'at home Pilates program' for both during and after the challenge
A follow up nutritional consultation to discuss ongoing nutritional/dietary changes and goals
Weekly support and encouragement from your Pilates instructors and your nutritionists
Professional before and after postural assessment
Two, one hour educational seminars on movement and nutrition
The Five Week Wellness Challenge begins January 11th 2016. We have limit spots available for this Challenge, so to secure your spot either contact us here at the JCN clinic or register your interest now on The Body Refinery website and a team member will contact you.
Look forward to seeing you in 2016!
Jessica Cox is a qualified practicing Nutritionist with a Bachelor Health Science (Nutrition) and over 15 years of clinical experience. She is the founder and director JCN Clinic, published author and established recipe developer. Jessica is well respected within health and wellness space for her no fad approach and use of evidence-based nutrition.