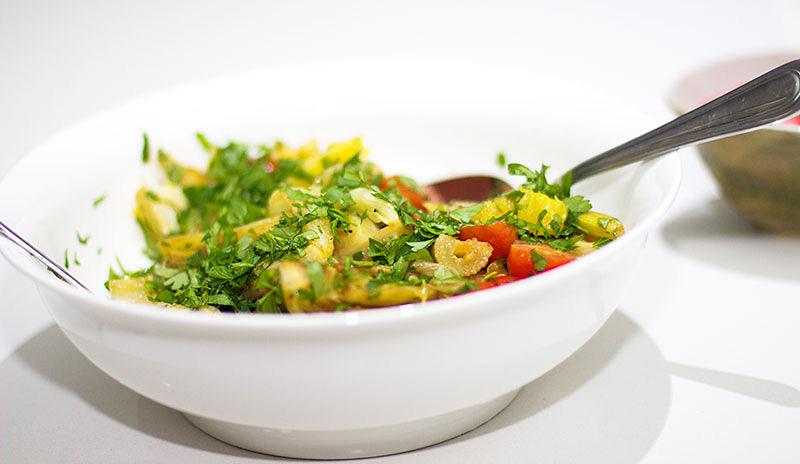 Warm salads are a perfect way to include vegetables through the cooler months. Seasonal vegetables work well here such as fennel and orange. When braised and caramalised, fennel changes from an aniseed taste through to a sweet and creamy flavour, that omits perfumes of cinnamon when it cooks. This recipe is adapted from Mark Jensen's The Urban Cook.
warm caramelised fennel, orange and tomato salad
serves

6 people

preparation time

10 minutes

cooking time

15-20 minutes
ingredients
2 fennel bulbs
2 oranges
100ml olive oil
2 1/2 tablespoons white wine vingegar
1 punnet of cherry tomatoes, halved
2 handfuls of flat leaf parsley, roughly chopped
method
Trim the fennel tops and the bottom core from the fennel. Slice in half and then slice again into quarters, then slice the quarters in half once more. Cut the skin and pith from the oranges and then segment the oranges. Place the segmants in a bowl and squeeze the juice from the remaining oranges.
Cook fennel in a fry pan with a good lug of oil. Allow to caramalise on one side, then flip over. This should take around 3-4 minutes on each side. Once caramalised, add the orange juice with the vinegar and allow to reduce by a third. Now add in the orange segments and tomatoes and toss to combine. Allow to heat through for 5 minutes and then toss through the parsley. Season and serve.
nutritional information
This salad can also be served cold. It complements rich, braised meats such as pomegranate ribs.
The abundance of oranges in this dish gives a favourable hit of vitamin C and bioflavanoids.
Parsley provides a non heme source of iron.