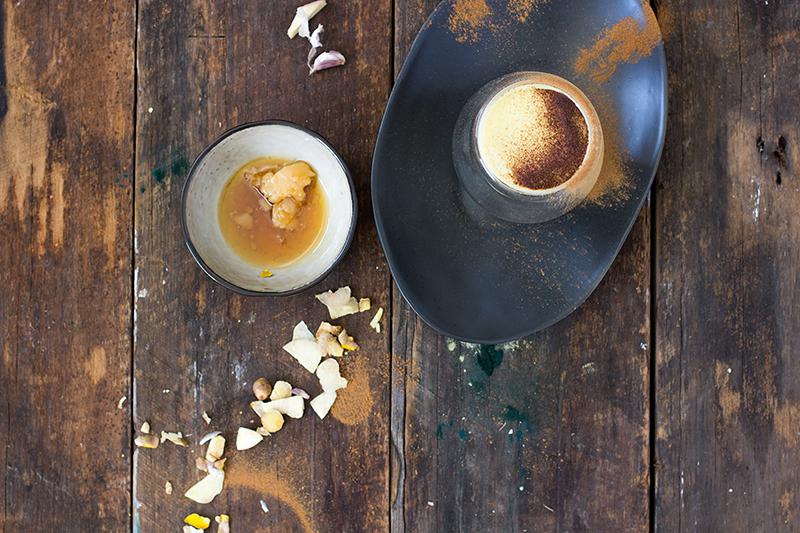 Brought to you by Vitasoy
A day for me is not complete without a comforting milk drink. It's become my ritual that others might find in their morning coffee. Literally one of my first thoughts when I wake up in the morning is of pouring my almond milk into the milk frother with its accompanying ingredients, then taking those first morning sips which are like nothing else.
One of my absolute favourites is a golden latte. Golden latte's are generally a mix of ground turmeric powder, cinnamon, black pepper and ginger, almost like a chai latte with an added hit of heat. I love that golden latte's have an almost iridescent yellow hue that is impressive to look at. They are like drinking liquid sunshine, naturally sweet, yet spicy and warming to your belly on a cold day.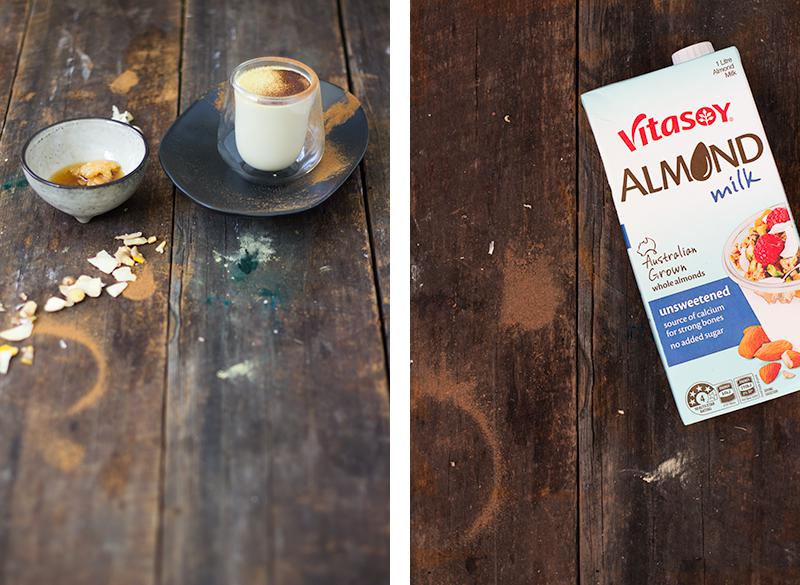 I like adding cacao butter to my plant based milk latte's as it makes them extra creamy. Coconut oil is probably more popular and easier to find, yet for me cacao butter is worth the extra hunt. It has that underlying cacao bean flavour that works so well with velvety almond milk. I feel like they were meant to be together. Like basil is to tomato or like salt is to avocado, cacao butter and almond milk are a union that makes your taste buds dance.
This recipe uses Vitasoy Unsweetened Almond Milk as the plant milk of choice. Vitasoy Unsweetened almond Milk allows the other ingredients to shine and is not too rich when combined with the added fats in the golden milk. Of course you could use other plant based milk options within the range such as coconut or soy milk for an even creamier finish. I've always had a soft spot for the flavour of almond milk personally and love that Vitasoy Unsweetened Almond Milk has no added sugar, enabling it to work with myriad of flavours when making hot beverages.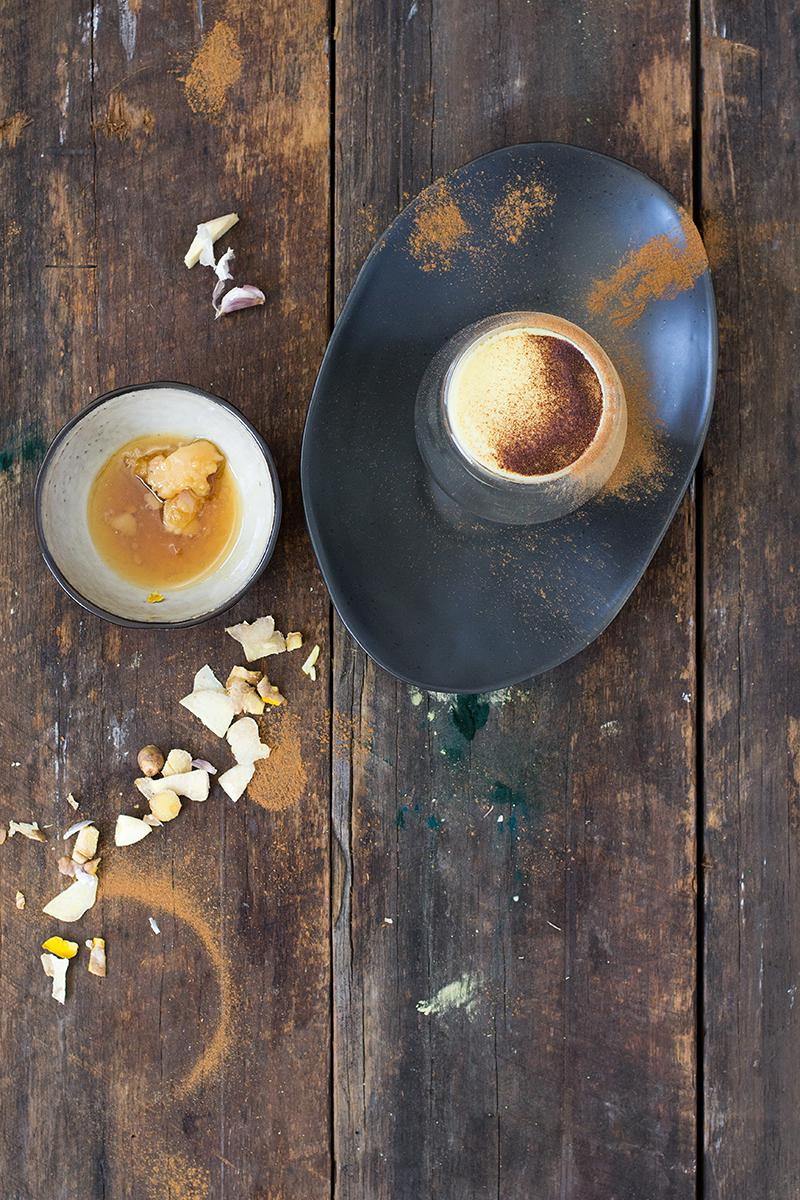 My obsession with almond milk latte's has now progressed throughout the day. I've taken to bringing a second milk frother (I seem to have collected quite a few – another sign of this fixation) to work and currently keep some almond milk in the fridge for when the urge arrives. It's so easy to have a few cartons stashed away as they keep well, then when the urge arises I can blitz up my favourite creamy drink in no time at all. I find this works spectacularly well in the afternoon when I am busy at work. It sits lightly in my stomach yet keeps me going till I am home for dinner.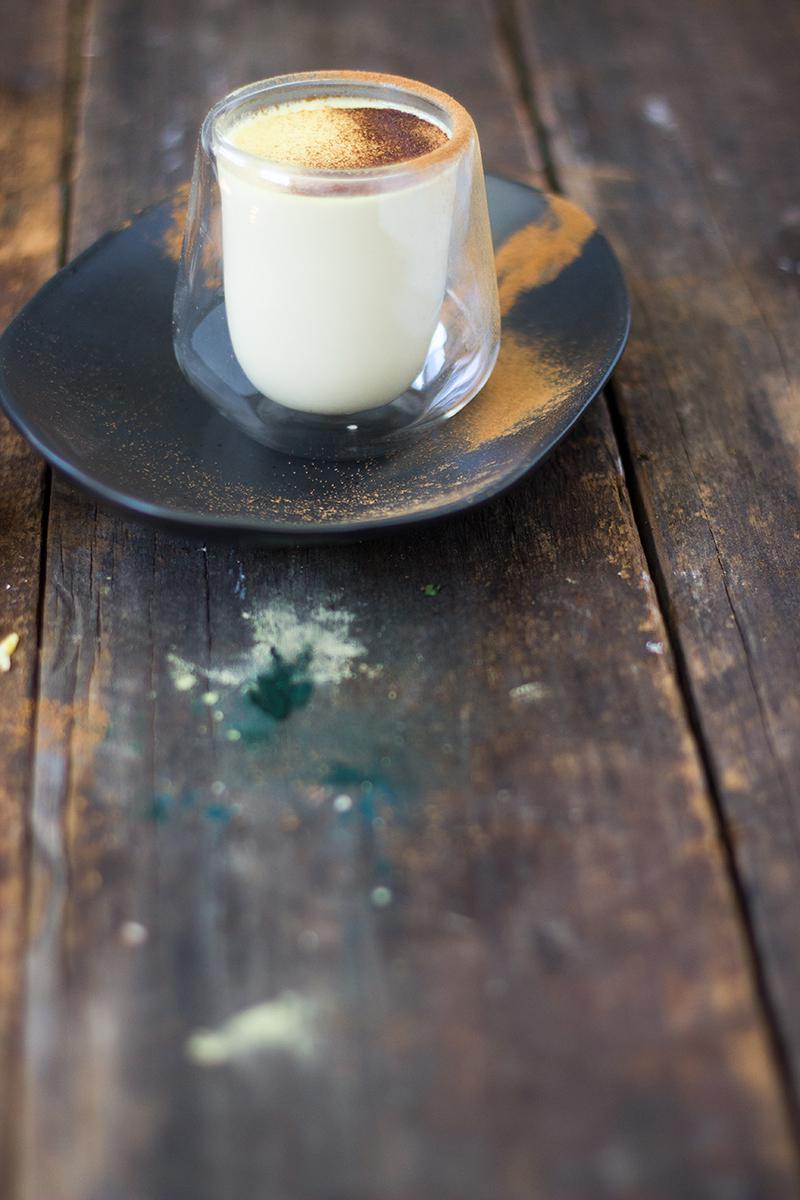 If you are yet to trial a golden latte then this recipe really is a wonderful place to start. Making your own from scratch is a tad more work but boy, is the taste worth the time factor. Most of these ingredients you will already find in your pantry. For the rest just pop to your local health food store or supermarket and pick up what you need. Oh, and stock up, because once you try it you'll be hooked. Just like me.
winter warming golden milk
serves

serves 1

preparation time

5 minutes

cooking time

nil
ingredients
1 teaspoon roughly chopped fresh ginger
1 teaspoon peppercorns
1 teaspoon roughly chopped fresh turmeric
1 teaspoon raw honey
1 teaspoon roughly chopped cacao butter (or coconut oil)
small clove of garlic (optional)
1 cup Vitasoy Unsweetened Almond Milk
method
Place all ingredients except for the almond milk in a mortar and pestle (or small food processor) and mash well to form a paste. Add the paste either to a milk frother or a small saucepan and add the almond milk. Use milk frother to warm milk and the paste or alternatively bring to a simmer on the stove in a saucepan. Ideally let the mixture simmer (or sit for a few minutes to infuse).
Once ready, strain into a glass and drink while still warm. Add extra honey if desired.
Jessica Cox is a qualified practicing Nutritionist with a Bachelor Health Science (Nutrition) and over 15 years of clinical experience. She is the founder and director JCN Clinic, published author and established recipe developer. Jessica is well respected within health and wellness space for her no fad approach and use of evidence-based nutrition.