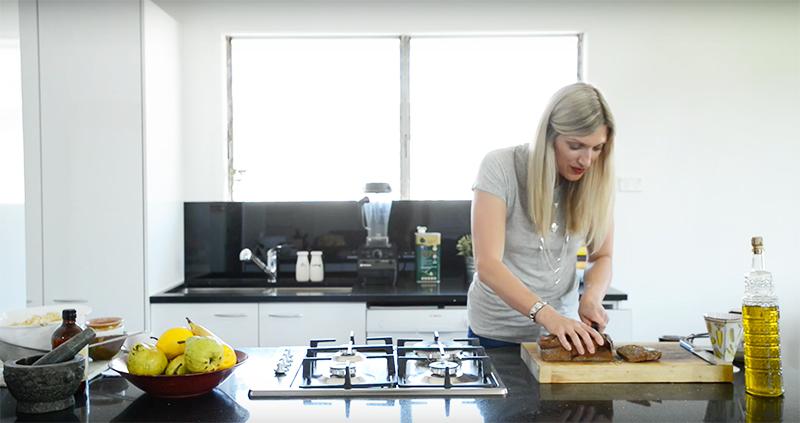 This nut and fruit bread is 100% inspired by my Mum's baking. I grew up with my Mum's home cooked bread being the cornerstone of home cooking, so baking bread is a tradition that just feels like it runs in my blood. In particular my Mum would cook a fruit and nut loaf like no other. You know the fruit and nut loaves that you buy in the supermarket or even from your locally bakery? Scrap those; they are basically edible cardboard in relation to my Mums version.
My mums nut and fruit breads would be (and still are) loaded to the eyeballs with all the right spices. There is no skimping on amounts in any capacity. Big smacks in the face of cinnamon, cloves and nutmeg. She then takes it next level with adding molasses or malt, which by god makes my toes tingle. I love those flavours so much.
Then there are the fruit and nuts. Now, when you buy nut and fruit bread if you are anything like me you are bitterly disappointment by the sad spattering of sultana's that flicker some sort of sad life into the fruit bread. I mean when the bread says ' fruit and nut bread', I'm expecting some fruit right? I want big mouthfuls of deliciously sundried dried fruit, not just sad sultanas under spiced with a deprived amount of cinnamon.
Same story goes for the nuts. I'm sorry (sound like my mother in law there) but a few old rancid walnuts do not cut the mustard. I want each mouthful to be filled with generous crunch of nuts that are fresh and flavoursome.
So yeah, I am a bit of a bread snob. Add it to the food snob list.
As expected then, you can imagine this bread packs a punch. If you want a bread jam packed with nuts, seeds, spices and fruit, well you have come to the right place. If you want a light spongy loaf with just a few sultana's to boot, then I'd suggest heading to your local supermarket because you aint going to find that here. 😉
gluten free nut & fruit bread
serves

makes 1 loaf

preparation time

10 minutes

cooking time

45 – 50 minutes
ingredients
1 cup buckwheat flour
3/4 cup brown rice flour
1/2 cup besan flour (or coconut flour)
1 cup roughly chopped dried figs, preferably organic (or any dried fruit of choice)
1/4 cup sunflower seeds
3/4 cup walnuts, roughly chopped
1 tablespoon baking powder
2 teaspoon cinnamon
1 teaspoon ground cloves
1 teaspoon guar gum
1/2 teaspoon salt
1 tablespoon apple cider vinegar
1 tablespoon chia seeds + 3 tablespoons warm water
1 and 1/4 cups water
1/4 cup extra virgin olive oil
method
Preheat your oven to 200c (fan forced). Oil a standard sized loaf tin and dust with flour. Start preparing your chia egg by combining the chia seeds with the 3 tablespoons warm water. Set aside for 5 minutes until a gel forms.
In the interim, sift flours into large mixing bowl and combine with all other dry ingredients including the spices. Stir through roughly chopped dried figs, walnuts and seeds.
In separate bowl (or ideally a blender to really breakdown the chia) combine wet ingredients including the chia egg. Make a well in the center of dry ingredients and add the wet ingredients. Stir through until the bread mix is the consistency of a wet batter (you may need to add more water at this stage depending on your mix). Pour bread batter into loaf tin and bake in oven for 45-50 minutes or until golden brown and a skewer inserted into the center of the bread comes out clean.
For a savoury loaf: Omit fruit, walnuts and spices and add poppy seeds and pepitas for savoury bread.
nutritional information
The combination of flours in this bread provides sustainable complex carbohydrates. Many gluten free breads are made from refined white rice flours that are devoid of any quality nutrition. Just because a bread is 'gluten free' does not automatically make it a healthier alternative. Always look at the ingredients and consider what you are actually eating, gluten free or not.
Buckwheat is by far my favourite grain (or seed realistically). It has a wonderful nutty texture and its high protein content makes it a wonderful viscous flour to work with. Buckwheat as a grain is rich in minerals and very high in lysine. Lysine has anti viral properties and is the go to amino acid of choice for fighting cold sores.
Jessica Cox is a qualified practicing Nutritionist with a Bachelor Health Science (Nutrition) and over 15 years of clinical experience. She is the founder and director JCN Clinic, published author and established recipe developer. Jessica is well respected within health and wellness space for her no fad approach and use of evidence-based nutrition.